COVID
'We were there': Nursing home workers discuss what end-of-life care is like during COVID-19
COVID-19 first made its way into Williamstown Commons, a nursing and rehabilitation facility, in late March.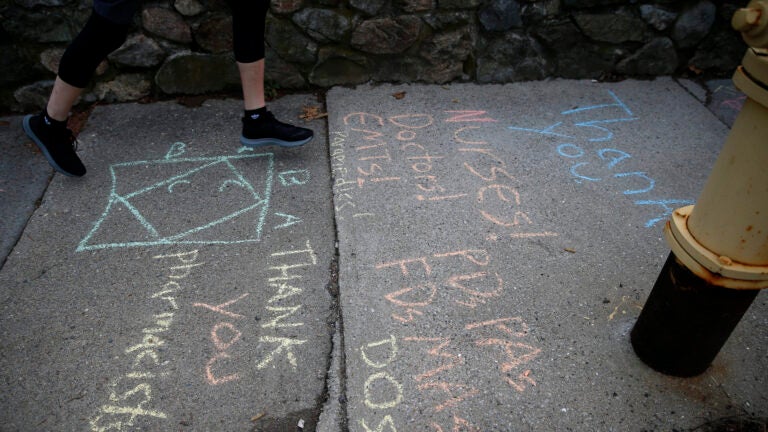 Among the many ways the COVID-19 pandemic has affected life, it's torn away the ability to be present for a loved one during their final life moments.
For frontline workers who care for nursing home residents, it's meant being that person who sits at someone's bedside, holding their hand, telling them they're not alone, as life ends.
COVID-19 has devastated the senior population in Massachusetts: The age groups with the two highest rates of contracting the disease are people 80 and over, and those aged 70-79.
From ensuring they're using the correct personal protective equipment to worrying about spreading COVID-19 to their families at home, nursing home workers face a variety of challenges in caring for virus-positive seniors.
'It was just code after code'
Jessyca Goetze, when talking about her day-to-day life as a social worker at Williamstown Commons, a nursing and rehabilitation facility in Williamstown, said it's "definitely been challenging."
Goetze has worked with the facility's designated COVID-19 unit since it was created – Williamstown Commons announced its first positive case among its residents on March 24, according to a statement from facility administrator Jodi Ouimette.
Goetze has been in social work 17 years, and has held a variety of positions in long-term care facilities and in hospice care. She isn't new to end-of-life care, but when the virus first struck the Commons, multiple people were dying per day.
"There are days that it was just code after code," she said. "And you're just trying to keep it together."
Coupled with that was the fear on residents' faces, she said, and questions from them, wondering if they'll be OK. Goetze said she and other staff just tried to keep a brave face, and be strong for them.
As of Tuesday, 17 residents had died of COVID-19 at the facility, Williamstown Commons's website says. At the time, there were 35 people sick with the illness, a decrease of five from last week, and 21 residents who are making gains in recovery.
"I've cried through this," Goetze said. "I've lost residents that I've become really close to."
Goetze said she can't imagine not being by the bedside of one of her parents if they were near the end of life, but for the families who have lost someone living at the facility, the COVID-19 pandemic has made that a reality, and it's bleak.
"I've held people's hands while their family members are at the window and they're saying their goodbyes and I'm repeating what their families are saying to them," Goetze described. "It's just a very raw and humbling experience to be a part of. Just all the emotions that go through. Just to feel like, 'Oh my gosh, I don't know if I can do this.'"
But then there are the hopeful moments. As a loved one fights the virus, some family members also stand outside their window and show support.
"And you see the person at the other window, and their family member who is doing OK, and they're like, 'We love you and we're supporting you,'" Goetze said. "It's just really how you find your strength during difficult times."
'I've been seeing that human compassion come out'
As of Wednesday, the state Department of Public Health had logged that 6,675 of the state's nearly 43,000 cases were among people aged 80 and over. Another 4,315 were people between the ages of 70 and 79. 
These two age groups make up the highest rate per 100,000 residents of any other age group. In the over 80 population, it's 2,290 per 100,000. For perspective, the next highest rate is the 70-79 group, and that is 899 cases per 100,000.
The number of deaths follow a similar trajectory, state data shows. Of the state's 2,182 fatalities attributed to the virus as of Wednesday, 1,388 were people aged 80 and over, much higher than in any other age group. The next highest, again, is the 70-79 population, with 483 deaths.
Of the state's total deaths from COVID-19, 1,205 of them — more than half — have been in a long-term care facility, state data shows.
Along with sitting at their bedsides, Goetze described how she and colleagues have cared for the dying residents, from brushing their hair and rubbing their hands to just reassuring them that they aren't alone.
"Nobody dies alone in the nursing home, and I just reassure the family member that even if you may not be able to be there, we were there," she said. "We sat there. Every person that I have worked with, I've been seeing that human compassion come out."
'These guys are just warriors'
It's both community support and support among colleagues that keeps him going, said Justin Day, a licensed practical nurse who also works at Williamstown Commons. His coworkers understand what he's going through, and vice versa, he said, because everyone's experiencing the same things – the devastation of losing patients, the celebration of someone recovering.
"Everyone's carrying a little bit of weight," he said. "These guys are just warriors."
Day said he knew almost all of the residents who have died from the virus, adding that there were five of them that he had grown very close to.
Along with not allowing visitors, Williamstown Commons has a specific COVID-19 ward for those fighting the virus, and an area for those who are recovering, Day said. As residents were moved to a specific area based on condition, the nursing home made sure to meticulously clean the rooms.
The facility also has enough personal protective equipment for staff, Day said. With the proper training for using it in place, he said he believes the facility's response has been effective. In the latest update posted to its website, 126 staff members were tested for the virus and just five tested positive; all were asymptomatic.
When COVID-19 first made its way into the building, Day said there was a level of anxiety among the staff, wondering if they had worn the right personal protective equipment while they treated a now-positive patient. It's "scary," he said, thinking about how someone can go days after exposure without showing a symptom.
But since that first case in late March, staff at the Commons have felt more at ease with the separate wards and plans in place, according to Day.
Still, the effects COVID-19 can have on someone are difficult to witness. The virus deprives the body of oxygen.
"The body's reaction to that … it can be difficult to watch," Day said.
The medical staff treat the patients and make them more comfortable, but they're more than just patients, Day asserted.
"We're taught person-centered care," he said. "We're taught you need to know who they are as a person, their family, their loved ones, what they did for work, their age, their culture, their socioeconomic status, all that, because they're individuals. They've lived these long, gregarious lives, so as frontline staff, you're supposed to become more intimate with them."
Then COVID-19 leaves them struggling to breathe, or alters their mental status due to not getting enough oxygen, according to Day.
"It's very difficult," he said.
'We have to be super cautious'
Beyond the anxiety at work, Goetze said she and her husband, also an essential worker, have gotten into a routine to lessen the chances of bringing the virus home. They're a family of five, with two teenagers and a 2-year-old.
"The day that we had our first positive case was the last day that I kissed my children or my husband," Goetze said, noting that it's now been about a month. "It definitely impacts our whole life. We have to be super cautious."
While Goetze joked that social distancing from their parents is normal for teenagers, virus or not, her toddler is at the stage where he wants to snuggle with his mom. She said she tries to keep her face away from his.
"It's just a new normal," she said.
'I think we have to embrace the new culture'
Despite the challenges at work and the loss of residents he cares about, Day's outlook for the future is positive. He said trying to figure out when things may return to the way they were before doesn't help.
"I think we have to embrace the new culture, and really do the best that we can, like we've been doing to serve this population," he said.
Even with social distancing and residents remaining in their rooms, Day said the staff at the Commons has come up with activities that maintain social distancing, but are still a way to boost the spirits of residents and staff. There are sing-a-longs and bingo in the hallways. When visiting residents that he hadn't had a chance to see due to being incredibly busy, he said they were positive.
The residents are understanding of the situation, Day said.
"We're getting thank you's from them, but we just want to thank them for being good patients," he said. "They're a very brave population. They're what's keeping us going."
For Goetze, the pandemic has been "very eye opening." There are some people who dismiss the threats of the virus, but she's seen the devastation in person, she noted.
"When you're watching someone who is relatively stable and they're doing OK, and then within an hour they're not, that's how quickly this disease can turn, and that's hard," she said.
Goetze noted how COVID-19 has killed people of all ages.
"When you're looking at even some of our younger population who were relatively healthy and then encountered this, and now they're not, those are the ones that really make you grateful that you're still alive, and appreciate what you have around you," she said.