Coronavirus
Marty Walsh casts doubt on status of 2020 Fourth of July fireworks gathering in Boston
The Boston Symphony Orchestra says it will make a final decision by mid-May.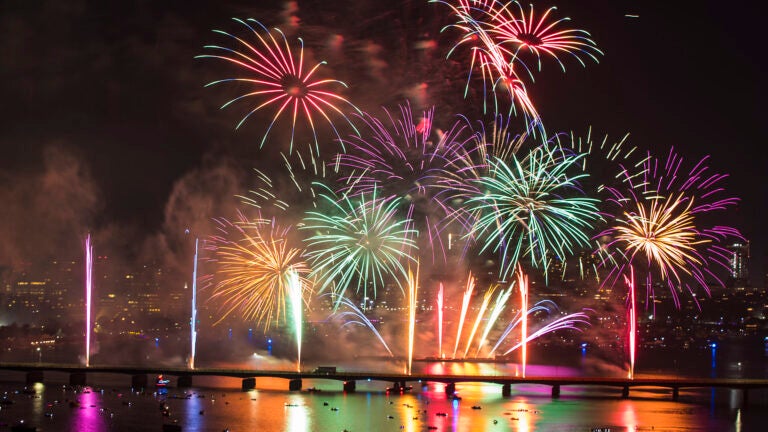 In the midst of the coronavirus pandemic, Boston Mayor Marty Walsh says no official decisions have been made about the annual Boston Pops Fireworks Spectacular.
But he's highly doubtful that the Fourth of July fireworks show, which draws hundreds of thousands of people to the banks of the Charles River, will go on as usual.
In an appearance Friday afternoon on WGBH's "Boston Public Radio," Walsh said he doesn't think "we'll be having large gatherings of people" by July or August, due to restrictions to limit the spread of the highly contagious disease.
Public health experts say that bans against large-scale events should remain in place until certain markers are reached for testing and treating COVID-19, which may not be until 2021.
Walsh said earlier this week that he remains "hopeful" the postponed Boston Marathon could happen in September. And while he predicted a gradual reopening of the economy beginning in "early summer" on Friday, he said it was unlikely big events in July or August would go on as planned.
"When it comes to baseball and sports and things like that, I think by July and August, I don't think we'll be back to a place where we're going to have 35,000-40,000 people at a baseball game or 100,000 [to] a million on the Esplanade in town," the mayor said. "I just don't think we'll be at that place yet by the summer."
The city of Somerville completely canceled its respective Fourth of July fireworks show earlier this month, citing coronavirus concerns. And the Boston Pops also recently nixed its spring concert schedule, which was slated to run through June 13.
Walsh noted Friday that he had a conference call Thursday with Boston Symphony Orchestra officials about what the city's well-known Fourth of July concert and fireworks could look like, amid likely social distancing restrictions.
In an email, BSO spokeswoman Bernadette Horgan told Boston.com that they are in "daily conversations to assess the advisability of proceeding" with their summertime programming, including the Fourth of July concert and their season at the Tanglewood Music Center. Horgan said the BSO plans to make a decision next month.
"We are currently weighing all the possible scenarios for these major summertime offerings and are planning to make a final decision about them by mid-May," she wrote.
"Whatever decisions are made regarding this year's Boston Pops Fireworks Spectacular and Tanglewood season, they will be reached following recommendations over the next several weeks from the Centers for Disease Control and Prevention (CDC) and World Health Organization (WHO), as well as in close consultation with the Commonwealth of Massachusetts and City of Boston," Horgan added.
Officials at the state's Department of Conservation and Recreation, which owns the Esplanade and Hatch Memorial Shell, said that while no decisions have been made, they're continuing to monitor the situation as it relates to COVID-19.
"I'm not sure exactly what that will look like," Walsh told WGBH. "I don't want to say anything now that's going to make news, but I think an announcement on that should be coming fairly soon."