COVID
Charlie Baker explains why Massachusetts hasn't considered lifting coronavirus shutdown orders yet
"You really can't make a decision to reopen until you get past the surge."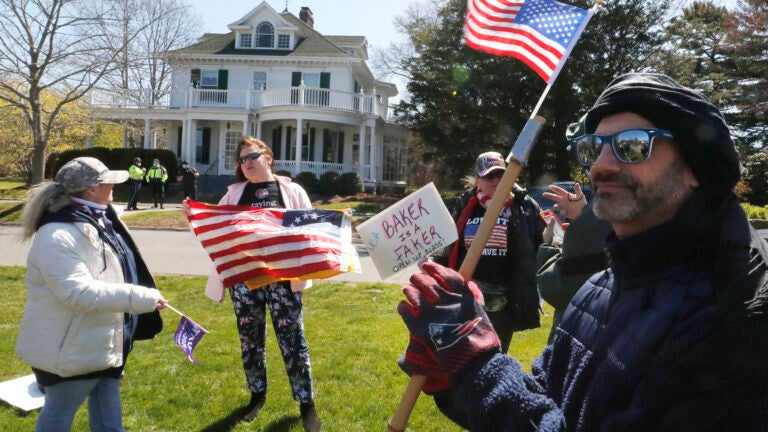 While some states are moving forward with plans to lift coronavirus shutdown orders, Gov. Charlie Baker reiterated Friday morning that he believes Massachusetts is not there yet.
"You really can't make a decision to reopen until you get past the surge, OK?" Baker said in an interview Friday morning on WGBH. "That's pretty much the guidance that has come from all the experts."
The Massachusetts governor said that lifting restrictions — such as the administration's stay-at-home advisory or nonessential business closure — would undermine all the work the state had done to make sure the pandemic did not overwhelm the local health care system.
<hr>
<h2>Baker: Reopening depends on data</h2>
<hr>
As of Thursday, there have been more than 46,000 confirmed cases of COVID-19 in Massachusetts and 2,360 deaths due to the disease. The state also reported its largest single-day increase in new cases Thursday, though it was due to the fact that the state had significantly expanded testing.
"We predicted that we would be in the surge around now, and we are," Baker said.
As a percentage of overall tests, Baker noted that the state has seen a recent "flattening or slight dip" in the number of positive coronavirus cases. The number of hospitalizations due to COVID-19 in Massachusetts has also plateaued, according to state data.
But despite the relatively positive signs, Baker stressed that the state needs to see sustained declines in those two areas before officials can begin easing restrictions.
"We're definitely not on the other side," he said. "You got to get to the other side and be there for awhile before you can start talking about sort of carefully and cautiously reopening up the economy."
Even the most optimistic plans say that states must have 14 days of sustained reductions in coronavirus cases, along with extensive testing, before they should begin lifting social distancing restrictions.
Baker's comments came after a small protest against the shutdown orders was staged Thursday outside his home in Swampscott. Some southern and more rural states are also planning to ease certain restrictions in the near future. However, the most aggressive moves to let nonessential businesses reopen, such as in George and South Carolina, have been strongly criticized by city mayors and public health officials.
"That could be setting us back," Dr. Anthony Fauci, the director of the National Institute of Allergy and Infectious Diseases, told The New York Times earlier this week. "It certainly isn't going to be helpful."
While Baker has said the surge in coronavirus cases in Massachusetts hasn't been as bad as the projected worst-case scenarios, he has warned against letting up too soon. The state's business closure order and stay-at-home advisory are currently slated to expire on May 4, but the Baker administration has also entered a regional pact with other densely populated, Northeast states to coordinate their eventual reopening efforts.
The timeline and details of the coordinated plan haven't yet been released, as most states remain focused on managing surging COVID-19 cases.
During an MSNBC interview Friday morning, Boston Mayor Marty Walsh agreed that officials planing on "opening up their businesses this weekend are potentially going to do some damage and harm in their states."
"They might have to go back to shut them down again," Walsh said. "I think giving people false expectations or false hope is not the way to go right now. I think what people are looking for is leadership. Even though they might not like what we're saying as far as having to shut things down, they know that we have their interests at heart."