COVID
Boston, Mass. General Hospital roll out randomized antibody testing program for city's COVID-19 hotspots
City officials said 1,000 residents living in East Boston, Roslindale, and parts of Dorchester have already been contacted to take part in the voluntary study.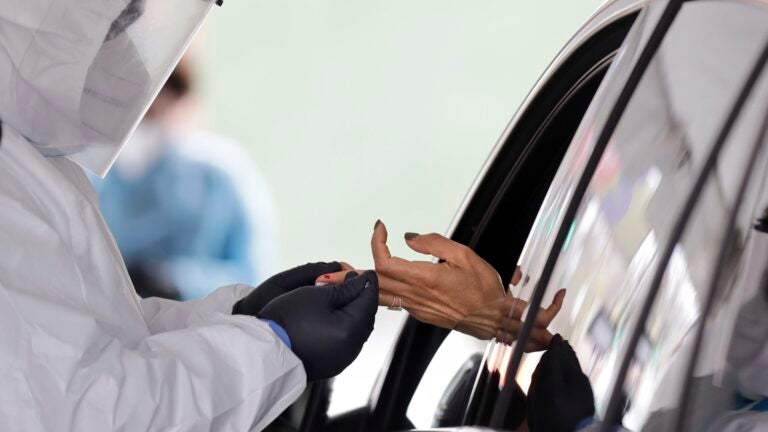 About 1,000 Boston residents will be tested for coronavirus antibodies as part of a study hoping to track how many people living in hard-hit neighborhoods may have already been infected by COVID-19 without ever developing clear symptoms.  
The program, which Mayor Marty Walsh announced Sunday in partnership with Massachusetts General Hospital, will focus its testing on people living in East Boston, Roslindale, and parts of Dorchester. 
"It is our hope that by conducting this testing, we as a collective city will get a better understanding of the true prevalence of COVID-19 in our community," Walsh said in a statement. "The more we can expand our testing, the more we can learn how to use our medical resources more efficiently, and how we need to focus our current efforts to contain the virus."
Today, we will begin working with @MassGeneralNews to randomly test 1,000 residents in some of our hardest-hit neighborhoods including East Boston, Roslindale, and the 02121 and 02125 sections of Dorchester. This will help us understand community exposure to #COVID19.

— Mayor Marty Walsh (@marty_walsh) April 26, 2020
Nationally, the CDC has estimated that 25% of people with COVID-19 are asymptomatic and may be a carrier of the virus, unknowingly infecting others.
City officials have already started reaching out to potential asymptomatic Boston residents, who will be randomly selected this week, and participation will be available on a first-come, first-served basis, according to the mayor's office. 
Anyone involved in the study will be tested, free of charge, for both COVID-19 and the COVID-19 antibodies. Those who test positive for either will be given clear guidance on how to care for themselves and those close to them, the city said in its statement.  
Walsh's office said the program is expected to see completion by this Friday, May 1, and promised to publicly release the data, including the numbers and percentage of residents within the hard-hit neighborhoods who test positive for the virus or for COVID-19 antibodies. 
Our hope is that we can use the summary data from this testing to inform a path to recovery and adapt our current efforts as needed to contain the virus. https://t.co/CXZceEGptj

— Mayor Marty Walsh (@marty_walsh) April 26, 2020
"We are at war with COVID-19, and overcoming this viral enemy demands knowledge, strategy and intelligence gathering," MGH President Peter L. Slavin said. "A growing body of evidence suggests that many people who have been infected with COVID-19 are asymptomatic, but we don't yet know how prevalent the disease is in our city, in our communities and in our society. Data from this testing in Boston will provide vital clues into the spread of the virus and will help us develop strategies to slow down or stop this invisible foe."
<hr>