COVID
Watch a Boston Police officer's viral rendition of 'America the Beautiful'
A 53-year-old Boston Police officer died due to COVID-19 earlier this month. That's when officer Kim Tavares decided to sing a tribute in his honor.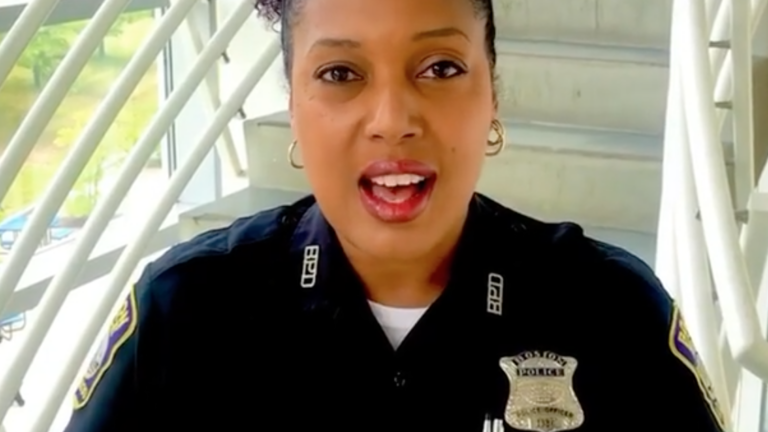 Boston Police officer Jose Fontanez, who died earlier this month at the age of 53 from COVID-19, officer Kim Tavares wanted to hear "something comforting" that evening. She scrolled through her phone, thinking of him and how they could not "give a proper send off."  She said she felt for his family.

A self-taught singer who has served for the department for the last 19 years, Tavares decided then to sing "America the Beautiful." She recorded herself while wearing her uniform and posted the video to TikTok, Instagram, and Twitter.
Since then, Tavares's video has gone viral, racking up 4,400 views on Twitter and 12,500 likes on TikTok. Kelly Ripa shared it on her own Instagram page. The video also caught the attention of "Good Morning America," where Tavares elaborated Monday on why the song's lyrics inspired her during these difficult times.
"If you think about those words from the verse, no matter what you're going through, there's still going to be 'beautiful, for spacious skies' and 'amber waves of grain,'" she said.
Around the world, at least 2.8 million people are sick due to the virus, according to The New York Times. The COVID-19 pandemic is sweeping across Massachusetts, and Boston has 8,159 confirmed cases as of Sunday. The city's essential workers are at risk: Seventy-eight Boston officers and 13 civilian employees have tested positive for the virus.
Many people have commented on Tavares's post and contacted her to express how much her video has resonated with them. On Tik Tok, her post garnered over a thousand comments — and Tavares said she reads all of the messages.
"I read [one comment] where a lady said, 'My husband and I are sitting here watching you, and we're both crying,'" Tavares told GMA."I commented, 'Girl, now you have me crying!' That's what it's all about, that connection. Wherever you are in the world, you're connecting."
She added: "I think people like the tone of my voice. It's clear, and that's me. When I sing, I like my voice to be soothing, to be calming. That's needed at this time."
Tavares said she feels like her purpose is to represent the Boston Police Department, as well as who she is as a person even when she's not wearing a uniform.
"The uniform doesn't make me who I am, I make the uniform," she said. "I'm a person under here. I'm representing not only Boston or the Boston Police Department, but I'm representing single mothers. I'm representing women and I'm representing myself."