Coronavirus
Cambridge joins Somerville with order threatening to fine people who don't cover their face outside
"This mandate emphasizes the importance of wearing a face covering, not as an option, but as a requirement in our effort to combat this pandemic together."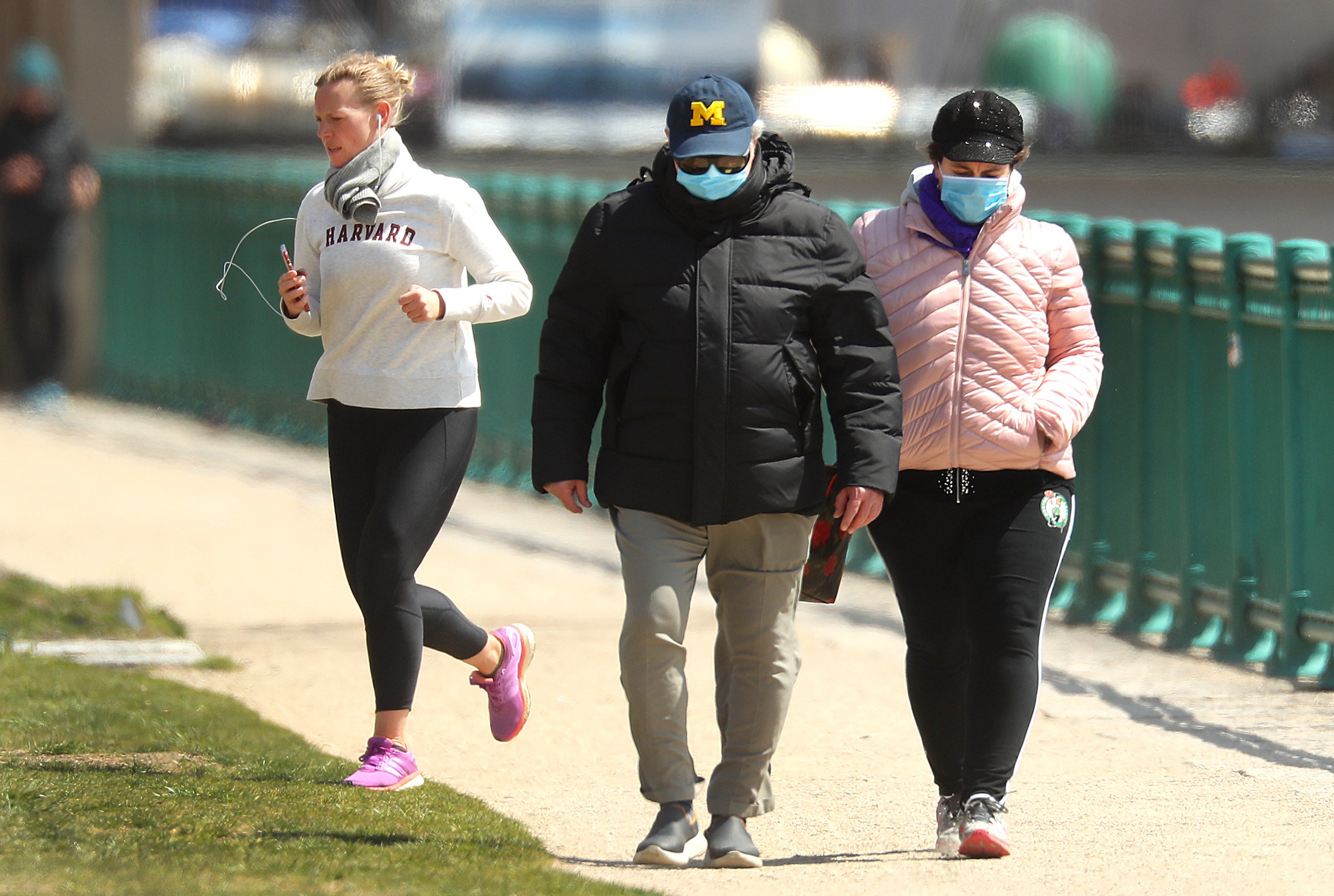 Hours after Somerville announced an aggressive new face covering order Monday, the neighboring city of Cambridge issued a near-identical mandate threatening those who don't cover their face in public with a $300 fine.
In a press release Monday night, Cambridge officials said the emergency order requires everyone over the age of 5 to wear a mask or cloth face covering in all inside or outside public places to prevent against further spreading the coronavirus.
Like in Somerville, the temporary order takes effect Wednesday and includes a one-week grace period, according to the press release. It also similarly says that those who willingly refuse to comply may be fined $300 by Cambridge police.
The orders in Cambridge and Somerville go further than the statewide mask advisory issued by Gov. Charlie Baker's administration, as well as the voluntary guidance across the Charles River in Boston. They also go further than local mandates in other cities that only require people to wear masks in public settings where they cannot maintain six feet of distance between one another, such as grocery stores.
Cambridge's order applies "without limitation" to all outside public areas, including sidewalks, streets, parks, plazas, bus stops, and non-residential parking lots. There are no exceptions for runners or cyclists. It also requires people to cover their face in any common areas of apartment buildings or multi-unit homes, such as lobbies, stairwells, elevators, and laundry rooms. Cambridge's order specifies that employees — in addition to customers — of businesses that are still open during the pandemic must wear a mask.
The only major difference between the orders in Somerville and Cambridge is the age threshold. Somerville's order applies to everyone over the age of 2, while Cambridge officials say their requirement applies to people over the age of 5.
The two densely populated cities had previously issued their own mask advisories, but said that not enough residents were complying with the recommendations.
"While we are grateful to those in Cambridge who have been heeding our previous mask advisory and taking this issue seriously, we are concerned about the number of residents who continue to shop, walk, run and bike throughout the city without proper face coverings," Cambridge Mayor Sumbul Siddiqui and City Manager Louis DePasquale said in a joint statement.
"I don't want to point any groups out, but clearly the amount of people who are running and bicycling through the city without masks, it was our determination that the time has come," DePasquale said during a Cambridge City Council meeting Monday night, according to Cambridge Day.
The order comes amid anecdotal reports of an increase in people in the Boston area exercising outside, especially on the popular paths lining the Charles River, since gyms and other businesses deemed nonessential were forced to close to prevent the spread of the coronavirus. Cambridge recently began using "sound trucks" to remind people outside to stay six feet apart and wear a mask.
The city's police department said that the steep $300 fines will be issued as a "last resort" at the discretion of individual officers. Police will primarily focus on educating violators and may issue warnings to those who do not cooperate, according to the press release Monday. Cambridge's order also includes an exception for those who have trouble breathing.
Still, the approach drew concerns from some councilors, given the evidence that — with the exception of large crowds — outdoor transmission of COVID-19 is rare; as The New York Times recently reported, experts say there is minimal risk that people exercising individually outside will spread the disease.
"Outdoor, episodic exposure does not lead to transmission," City Councilor Patty Nolan said during the meeting, according to Cambridge Day. "I worry that by focusing on outdoors, we won't be focusing on indoors, [and] I worry that we are needlessly scaring people."
But as in Somerville, officials in Cambridge — where there had been 710 confirmed COVID-19 cases and 43 deaths due to the disease as of Monday — would rather be safe than sorry. In their statement Monday night, Sumbul and DePasquale tried to appeal to the city's sense of community.
"We must all do our part in flattening the curve and make sure we are preventing the further spread of COVID-19," they said. "This mandate emphasizes the importance of wearing a face covering, not as an option, but as a requirement in our effort to combat this pandemic together."
<hr>
<h2>How to make a mask without sewing</h2>