Coronavirus
Grocers want to be designated as 'extended first responders,' ask for priority protections
Gaining this temporary first responder status would ensure supermarket workers' access to emergency childcare, testing, and other priority protections.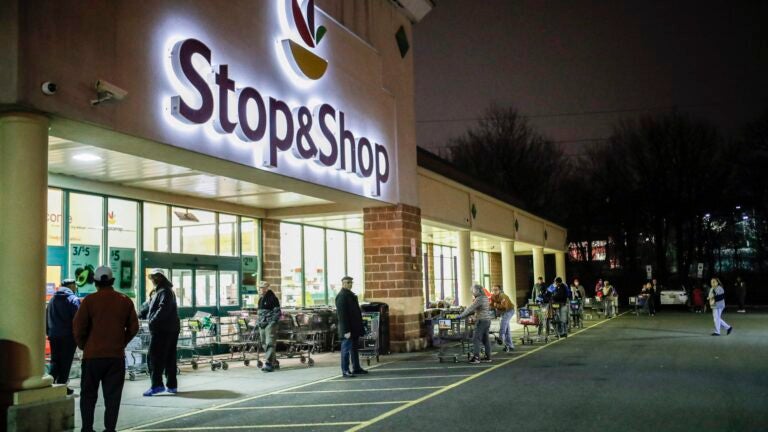 Stop & Shop and its employees' union are asking federal and state officials to designate grocery store employees as "extended first responders" or "emergency personnel" during the COVID-19 pandemic so that they have access to priority COVID-19 testing and personal protective equipment. 
In Massachusetts, Gov. Charlie Baker has deemed grocers as part of the "essential" workforce, providing necessary services amid the coronavirus-related shutdowns that are now scheduled to last until May 18.
Yet granting grocery store workers this temporary first responder status would ensure their access to emergency childcare, testing, and other priority protections to keep their families safe, Stop & Shop President Gordon Reid and United Food and Commercial Workers International President Marc Perrone said in a joint statement Monday. 
"Make no mistake, Stop & Shop associates are essential workers and they deserve essential protections," the statement read. "Stop & Shop and UFCW have worked together to provide these workers with benefits and protections during this health crisis, including emergency pay raises, additional paid sick leave, and access to KN95 masks and face shields, but even more can be done for these workers."
Shaw's and Star Market made a similar, national call on April 7, requesting that their supermarket associates be temporarily designated as "extended first responders" too. 
While Gov. Baker issued an executive order in hopes of making grocery stores safer workplaces, such as requiring each store to cap the number of people shopping at 40% of its maximum occupancy, three supermarket employees have already died from the virus. 
Vitalina Williams, who worked at a Salem Market Basket, died on April 7. Leon Marin, who worked at Whole Foods in Swampscott, died on April 15, and a Belmont Star Market worker died last week. 
Earlier this month, Baker's administration also gave supermarket workers access to the free, priority COVID-19 testing sites at Gillette Stadium in Foxboro and the Big E fairgrounds in West Springfield, but grocery store associates noted that granting workers first responder status will provide them with other priority protections, like emergency childcare.
"For the sake of workers, their families, and our nation's food supply, this action will provide grocery workers with the vital protections they deserve," Reid and Perrone said in the joint statement. 
Boston Mayor Marty Walsh also pledged his support for grocers during a Monday press conference. 
"The city of Boston would support some regulation for grocery store workers to be treated in some cases as first responders as far as pay and things like that," Walsh said. "I certainly would, personally."