COVID
A Cape Cod airport is defending its 'disproportionate' CARES Act funding
The sparsely trafficked Barnstable Municipal Airport received nearly $18 million in coronavirus relief funds, enough to cover its entire budget for over two years. And a Tennessee congressman is calling them out.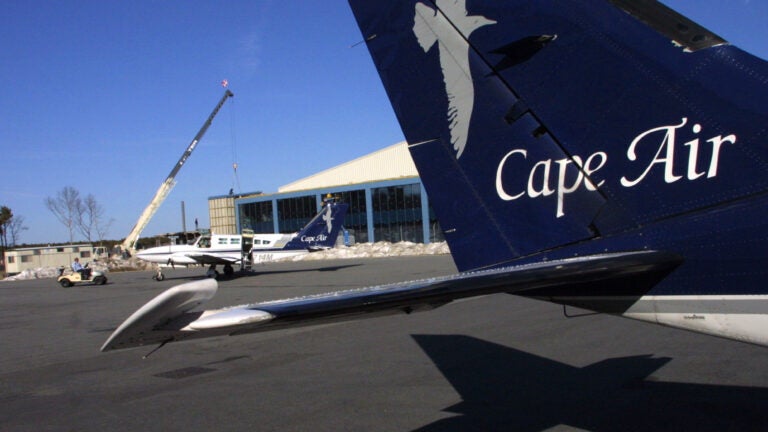 Barnstable Municipal Airport had been in "recovery mode" long before the coronavirus came to the United States.
Over the past few decades, the publicly owned Cape Cod airport had seen its passengers dwindle due to competition from high-speed ferries. According to airport manager Katie Servis, annual boardings have dropped from 200,000 to around 28,000 over the past 10 years, as travelers from mainland Massachusetts to Nantucket and Martha's Vineyward — which make up the "vast majority" of their passengers — increasingly opted for the cheaper, new waterborne option.
But the airport was recovering. Boosted by summer JetBlue service from New York's John F. Kennedy International Airport as well as other non-aviation revenues, Servis said the airport — which is owned by the town of Barnstable but located in Hyannis — was "just starting to get our heads above water."
"And then COVID-19 hit," she said.
The pandemic swiftly grounded air traffic out of Hyannis, as it did at airports across the world. TSA passenger screenings in the United States are down roughly 95 percent compared to the previous year around this time. And experts say the industry may be crippled for years. Already on soft financial ground, Servis says Barnstable Airport's revenues — from flights, parking, rental cars, restaurants — "plummeted."
So it's an unusual position which she now finds herself — having to defend the airport for accepting emergency aid from the federal government.
As part of the CARES Act passed by Congress and signed into law by President Donald Trump, lawmakers devoted $10 billion to the country's airports — separate from the $50 billion awarded to private airlines — to mitigate lost revenues due to the pandemic. The funds are intended to help airports avoid layoffs and pay for other expenses.
Barnstable Airport got enough to fund itself — even with no other revenue — for the next two years.
The $18 million sum — second most in Massachusetts only to Boston's Logan International Airport — dwarfed the $1.3 million received by Worcester Regional Airport, which served six times as many passengers as Barnstable in the last fiscal year. It was also more than the amount of funding that the states of New Hampshire and Vermont received in total for their respective airports; Manchester, New Hampshire's airport, which had 1.7 million passengers in 2019, recieved just over $12 million from the CARES Act.
Servis was initially "shocked" when she learned of Barnstable Airport's allotment, as she told The Cape Cod Times. And she wasn't the only one who noticed.
Rep. Steve Cohen, a Tennessee Democrat, sent a letter to the Federal Aviation Administration last week, requesting the CARES Act payments be suspended and calling out the Cape Cad airport for receiving a "disproportionate amount of funding."
"The Barnstable Municipal Airport in Hyannis, Massachusetts, received $18 million, which is double the airport's planned Fiscal Year 2021 budget," Cohen wrote.
As the congressman noted, Barnstable Airport was hardly the only — or most striking — example. An airport in rural North Dakota received $16.9 million, "which is enough to sustain its current operations for fifty years," he wrote. Roughly $17.5 million went to another airpot in Iowa, which would be enough to fund it for 29 years.
"I was disappointed to learn that the funding has been disproportionally awarded to several smaller, less trafficked airports," Cohen wrote.
Meanwhile, some larger airports "only received enough funding to sustain their operations for three or four months," according to Cohen. For example, the $141 million in relief that Logan Airport received would cover about half of its $285.5 million operating budget in the last fiscal year. In his home state, Cohen said he had been surprised to learn that an airport in Knoxville received more funding than a nearly twice-as-busy airport in Memphis.
"I respectfully request that the FAA suspend its CARES Act payments to airports immediately until Congress can address this severe funding flaw that is prohibiting adequate support for our nation's airports," Cohen wrote, calling the funding formula "arbitrary."
However, the formula was intended to benefit smaller airports.
According to the FAA, the allocation was based only 50 percent on annual enplanements or, in other words, passengers. The other half was based 25 percent on an airport's debt and 25 percent on the ratio of their cash reserves to their debt.
Politico reported this week that the formula, which was proposed by the Senate, won out over a simpler House proposal. It also led to a "mathematical paradox." Because some airports had no debt but a certain amount of cash reserves, the formula was given the impossible task of dividing by zero. The conundrum led to 56 airports automatically getting $17.56 million. Servis confirmed that was the case for Barnstable.
Unfortunately for the outlier airports in North Dakota and Iowa, among others, not all of the smaller airports that received staggering payments will get all of their allocation.
After announcing the payments, the FAA clarified that the initial grants will be capped at four times the amount of each airport's annual operating budget. Those that received more than that will have to prove they actually need the funding.
FAA spokeswoman Marcia Adams told Boston.com that the agency will respond directly to Cohen's letter, which was sent after they clarified that some of the truly exorbitant payments would be capped.
"We do not plan to re-evaluate the formula," she said.
Barnstable Airport should get to keep its full allocation, based on their typical $8 million operating budget. Servis said she whittled it down to a "bare bones" budget of $6 million for the upcoming fiscal year due to the pandemic.
Still, Servis — who rejected Cohen's idea of pausing payments — says the airport needs the CARES Act funding to bridge lasting revenue shortfalls. The relief allows her to keep paying employees and cover operating costs that go into maintaining facilities and meeting federal aviation regulations.
"Those expenses do not go away," she said.
Airport tenants who have seen their own revenue evaporate have already reached out to Servis to ask for rent relief; the CARES Act makes that a possibility, she said.
While she understands Cohen's concerns, Servis contends that smaller airports like hers will struggle to bounce back as quickly as bigger airports. She predicts business travel will return before leisure and notes that other airports have more airlines servicing their facilities. Barnstable Airport is home to a handful of small fleets, including Cape Air. Servis says it's unclear if or when JetBlue will come back. This summer was supposed to be the airline's sixth season.
"We are probably going to be languishing in our revenues," she said. "It's not just going to be one or two years."
Even if the airport will be in a "deeper recovery mode" due the the coronavirus, Servis is "happy" with the funding, which she acknowledged is a "large amount."
"There are some airports that will do well, and there are some airport that the formula didn't work out for them," she said. "That's how the FAA decided to base their formula. Unfortunately for some, and fortunately for others."