COVID
Convenience stores struggling during COVID-19 are seeking to delay the ban on flavored tobacco sales
The coronavirus pandemic has hit business hard. Blocking tobacco sales could be the final blow to hundreds of stores, an industry group says.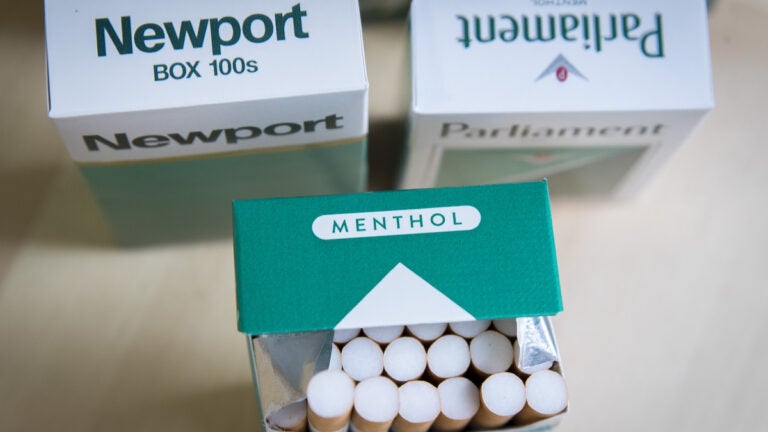 The industry group representing Massachusetts' 3,300 convenience stores is pleading with Gov. Charlie Baker to delay the sales ban on flavored tobacco products expected to take hold in June as business has steadily dropped during the COVID-19 pandemic.
Jonathan Shaer, executive director of the New England Convenience Store & Energy Marketers Association, or NECSEMA, wrote to Baker twice this month, urging him to consider holding off on prohibiting retailers from selling menthol, mint, and wintergreen cigarettes and smokeless tobacco, for one year.
The regulations, which are effective June 1 under the law passed last year, limit the purchase of flavored tobacco products, including e-cigarettes, solely to smoking bars for on-site consumption.
Shaer, in his letters to the governor, said convenience stores have experienced a 30 to 50 percent decline in overall sales as the public hunkers down due to coronavirus.
As of April 17, gasoline sales had dropped off 60 percent and lottery sales were down by 20 percent, he wrote. Together, the numbers paint a gloomy picture for the financial future of the small businesses, considered essential during the public health emergency, according to Shaer.
NECSEMA expects 200 stores will permanently close by the end of May, he said. With limited tobacco sales starting in June, things could become worse.
Estimates project that with the new law in effect, 800 stores could go under within a month or two, Shaer said. Menthol tobacco transactions make up approximately 20 percent of revenue.
"I am gravely concerned about the large number of convenience store causalities the impending law, coupled with the Covid- related financial fallout, will have on our industry and the communities they serve," Shaer wrote.
But supporters of the ban say that the global health crisis is instead one more reason to follow through on forgoing sales of those tobacco products in Massachusetts.
Smoking contributes to the underlying health conditions that make can cause patients to become severely ill when they contract COVID-19, a respiratory illness, health experts say.
"The middle of a lung disease pandemic is absolutely the worst time to delay necessary action to protect our kids from addictive tobacco products that harm the lungs," Matthew Myers, president of the Campaign for Tobacco-Free Kids, said in a statement. "Now more than ever, Massachusetts' priority should be to protect the health and lungs of kids, not the special interests of those who want to continue selling flavored tobacco products that addict, sicken and kill far too many.
"It's as if these tobacco retailers don't realize they're in the business of destroying lungs," he added. "It literally takes your breath away. It makes the word 'hypocrisy' feel feeble."
Shaer, however, argues that banning sales amid the pandemic brings risks of its own.
Pointing to a significant boost in vape product sales New Hampshire experienced after Massachusetts banned the items from store shelves last fall, Shaer wrote that some 300,000-plus tobacco customers could go across the state line once again, even as officials work to prevent travel to stem the spread of the virus.
"New Hampshire vape sales from the past several months have increased 1,000% and retailers in that state are expecting an even greater increase when Massachusetts bans menthol cigarettes," Shaer wrote to the governor. "We leave these adults little choice but to travel at a time when you have strongly discouraged it."
Additionally, Shaer warns the ban would force would-be customers to turn to the black market, while widespread store closings would create food deserts, making it harder for people to access essential resources during the pandemic.
"Even if the illegalization of menthol were not a reality, thousands of convenience stores would be in jeopardy," Shaer wrote. "But coupled with an additional 20% loss in revenue (far greater in urban stores) related to lost menthol sales the outlook is, in no uncertain terms, catastrophic."
NECSEMA was a leading critic of the sales ban bill last year. But Shaer said the association is only looking to put off the ban, meaning it's "simply business as usual for one year longer than planned."
"I am well-aware this may be viewed as opportunism given our strong opposition to this law, but the dire consequences which await my members on June 1, if action is not taken, deprives me the luxury of waiting for the ideal time to make a more delicate appeal for action that can mitigate the wholesale destruction of potentially viable businesses," he wrote.