COVID
After service draws 56 on Sunday, Worcester church complies with social distancing during Wednesday service
"Over the last couple of days, this has been an extremely difficult time for this church, and for myself and our family."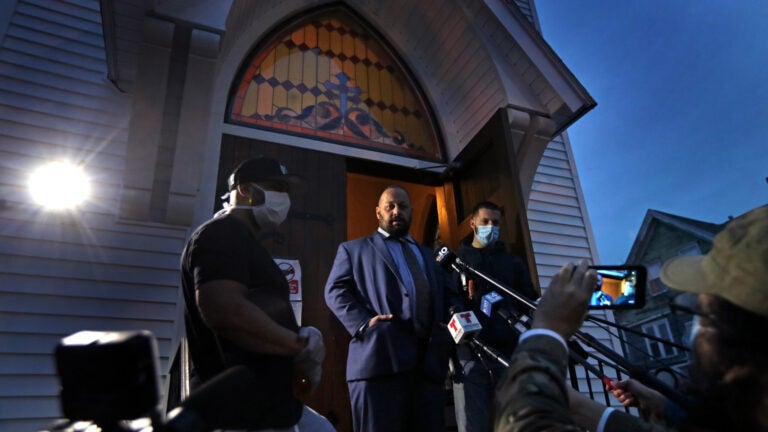 A Worcester church that was criticized by city officials for holding a service Sunday that drew 56 people, in violation of the COVID-19 State of Emergency, complied with regulations during a service Wednesday night.
Adams Square Baptist Church only had 10 people attend its service in person; the service was also streamed and recorded online.
The city police department confirmed that the service fell within guidelines issued under the State of Emergency. If the church violated the order, the Rev. Kris Casey could have been issued a $300 fine, according to The Boston Globe.
During the service, amid readings of Bible verses, Casey referenced the challenges he and his family have faced recently.
"Over the last couple of days, this has been an extremely difficult time for this church, and for myself and our family, and there's been a lot of people who have called and said a lot of nasty things," he said. "And you know my wife and I take the time and we pray, 'Lord help us to love them, but I don't' know who this person is or what they're going through but would you send someone their way that would tell them about Jesus?'"
During the nearly 45-minute service, the stream solely focused on Casey and didn't show how many people were in attendance.
The church did not return multiple requests for comment from Boston.com.
Prior to the service, Worcester police Chief Steven Sargent said in a statement that the city wanted the church to follow the guidelines.
"Social distancing measures are in place to keep communities safe," he said in the statement emailed to Boston.com. "We have communicated with the Pastor about resources and guidelines to help the congregation adhere to social distancing in an effort to keep its members and the extended community safe. We are looking for compliance."
Last Thursday, Casey posted a copy of a letter dated April 22 and addressed to Gov. Charlie Baker, and also sent to Sargent and Worcester City Manager Edward Augustus Jr., announcing that the church would resume services.
"I am writing to inform you that, after much research, consultation and prayer, I have made the decision to resume gathering as a church for corporate worship," the letter begins. "This coming Sunday, April 26th, we will hold a morning worship service in our church sanctuary located at 266 Lincoln Street in Worcester. We will also gather at the same location on Wednesday evenings for our midweek service."
After noting that he's aware of the guidelines in the State of Emergency limiting gatherings to 10 people or less, Casey writes that the order violates the First and Fourteenth Amendments in the Constitution.
"Please keep in mind that my congregation and I will carefully observe all social distancing requirements, including keeping worshippers six feet apart at all times (although we may allow families to sit together)," part of the letter reads. "We will be taking precautionary measures by taking the temperature of all attendees prior to entry into the building as well as to provide them with hand sanitizer, masks, and gloves for the duration of the service, consistent with guidance from the CDC."
When asked about the matter during a press conference on Wednesday, Baker said local authorities were handling it.
"We've said before that that's exactly the sort of the thing where we established the criteria, we believe it's most appropriately dealt with at the local level," he said. "And I know the city of Worcester has concerns about this – appropriate concerns – and I anticipate they'll be the ones to deal with the church on that."
Thursday morning, a post to the church's Facebook page included a memorandum from U.S. Attorney General William Barr, with "Balancing Public Safety with the Preservation of Civil Rights" as the subject line, and dated April 27.
"As the Department of Justice explained recently in guidance to states and localities taking steps to battle the pandemic, even in times of emergency, when reasonable and temporary restrictions are placed on rights, the First Amendment and federal statutory law prohibit discrimination against religious institutions and religious believers," part of it reads.
In the post, the church thanks Barr "for standing up for what is right and helping to protect and defend our religious freedoms and liberties."