COVID
The year started off well for Dunkin'. Then the pandemic hit.
"We have a lot of work ahead of us."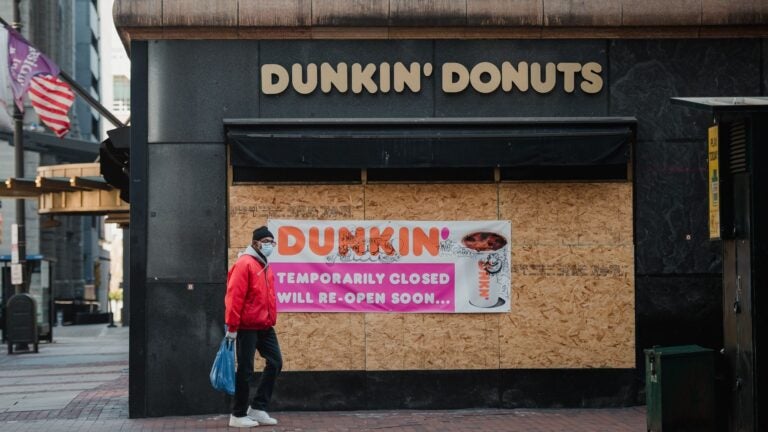 America may run on Dunkin'.
But what happens when much of America stops running?
The Canton-based coffee chain says it was on track to have its best quarterly performance in years until sales were thrown off by the dramatic effects of the coronavirus pandemic.
In its first-quarter earnings report Thursday morning, Dunkin' said sales declined nearly 20 percent in the last three weeks of March as the outbreak took hold in the United States, more than offsetting a 3.5 percent increase over the first 10 weeks of the year. David Hoffman, the company's CEO, said in a conference call the early growth had amounted to Dunkin's highest sales since 2013 and there was positive customer traffic for the first time in four years.
But from the end of March into early April, the chain says store sales in the United States declined approximately 35 percent, as the economic shutdown disrupted customers' morning routines. Overall, sales for the first quarter, which ended March 28, finished 2 percent lower compared to the prior year.
The pandemic's impact on Dunkin' is hardly unique; revenue has cratered for businesses across the economy due its effects. However, it wiped out positive signs from the brand's recent efforts to reposition itself after several straight years of declining customers.
"The rapid onset of COVID reversed strong momentum across the system," Hoffman said.
While about 90 percent of Dunkin' locations have stayed open as essential businesses, as many as 1,200 of the company's roughly 10,000 U.S. locations have been forced to temporarily close. Around a thousand remain closed — primarily at college campuses, transportation hubs, or in dense urban areas like Philadelphia and New York City, which has been disproportionately hard hit by the pandemic.
Internationally, the company says 50 percent of its 3,200 locations remain closed; first-quarter sales for Dunkin' International decreased more than 10 percent.
Hoffman says the decline in sales in the United States has begun to level off — and even tick back up — in recent weeks, but they remain down by 25 percent.
"We have a lot of work ahead of us," Scott Murphy, the president of Dunkin' Americas, said during the call Thursday morning.
To assist the independently run franchises that make up 100 percent of Dunkin' stores, the company has offered extended fee payment terms and deferred rent for the 900 stores that lease property from the company. Dunkin' officials also say they expect that most franchisees, which on average have 150 employees, have or will apply for forgivable loans from the federal government's Payroll Protection Program (Hoffman stressed that the company's corporate arm has neither applied for or received assistance from the small-business program).
"We are very grateful for the additional support provided directly to our franchisees through measures such as the CARES Act," Hoffman said.
Still, the company did not rule out the possibility that some locations could close permanently as a result of the crisis. Murphy said some low-performing stores could be consolidated.
"A little too early to put our arms around exactly how many, but we're having those conversations with our franchisees now," he said.
The company projects average store sales to be "down significantly" through the year. According to Dunkin' Brands CFO Kate Jaspon, franchises that receive assistance through the CARES Act are still projected to see a 20 percent decrease in their cash flow for the full year.
However, Jaspon said they remain "very confident" in the financial health of most franchisees, which made quick changes to their operations in response to the outbreak. Some stores stayed open only for drive-thru orders, and more than 4,000 now offer delivery through services like GrubHub and Uber Eats, which have grown to 1.4 percent of sales.
Murphy says they have also introduced a "radically reduced" menu for franchisees working with a "limited" staff. The company did not say how many store-level employees have been affected by layoffs, temporary closures, or reduced hours.
Hoffman said the company's corporate office has been able to avoid furloughs so far by "aggressively" reducing operating costs. He said he is taking a 30 percent base salary reduction through at least August and that the rest of the senior management team was taking a 20 percent cut. The company is also suspending its dividend program for stockholders, resulting in $33 million in savings in the second quarter.
Murphy said that Dunkin' has also scaled back its national advertising and put a pause on "new, potentially complex" limited-time offers. The pandemic has interrupted the chain's ongoing rebranding effort; Murphy said there will be a "temporary slowdown" in "next generation" store remodeling and other developments.
"But we've already started brainstorming on how remodels and new builds should work in this post-COVID world," he said.
Beginning last month, Dunkin' implemented a number of in-store changes to address health concerns related to COVID-19. The company mandated more frequent hand-washing, sent stores single-use gloves and masks, installed shields and social distancing markers in stores, and suspended its refillable mug program. The company also removed tables from its stores to comply with state orders allowing restaurants to stay open only for delivery and takeout.
According to Murphy, around 1,000 stores now offer curbside pickup, and most are closing by 7 p.m. to provide more time for cleaning.
Hoffman also noted that the chain has seen an interesting shift in sales; while early morning sales are down, they have actually picked up between 10 a.m. and 2 p.m. He attributed the uptick to people with "cabin fever," perhaps taking a midday break from working at home.
As a chain that already saw 90 percent takeout orders and had been pushing mobile ordering, Hoffman said Dunkin' was well positioned to survive the pandemic.
"We are — and our franchisees have been — refining a model that I think is adaptable to whatever the new reality looks like, and that's been low-touch, high-frequency, affordable ticket," he said. "I firmly believe that's a winning formula for a trusted brand that's been around for 70 years."