COVID
Here are the Massachusetts cities and towns with the highest rates of coronavirus
Chelsea remains a major hotspot for COVID-19 in the commonwealth.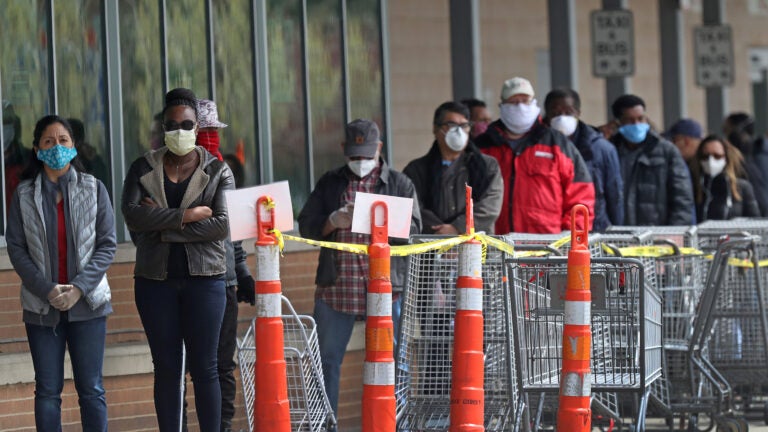 As the number of COVID-19 cases in Massachusetts surged to over 60,000, state data released Wednesday showed the contagious coronavirus is infecting some cities and towns at higher rates than others.
The latest numbers indicate Chelsea remains a major hotspot for the virus with 1,965 confirmed cases at a rate of 5,217.1 out of 100,000 people. The city has recorded 104 coronavirus-related deaths while 462 patients have recovered, officials say.
The city's rate has only increased since state officials began to release town-by-town and city-by-city numbers on a weekly basis. Two weeks prior, on April 15, the data showed COVID-19 spread at a rate of 1,890.37 per 100,000 people.
"Case numbers continue to rise in part because testing is now available in Chelsea," the city said in an update posted online Wednesday. "Anyone with symptoms should get tested immediately at Mass General Hospital or Beth Israel. We urge everyone to comply with physical distancing, face coverings at essential businesses, and isolation when sick in order to protect yourself and your community."
Cities and towns continue to ramp up their efforts to stem the spread of the illness.
More and more municipalities are requiring residents to cover their face when they're out in public. Meanwhile, Somerville, this week, went as far as to offer free coronavirus testing for any resident who wants it as part of what officials believe to be the most comprehensive COVID-19 response plan in the state.
Here are the 40 cities and towns with the highest rates of coronavirus  in Massachusetts:
Note: Rates are measured per 100,000 people
Chelsea, Cases: 1,965, Rate: 5,217.1 
Brockton, Cases: 2,735, Rate: 2,783.76
Everett, Cases: 1,004, Rate: 2,068.55
Lynn, Cases: 2,056, Rate: 2,037.6
Randolph, Cases: 643, Rate: 1,879.07
Lawrence, Cases: 1,639, Rate: 1,858.78
Revere, Cases: 1,123, Rate: 1,843.51
Danvers, Cases: 467, Rate: 1,635.39
Topsfield, Cases: 87, Rate: 1,488.72
Stoughton, Cases: 401, Rate: 1,449.88
Braintree, Cases: 570, Rate: 1,448.18
Holyoke, Cases: 596, Rate: 1,446.45
Lowell, Cases: 1,649, Rate: 1,411.11
Shirley, Cases: 115, Rate: 1,364.32
Boston, Cases: 9,284, Rate: 1,335.89
Norwood, Cases: 390, Rate: 1,265.15
Medford, Cases: 756, Rate: 1,243.13
Holbrook, Cases: 135, Rate: 1,195.21
Worcester, Cases: 2,284, Rate: 1,190.4
Raynham, Cases: 176, Rate: 1,178.28
Stoneham, Cases: 260, Rate: 1,165.71
Tewksbury, Cases: 357, Rate: 1,159.44
Rockland, Cases: 206, Rate: 1,142.13
Longmeadow, Cases: 177, Rate: 1,141.22
Waltham, Cases: 748, Rate: 1,122.12
Westborough, Cases: 209, Rate: 1,109.21
Malden, Cases: 751, Rate: 1,108.43
Agawam, Cases: 317, Rate: 1,108.22
Framingham, Cases: 816, Rate: 1,095.8
Avon, Cases: 48, Rate: 1,095.72
Peabody, Cases: 611, Rate: 1,095.66
Milford, Cases: 316, Rate: 1,078.38
Methuen, Cases: 576, Rate: 1,075.61
Williamstown, Cases: 79, Rate: 1,072.1
Wrentham, Cases: 120, Rate: 1,064.35
Middleton, Cases: 109, Rate: 1,056.27
Millbury, Cases: 144, Rate: 1,054.4
East Longmeadow, Cases: 178, Rate: 1,052.35
Saugus, Cases: 298, Rate: 1,048.36
Templeton, Cases: 93, Rate: 1,041.32