COVID
Joe Biden commits to coronavirus oversight reforms in op-ed with Elizabeth Warren
"If Congress and the Trump administration are unwilling to act now, then we will ensure that these changes are made in January 2021."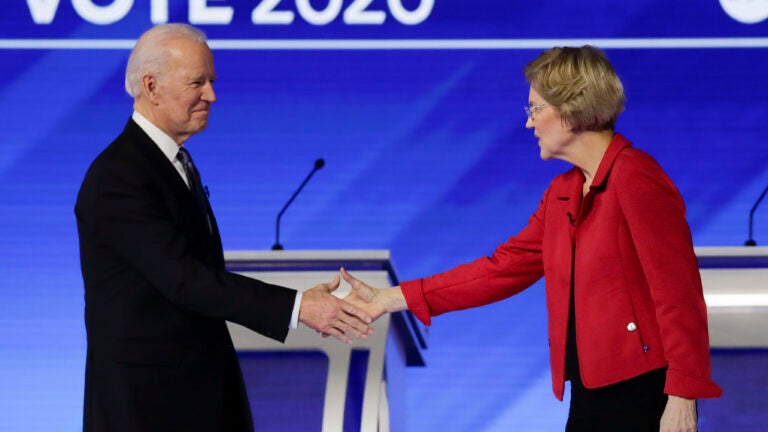 Joe Biden and Sen. Elizabeth Warren joined forces this week — not on the Democratic presidential ticket, but in opinion pages across the country.
The former 2020 primary rivals wrote a joint op-ed published Sunday in a number of newspapers calling out the lack of oversight over the money disbursed to corporations under the recent coronavirus relief package.
"Taxpayer relief should go to those most in need," Biden and Warren wrote. "Hospitals, essential workers, small businesses, and state and local governments should get the help they need immediately. If large corporations want help, they should agree not to turn around and fire all their workers. The relief bill's unconscionable tax giveaway that overwhelmingly benefits millionaires should be repealed. But that is not enough."
Biden, the presumptive Democratic presidential nominee, committed to three specific reform proposals first outlined by Warren and three Democratic colleagues in a letter that was sent Friday to leaders of both parties in the House and Senate.
To crack down on financial conflicts of interest, they said that members of Congress and other government officials responsible for the coronavirus recovery programs should be prohibited from owning or trading individual stocks.
Second, they said coronavirus relief-related lobbying should be restricted; large corporations that seek or receive funds "should not be able to engage in political spending or to use their resources and political clout to lobby for bailout legislation that helps them," Biden and Warren wrote.
And lastly, they said oversight of the $500 billion to big corporations should be bolstered. After President Donald Trump effectively fired the inspector general set to oversee the implementation of the CARES Act without reason, Biden and Warren said inspectors general should only be able to be removed for "good cause." They also called for increased disclosure of bailout funds; while the Federal Reserve has committed to monthly disclosures, Biden and Warren wrote that such disclosures should be required — in further detail — by law.
Additionally, they said the five-person Congressional Oversight Commission tasked with overseeing the $500 billion fund for corporations should be empowered to independently subpoena witnesses and information from government agencies. Biden and Warren also said the commission's authority should be broadened to "oversee all aspects of the recovery," including the small business relief program that they said has been "riddled with problems in its implementation."
"If Congress and the Trump administration are unwilling to act now, then we will ensure that these changes are made in January 2021, both through new legislation and immediate executive commitments made by the Biden administration," Biden and Warren wrote.
The op-ed was published by a number of newspapers owned by the McClatchy Company, including the Miami Herald, which — as several observers noted — is the hometown paper of Rep. Donna Shahala, who was appointed to the oversight commission by House Speaker Nancy Pelosi amid some controversy and skepticism among progressives. Shalala appeared to own stock in several companies eligible for bailout funds, but told the Miami Herald last month that she sold them in 2019 after her 2018 election (though she did not disclose the sales at the time, which members of Congress are required to do).
Bharat Ramamurti, a former aide to Warren, was the first person appointed to the oversight panel last month and — with no colleagues or staff — had been forced to rely on his Twitter account to perform his watchdog duties over the massive loan program. As the commission has begun to form, Ramamurti has been the most outspoken member calling for restrictions against stock buybacks and executive bonuses for big businesses that get the loans.