Coronavirus
The coronavirus outbreak has been bad for most retailers. It's been good for Wayfair.
"Home is becoming an area where customers are disproportionately investing."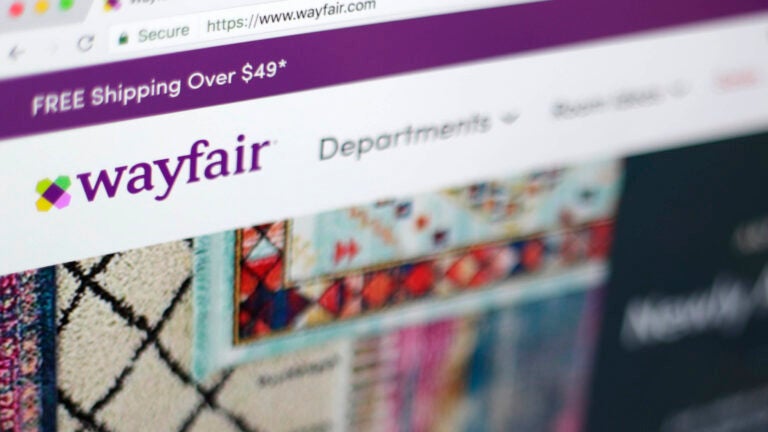 The coronavirus outbreak has decimated the retail industry.
But for Wayfair, it's been a boon.
The Boston-based online home goods company says it has seen sales spike this spring, as the pandemic shuts down both brick-and-mortar stores and other outlets for discretionary spending, from travel to restaurants. Amid widespread stay-at-home orders, many Americans apparently realized their homes could use some improvement.
"The broader market disruption has highlighted the many differentiated advantages we have built as the e-commerce leader in home over the last two decades," Wayfair CEO Niraj Shah said in a statement Tuesday, adding that the company has seen "millions" of new customers as people hunker down in the midst of the pandemic.
During a conference call Tuesday morning, Wayfair CFO Michael Fleisher said the company has seen revenue growth of "roughly 90 percent" since the beginning of April, compared to the previous year.
"This momentum is widespread across almost all categories," he said.
The news comes after the online retailer laid off 550 of its 17,000 employees this past February, including 350 workers at its headquarters in Boston. In its first-quarter report Tuesday, Wayfair said its workforce had shrunk below 16,000. The 18-year-old company — which has still yet to turn a profit amid an aggressive growth strategy — also reported a net loss of $286 million during the three-month period, even as revenue grew by nearly 20 percent to $2.3 billion.
Still, company leaders remain optimistic about Wayfair's outlook, and Shah said Tuesday that they're making "significant strides toward profitability," which he credited to an efficiency plan that was set in motion last fall. The effects of the pandemic, which have been devastating to the larger economy, have only helped.
"We believe this period has certainly and permanently accelerated e-commerce adoption in our category," Fleisher said.
On the heels of revenue growth in the "high teens" through the first two-and-a-half months of the year, Wayfair said it saw sales "more than double" toward the end of March. Shah said Tuesday that the increase coincided with states' stay-at-home orders, spurring new orders for cookware, kitchen appliances, home office products, and children's furniture, as well as home renovation and decoration projects.
According to Shah, the $1,200 payments that most Americans received last month from the federal government's coronavirus relief package proved to be an "added accelerant" for sales. While those whose jobs were affected by the pandemic needed the money to cover essential expenses, others found themselves with a sudden windfall of cash — with no trips, concerts, sporting events, or other outings on which to spend it.
"There's not just a shift online that's going to be accelerated through this … but you're also seeing that home is becoming an area where customers are disproportionately investing into right now," Shah said.
As much as the sales growth boosted their first-quarter growth, company leaders said they expect most of the impact of the coronavirus to be reflected in their second quarter, which runs from April through June. Fellow online retailers like Amazon — both a model and competitor to Wayfair — also says it expects soaring revenue due to the coronavirus.
Wayfair acknowledged that some of the effects will be temporary, as states begin to gradually lift shutdown orders this spring and — perhaps more importantly — brick-and-mortar competitors realize the need to ramp up their e-commerce business. They also expect overall spending to be suppressed due to the "recessionary" effects of the pandemic.
However, Shah said that Wayfair tends to outperform economic downtowns, noting that the company's revenue grew from 2007 through 2009 during the last recession. And unique events seems to have a unique impact on the home goods sector; Shah said that the September 11 attacks, which had less of an overall economic impact than COVID-19, resulted in a "multi-year tailwind into home improvement and home spending."
"We believe there are clearly definable longterm advantages accruing to Wayfair in this period," Shah said Tuesday, predicting the pandemic would also cement the preexisting shift toward online retail.
"As stores reopen, for some period of time, people might be hesitant to go," he said. "But frankly, even when they're not hesitant to go, what we see is millions of customers who had not been previous online shoppers. … We think they've been very pleasantly surprised by the selection and the convenience."