COVID
How 7 local businesses are pivoting to PPE production for frontline workers amid the coronavirus pandemic
More than 600 companies have teamed up with the state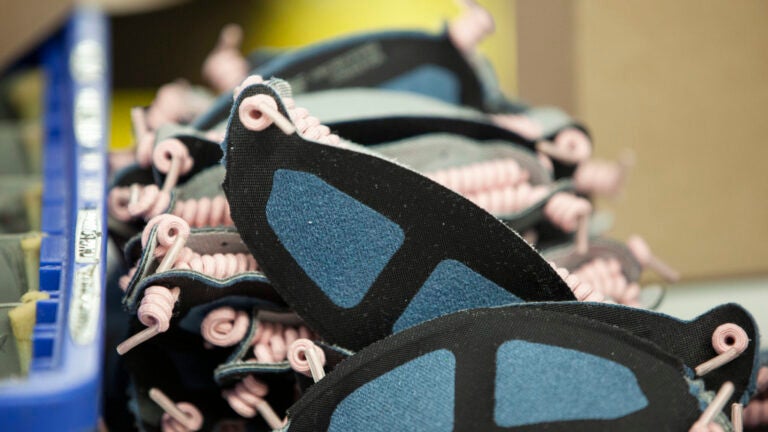 Local manufacturers are stepping up to help in the coronavirus pandemic.
Distilleries are producing hand sanitizer, a major footwear brand is making medical masks, and a greeting card shop and a toy-manufacturing giant are producing face shields. 
According to Gov. Charlie Baker, more than 600 companies — including over 400 based in Massachusetts — are working with the state to pivot their operations in the production of personal protective equipment (PPE) for frontline workers. The Manufacturing Emergency Response Team launched last month with over $10 million in funding to support companies interested in PPE production and other high-demand products, such as ventilators and surgical masks.
Here are seven companies that have shifted or are in the process of shifting their operations as part of the state's COVID-19 response. 
New Balance: face masks
Just one week after shuttering its factories and retail stores, New Balance re-opened factories with a skeleton crew to begin producing single-use face masks. The finished mask is made from five-ply laminated fabric, and uses elastic shoelaces as the adjustable straps. New Balance is aiming to produce 100,000 masks per week at break-even pricing or as donations, and is also looking into the feasibility of producing other types of PPE. 
Batten Brothers: protective shields
For almost 75 years, Batten Brothers in Wakefield, Mass., has produced custom signs and awnings. Now, the family-owned business is rolling out a new product — free standing clear acrylic protective shields, meant to provide a barrier between customers and employees at checkout counters and customer service desks. In addition, part of the proceeds of each "Defender 365" purchase will be donated to the Massachusetts COVID-19 Relief Fund and to Best Buddies, a nonprofit that creates opportunities for people with intellectual and developmental disabilities.  
Lovepop: face shields, gowns, cots, and isolation chambers
Lovepop is a Boston-based greeting card company — you may have seen their distinctive pop-up designs at kiosks in Faneuil Hall or South Station — but over the last few weeks, instead of using their die cutters for card designs, they are cutting sheets of PET plastics for face shields. The company plans to produce 40,000 face shields per day, and exploring ways to boost their daily output to 100,000 per day. The company is also prototyping gowns, foldable emergency cots, and isolation chambers that would allow medical professionals to interact with patients. 
Brooks Brothers: face masks
At the end of March, luxury retailer Brooks Brothers announced that they were converting factories in New York, North Carolina, and Massachusetts to make face masks and gowns, instead of their well-known menswear. The company is aiming to create 150,000 masks per day. 
Gillette: face shields, hand sanitizer — and razors
Shaving cream and hand sanitizer share several of the same ingredients, something Boston-based razor and personal care company Gillette quickly noticed at the beginning of the coronavirus outbreak. The company will produce 45,000 liters of hand sanitizer every week, as well as produce clear face shields that will be donated to Massachusetts healthcare organizations. Furthermore, N95 respirator masks don't fit snugly or work effectively when used over facial hair, according to guidance from the Centers for Disease Control, so Gillette is donating more than one million razors to healthcare workers and first responders around the world.
99 Degrees Custom: gowns
Sportswear company 99 Degrees Custom has pivoted to produce hospital-grade gowns since the beginning of the coronavirus outbreak. The process of learning to make and distribute this new kind of apparel, which usually takes six to 18 months, was completed in only a few weeks. The Lawrence-based company has pledged to make and distribute at least one million gowns. 
Merrow Manufacturing: masks, gowns, and surgical caps
Merrow Manufacturing specializes in the design and construction of technical sewn apparel, but since the beginning of the pandemic, the company shifted to produce medical masks, gowns, and surgical caps. The Fall River-based company's aim is to manufacture up to 100,000 gowns, about 25,000 surgical caps, and up to 75,000 masks per week. The company also recently received a shout-out from Gov. Baker, who will visit the site on Tuesday.