COVID
This Newton-based footwear company donates 5,000 pairs of shoes to first responders
Rockport partnered with the Massachusetts Ambulance Association to distribute the donation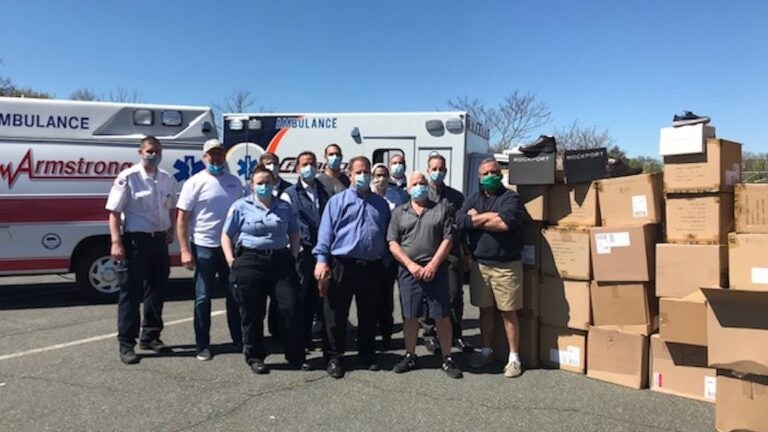 Rockport Group is helping first responders stay on their feet.
The Newton-based shoe company has partnered with the Massachusetts Ambulance Association (MAA) as part of its Responders in Motion initiative to donate 5,000 pairs of sneakers and walking shoes, valued at more than $500,000, to first responders on the front lines of the coronavirus pandemic. 
"We've been hearing…that people on the front lines don't necessarily want to wear the same shoes that they're wearing on the front lines, in hospitals, in their day-to-day right now  — they don't want to wear those shoes back into the house," said chief marketing officer Lisa Laich. "We wanted to provide really comfortable, quality shoes that they could slip in and out of really easily when they're coming home from work in the car, so that they're feeling safe as they walk back into their house."
The shoes were delivered to the MAA on Monday, and will be distributed to its members across the state. Laich said Rockport chose to work with the MAA because they wanted to make sure their donation would support and strengthen the local community. 
"The Massachusetts Ambulance Association deeply appreciates the generosity of Rockport and its employees during this difficult time," said MAA president Dennis Cataldo. "Through their generous donation of thousands of pairs of high-quality shoes, Rockport has shown its support of paramedics and EMTs in Massachusetts who are providing a critical service for their community. Thank you, Rockport, for taking care of those who take care of all of us each and every day."