COVID
Why Charlie Baker says he decided to open up Massachusetts golf courses
"We basically took a model that was being used in several of the states that are around us, that we felt was consistent with what our concerns were in the first place, and applied it."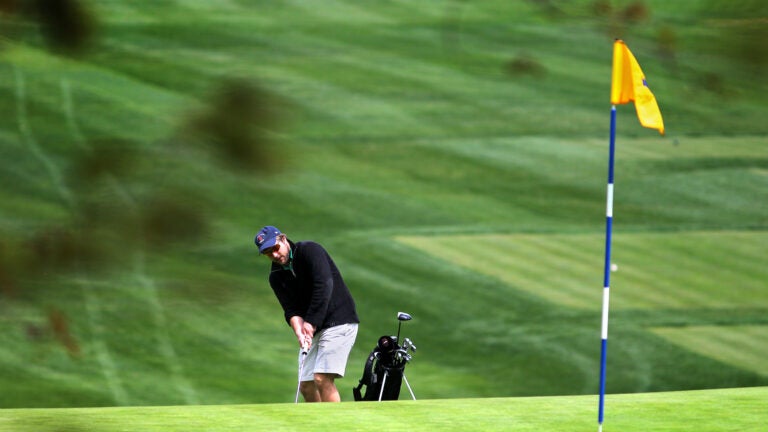 Gov. Charlie Baker said the move to allow golf courses to open in Massachusetts on Thursday — albeit under strict conditions — was made in part by looking at the approach of surrounding states.
The announcement that courses would be permitted to open, even though they are not considered essential businesses under the state's coronavirus order, comes days after two golf courses in Central Massachusetts announced plans to defy Baker's order and open for play.
Under the guidelines for reopening released Thursday, players will be required to wait in their cars until 15 minutes before their tee time; only groundskeeping and security employees will be permitted to work on site; and no caddies, carts, or rental clubs will be permitted. Practice areas and indoor facilities must also remain closed.
"Private operators of courses may permit individuals access to the property so long as there are no gatherings of any kind, appropriate social distancing of six feet between individuals is strictly followed, and the business operator and golfers abide by the specific guidelines for golf courses," the guidelines from the state say. "Municipalities may decide to open municipal courses under these guidelines if they so choose."
At his daily press conference Thursday on the coronavirus outbreak, Baker pointed to the participation of Massachusetts in a multi-state coalition working to coordinate strategies for reopening local economies amid the pandemic in explaining the decision to reopen the courses. The governor said that already the state's Reopening Advisory Board, which is charged with presenting a plan for reopening Massachusetts by May 18, is examining what other states are doing.
"If you take a look around at what the states around us have been doing with respect to a number of things, that gets factored into the way the advisory board is working on guidance, it gets factored into the way the DPH folks think about this, it gets factored into industry-specific decision-making," Baker said. "And in this particular case with regard to golf, we basically took a model that was being used in several of the states that are around us, that we felt was consistent with what our concerns were in the first place, and applied it."
As for why Massachusetts was the last state to move toward reopening golf courses, Baker pointed to the Bay State's data on coronavirus cases, saying Massachusetts has "not had the sort of positive trend development with regard to the key measures that everybody talks about that have been present in most other states."
"Part of this is about making decisions that make the most sense for Massachusetts, based on the facts on the ground in Massachusetts," he said. "We also want to make sure that as we make decisions, we're not doing stuff that's wildly out of line with what's going on in other states, if we believe it can be done safely."