COVID
'They went crazy': Phone call recordings shed light on alleged brawl involving ICE detainees
Mass. Attorney General Maura Healey has also opened an investigation into what happened.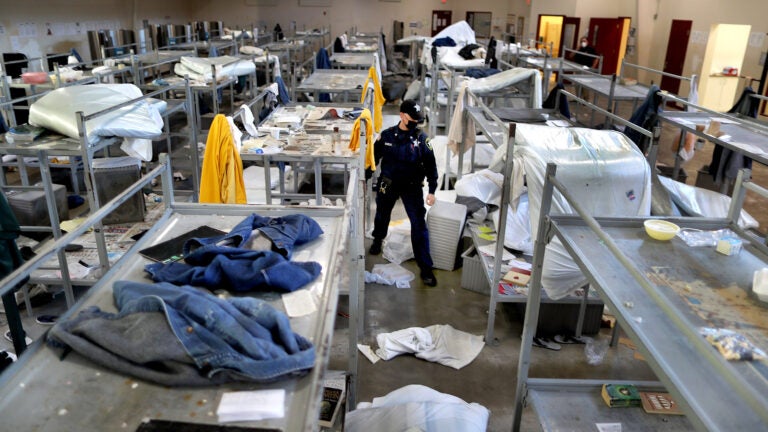 Fear and concerns over  coronavirus testing are highlighted in audio recordings of phone calls made by U.S. Immigration and Customs Enforcement detainees after a reported violent confrontation between them and staff at the Bristol County jail resulted in property damage last Friday.
The recordings, obtained by The Boston Globe, include multiple phone calls from those being held there, and provide insight into the detainees' perspective of what happened during the incident within the C. Carlos Carreiro Detention Center in Dartmouth, reportedly stemming from a confrontation over where and whether detainees would have to be tested for coronavirus after Sheriff Thomas Hodgson said some had exhibited symptoms. 
"They forced us to take the test for the coronavirus," one of the detainees said in Spanish in one of the recorded calls. "We didn't want to do it because we were not feeling anything. … They went crazy and the holy truth is that we are all scared and I don't know if somebody can help us."
In another phone call, one of the detainees said they were pepper sprayed.
Sheriff Thomas Hodgson alleges that the detainees refused to be tested for COVID-19 and attacked correctional staff, ripping pipes from walls and causing about $25,000 worth of damage. Sens. Elizabeth Warren and Ed Markey and Reps. Joe Kennedy III and William Keating sent a letter to Hodgson, noting that "there are conflicting accounts about what occurred." They're calling for an independent investigation.
Massachusetts Attorney General Maura Healey has also begun an investigation into the incident, and has requested records and surveillance footage, according to MassLive. 
"Reports about the incident at Bristol County jail are very concerning," Healey said in a statement obtained by MassLive. "My office has opened an investigation to get more details about what happened and to ensure public health and safety at this facility."
In an unrelated decision, meanwhile, a federal court in Boston Thursday ruled that the sheriff and ICE "likely have acted unconstitutionally and shown deliberate indifference to the substantial risk of serious harm posed by COVID-19 to the detainees in their care," according to the advocacy group Lawyers for Civil Rights.
"As evidence, the court pointed to Bristol County House of Corrections' failure to conduct comprehensive testing or contact tracing, and its refusal to voluntarily consider release of any detainees," a news release from Lawyers for Civil Rights said.
The release noted that the court ordered that testing be "made available" to all the detainees as well as staff who have come in contact with them. The court is also prohibiting any new detainees from being held in the Bristol County facility, "given the substantial risk of serious harm for health," the Boston Herald reported.