COVID
Cancer patients continue fights of their own while on guard against coronavirus
"Clearly for our patients this disease can be devastating."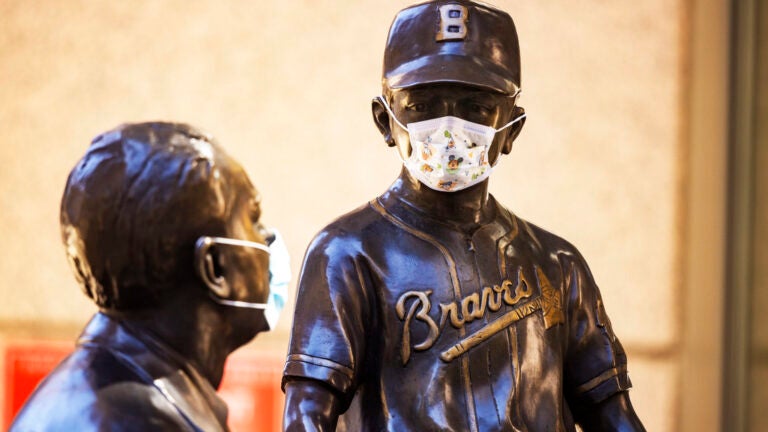 Finding a seat on the second floor of Dana-Farber Cancer Institute used to be a challenge. 
But these days, when Mark Young arrives for his twice monthly multiple myeloma treatments, he no longer has to figure out where he'll sit. Institute staff easily outnumber patients, and all the seating is carefully spaced apart to follow physical distancing guidelines aimed at preventing the spread of the coronavirus. 
"It's a very different feeling," the 60-year-old South Natick resident said. "It used to be very crowded there."
The coronavirus pandemic has prompted new protocols at the institute to protect its patients, who are at higher risk of severe illness from COVID-19. Those steps include asking individuals arriving for treatment if they are experiencing any symptoms of the virus before allowing them beyond the first floor, Young said. 
"They're doing it right," he said. 
Paul Richardson, who serves as Young's doctor and the clinical program leader and director of clinical research at the institute's Jerome Lipper Multiple Myeloma Center, said because of the coronavirus, some treatment strategies that would put patients at increased risk have been furloughed unless absolutely necessary, and there has been an emphasis on using telemedicine whenever possible. 
Changes have been made to the practice in the infusion unit to keep patients safe when they come in for treatment, and also to take the fear out of the process of coming into a hospital setting during the pandemic. Patients have told him that they feel safer coming into the infusion unit for their treatments than they do going to the grocery store. 
Dana-Farber has been lucky, the doctor said, for not experiencing any shortages of personal protective equipment, and everyone has worked to make it a safe environment for patients. 
"Fortunately most of our new therapies are pills or infusions that can be given periodically," he said of treatments for myeloma patients. "And this has allowed us to continue treatments by pill and oral therapies with the patients staying home, but us using telemedicine to call the patient [and] monitor them, and having blood tests done locally, blood tests faxed in, and then adjust their medication accordingly."
Multiple myeloma is the second most common blood cancer after non-Hodgkin lymphoma. While it is currently incurable, advances against it have been made to raise the median survival to 10 to 15 years in younger patients and 7 to 10 overall, Richardson said. 
"That really matters because it means that whilst it's still incurable, we can see the life expectancy of our patients shortened by catastrophes like this," he said of the coronavirus pandemic.
A number of Richardson's patients have already contracted COVID-19, the novel virus. Some have done well and recovered, but he said he lost one patient who was in intensive care and another remains very ill in the hospital. 
Separate from coronavirus, myeloma patients are particularly vulnerable to infections, he said.
"Clearly for our patients this disease can be devastating," he said. 
Because of the nature of their cancer, the snag also remains for myeloma patients that their disease itself still has to be treated. 
"You can't simply say, we'll take time off treatment and have you medication free for five or six months, and then we can start again," Richardson said. "It's just not how myeloma operates. You have to be able to keep your patients on continuous therapy."  
The Dana-Farber doctor said he and his colleagues are concerned that cancer patients may be putting off treatments or follow-ups because of the pandemic. Recently, he said, he spoke with a woman who had been diagnosed with an early form of myeloma, that she was told she could monitor. 
"Unfortunately things changed," he said. "But she hadn't had much monitoring."
She eventually had a telemedicine appointment, where it was determined she had symptomatic myeloma and she didn't realize it, he said. 
"Normally she would have been seen three or four months ago," he said. 
Richardson said colleagues working leukemia and lymphoma are reporting seeing the same thing — patients seeking care with progressing symptoms that could have been caught sooner.
"Normally they'd be intercepted much earlier because they would have been more willing to seek medical attention earlier," he said. 
He urged cancer patients not to forgo or put off care because of the pandemic. 
"That's incredibly important," Richardson said. "Because otherwise what happens is … we're going to see two waves of mortality. One from this absolute menace — the virus — and the second wave of mortality will be from conditions that were neglected."
Richardson said the courage and strength of his patients is inspiring under normal circumstances — and is even more so in the face of the pandemic. 
"They're living with an incurable blood cancer, they are facing their own mortality," he said. "They have already understood that very clearly because they're on the journey already."
Newly diagnosed patients are faced with grappling with the two fears of their new reality — myeloma and infection from coronavirus — at the same time, he acknowledged. But other patients, like Young, who have been fighting myeloma for years, already have a framework and understanding for protecting against viral infections, since myeloma puts them at higher risk in general.
"They are remarkably able to navigate this and say, 'Look, I've got to do what I've got to do,'" Richardson said. "They're people who are already very aware of the importance of social distancing, personal protection and so forth."
Young said he's made adjustments to his routine to protect against the coronavirus. As someone who loves to cook, he used to take daily trips to the grocery store to plan meals for his family. But these days, his wife, Laurie, has taken over the food shopping for the family since he's at higher risk of severe illness from coronavirus. 
He's also stopped going to the post office, another daily task that used to be routine for the 60-year-old. 
The couple's two sons, who are in their 20s, took precautions to make sure they weren't sick with coronavirus before they moved home in March, he said. The family has been very careful and cautious about bringing the disease back to the house if they go out, he said.
"They're both deathly afraid that they're going to kill me," Young said of his sons. 
For his own part, the 60-year-old said he's been careful not to "do anything stupid." 
"I haven't really been afraid through this whole process," he said. "If you can be removed from it a little bit, sort of intellectually — it's sort of a game of chess. The same with this — don't do anything stupid, take the precautions. Not going into public places where there are lots of people you might run into, literally and figuratively. But also wear your mask, wash your hands frequently."
Young said he's drawn on some of the advice he received from Richardson when he was first diagnosed in 2013 and told he may only live six months: Live every day like a Saturday. 
It's advice he suggests anyone who is battling cancer follow these days. 
"People are saying that now, in this time of this coronavirus," Young said. "Days aren't as structured as they are when you have to commute into work. You have your routines at work. Every day kind of feels like a Saturday — a day that has a different kind of feel or routine. So go with that for the time being. People are going to remember this time, they're bound to — whether they're a cancer patient or they're not. Everybody's going to remember this time as being unusual and unique."
Continue to do what you enjoy to the extent that you can do it around the house or wherever you're sheltered in place, the South Natick resident said. He also urged people who are at high risk to let others help them, whether it's bringing over food or doing the grocery shopping.  
Richardson said the most important thing is to remain hopeful, pointing to Young's own experience of being in remission seven years out from a diagnosis that gave him a six-month prognosis. 
"I would use that same message of hope and just say that we face deadly disease day-in, day-out," he said. "We know what it looks like. And one thing not to let [the pandemic] do is have you lose hope, and realize that we can beat it and we can find a new normal. And we will."