Coronavirus
Read the obituary for Robert Brady, the Avon selectman who passed away from coronavirus
"His commitment to the Town of Avon is something I strive for at all times."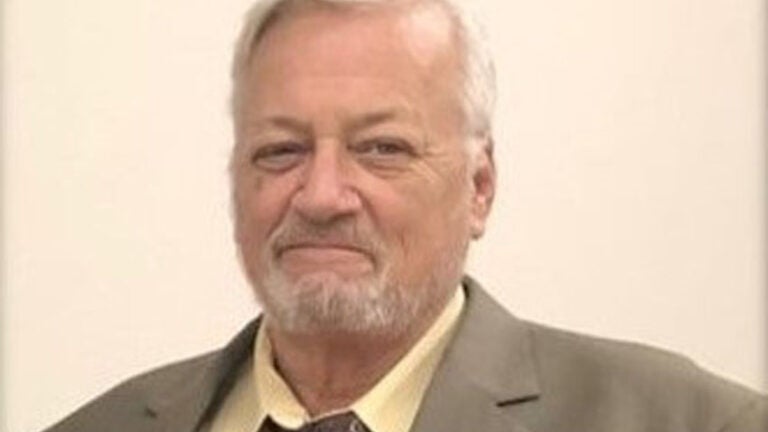 Town officials in Avon and loved ones are remembering Robert F. Brady, Jr. for his passion for public service, after the 65-year-old selectman passed away from COVID-19. 
Brady, who served on multiple boards and committees in Avon over the course of 17 years, died May 4. He had battled health issues in recent years and announced last year he would not seek re-election. But after the coronavirus pandemic postponed the town's election, he continued to serve on the Board of Selectmen and "guide the town in the face of uncertain times," town officials wrote in a statement announcing his passing.
"The Town of Avon lost a champion this week," Town Administrator Gregory Enos said in a statement. "He was a great supporter of all the hard work put in by the employees of the town. Bob was a wonderful listener and had a big heart. He was always upbeat and had a great sense of humor. We are honored to have worked with him here in Avon and our town will be forever impacted by his leadership. Bob will be remembered fondly by the Avon community and missed tremendously by all."
"I will miss Bob's sense of humor and his counsel. We had many discussions and I saw Bob as a mentor when I got elected. Bob helped me get acclimated to my new role," Selectman Eric Beckerman said in a statement. "I respected Bob and his opinion. His commitment to the Town of Avon is something I strive for at all times."
The 65-year-old's colleagues described him as a "fervent supporter" of public safety departments and a devoted advocate for the Council on Aging.
"Bob was a no-nonsense guy, always looking to do what was right for the town," Steven Rose, chairman of the Council on Aging said in a statement. "Very seldom did he allow drama to interfere with his decision making and he was always looking out for the little guy."
Brady leaves behind his wife of 32 years, Nancy, three children, and is survived by his brother, Massachusetts State Senator Michael Brady.  
Due to the pandemic, the family will hold a private funeral, but a celebration of the selectman's life will be held at a later date, according to his obituary.
Read the obituary for Brady, shared by the Russell and Pica Funeral Home, below:
Robert Francis Brady, 65, of Avon, passed away Monday, May 4, 2020 at the Beth Israel Deaconess Medical Center. He was the loving husband of Nancy (Petricone) Brady.

Born June 22, 1954 in Brockton, he was the son of the late Robert F. Brady, Sr. and Edna M. (Durkin) Brady. Raised in Brockton, he graduated from Brockton High School in 1972.

Bob was the President and Owner of NET&S, Inc. (Electrical Company). He was also the owner of Brady Distributing Co. Delivering Bread throughout the South Shore Area in Massachusetts. He did drywall for many years, a trade he learned from his Dad. He was known as the best at his art in drywall, with his mudding & taping skills, he earned the nickname "Smearer." He would walk on stilts doing his drywall and made it look like an easy task.

Bob was an elected official in the town of Avon as selectman in 2011 to present. He started on the Zoning Board in Avon in 2003 until 2011. He had been in local government for 17 years. He also served for many years as Norfolk County deputy sheriff.

He joined the Blue Knights in 1976 as an honorary member and in 2012 he became an associate member of Blue Knights Massachusetts Chapter 1. He had been the Quarter Master for the Blue Knights for many years and was also active with the Blue Knights in the annual Christmas toy drive, "Toys for Tots."

Bob enjoyed riding motorcycles, boating, sailing, fishing, golf, charity work, spending time with his family & friends., going to his grandson Angelo's sports games and CHEERING him on!!!!!

Bob is survived by his loving wife, Nancy (Petricone) Brady, together for 33 years and married 31 years; his loving daughter, Randi Petricone & her husband Robert Healey of Southborough, MA; his loving son, Robert F. Brady, III. of Avon, MA; his loving daughter, Kaeci Amaral of Abington, MA; his much-adored grandson, Angelo Amaral of Abington, MA & his much-adored grandson, Mateo Amaral of Holbrook, MA; His brother, Senator Michael Brady of Brockton, MA; he is also survived by many cousins, nieces, nephews, great-nieces and great-nephews and many friends and brothers of the Blue Knights.

He was the brother of the Late Carole Oliveira and her late husband James Oliveira of Whitman, MA.

Due to COVID-19 restrictions, there will be a private wake for family only. Relatives and friends are invited to the Russell & Pica Funeral Home, 165 Belmont St., (Rt123) Brockton on Saturday at 2:30PM to follow the funeral procession to Blue Hill Crematory, Braintree. At a later date, the family will be having a memorial for a CELEBRATION for Bob's life.