COVID
Boston Dynamics has found a new job for its dog-like robot: Social distancing patrol
The Waltham-based company's dog-like robot is in Singapore reminding joggers not to get too close.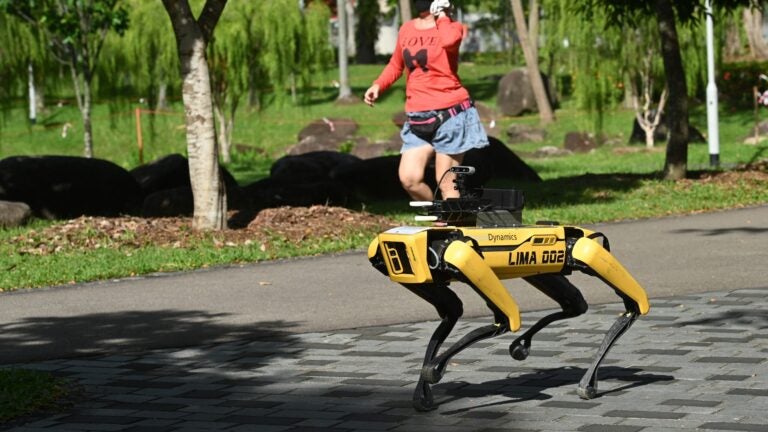 Boston Dynamics has already deployed its four-legged robot Spot to help local hospital workers triage patients during the coronavirus outbreak.
But the dog-like robot began work Friday in a new career field: Social distancing police.
Singapore is deploying Spot in a local park on a trial basis to remind visitors to practice safe distancing in the midst of the pandemic. According to a post Friday on the government's website, the two-week pilot program will take place within a two-mile stretch during off-peak hours at the popular Bishan-Ang Mo Kio Park, where Spot will trot around playing a recorded message politely reminding park-goers of the city-state's strictly enforced social distancing rules.
https://www.instagram.com/p/B_67jCygguU/
"Let's keep Singapore healthy," says the message, in a softly-spoken female voice, according to Reuters. "For your own safety and for those around you, please stand at least one meter apart. Thank you."
The yellow-and-black robot will also be outfitted with cameras with analytic capabilities to estimate the number of visitors in the park, according to Singapore's Government Technology Agency. However, the cameras will not be able to track or recognize specific individuals and no personal data will be collected, the agency said.
Spot will be controlled remotely to minimize exposure to the coronavirus between people in the park, though the semi-autonomous robot — which can perform tasks on auto-pilot — will be accompanied by at least one park employee during the two-week trial period.
While the robot uses sensors to detect objects in its path, government officials have posted signs asking park visitors "not to disrupt it."
Just received the most Singaporean pandemic content from a mate based in the little red dot pic.twitter.com/vqgnQ5F4D9

— Soon-Tzu Speechley 孫子 (@speechleyish) May 8, 2020
If the pilot if successful, Singapore says they will consider deploying Spot at Bishan-Ang Mo Kio Park and other parks during the morning and evening peak hours. The Singaporean government says they are also experimenting with Spot to deliver medicine to COVID-19 patients at a local field hospital.
Boston Dynamics began leasing out Spot for various commercial uses last year and has started experimenting different ways that its versatile platform could be used in the response to the pandemic.
Michael Perry, the vice president of business development for the Waltham-based company, told Boston.com that the Singapore government was one of more than 60 organizations that joined the Spot early adopter program, which began last September.
"They've been using Spot to help take people out of harm's way since November and have most recently deployed Spot to help in a number of endeavors to limit human contact during this pandemic," Perry said, adding that Boston Dynamics is continuing to develop ways to use Spot for remote vital monitoring and disinfection.
"We're making strides in both," he said.
Singapore's new park-monitoring pilot program comes as their government increasingly utilizes technology in the response to COVID-19, including other robots to encourage social distancing. According to the local newspaper The Strait Times, the densely populated Southeast Asia country has already deployed a four-wheeled autonomous robot in another park for similar purposes.
The country — working to address a recent spike in COVID-19 cases — has also deployed 30 drones in local parks and nature areas to help park officers keep an eye on visitors.
Similar to stay-at-home orders in some parts of the United States, Singapore has urged its 5.7 million residents against leaving their houses, except for essential trips like grocery shopping or for individual exercise. The government has also required citizens to wear masks when outside their homes, except for strenuous exercise.
However, the government in Singapore is also threatening heavy-handed fines for those who ignore the restrictions during the "circuit breaker" period, which has been extended until June 1. According to health officials, those found in violation of the ban of gatherings of more than 10 people or the rule requiring at least 1 meter of distance between people during "non-transient" interactions could be hit with a fine of up S$10,000 (or roughly $7,000), imprisonment of six months, or both.