COVID
Worcester pastor could face criminal action over continuing to hold services
The church has held several services with more than 10 people despite the state's COVID-19 orders.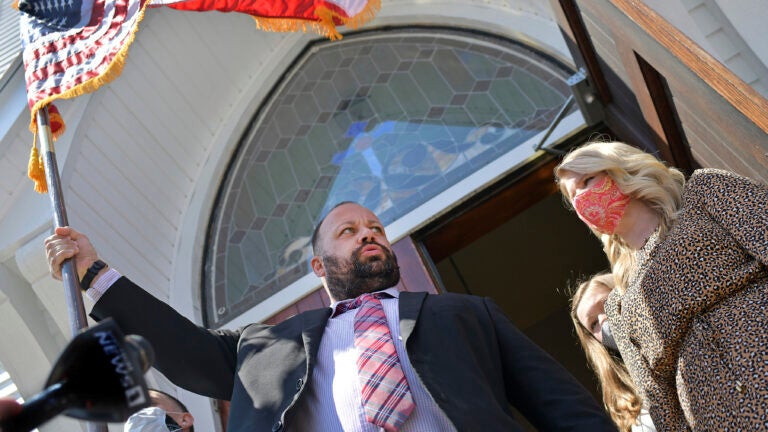 The pastor of a Worcester church that has continued to violate Gov. Charlie Baker's order not to hold gatherings with more than 10 people will be issued a $500 fine, and could be facing criminal action.
City authorities say the new $500 fine to the Rev. Kris Casey comes with a criminal referral, according to the Worcester Telegram and Gazette on Friday.
The church has since held a Mother's Day service, which included a baptism afterward, a post to the church's Facebook page said. The church has held several services with more than 10 people in attendance since a letter went out to Baker and Worcester officials on April 22 announcing that services would resume.
Casey told WBUR in an interview published on Monday that he's only received one $300 fine so far, though he said he's been told he would receive two more.
In a prior Facebook post, the church shared copies of letters sent from Casey to Gov. Baker, dated Friday, and one from Gibbs and Associates Law Firm, LLC, an Ohio-based law firm representing the church, with Carl Schmitt of Scmitt and Dillon Counselors at Law representing the church locally. Copies of the attorneys' letter were sent to Worcester City Manager Edward Augustus Jr. and Andrew Lelling, U.S. Attorney for the Massachusetts district.
The letter from the law firm requests that Baker designate churches essential under the state of emergency.
"This disfavored treatment of churches should be addressed post haste," the letter says. "That religious assemblies, guaranteed by the First Amendment and every state's constitution, are not considered essential services while Massachusetts categorizes liquor stores, marijuana dispensaries, convenience stores, hardware stores, and many other stores and businesses as essential with the ability to have gatherings of more than 10 people is completely indefensible from a legal and practical viewpoint."
In Casey's letter, he tells the governor that he and his wife are praying for him "daily."
"I am asking you, once again, to allow us the right to assemble and worship our Lord and Savior in the way set forth through the authority of Scriptures without government interference," part of the letter says.
In the WBUR interview, Casey questioned why a church couldn't hold gatherings at 40 percent capacity, like supermarkets. The church has a maximum capacity between 300 to 325, and Casey asks why the church couldn't be allowed to have 75 to 80 people – that's about 25 percent.
"That's kind of frustrating, that's kind been our whole point," he said. "Other businesses and places of establishment are doing these things."
He told the radio station that the church is professionally cleaned after each service to lessen the chance of spreading the virus. Participants have their temperature taken before entry, everyone wears gloves and a mask, and parishioners are escorted to their seats and are measured to be six feet away from others.