COVID
Gov. Baker announces the 4 phases Mass. will follow to reopen the economy
"This is going to put almost everybody in a somewhat different position than they have ever been in before."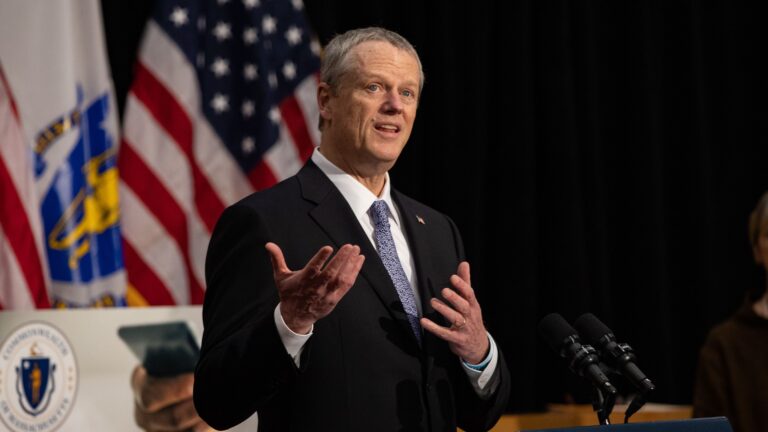 Gov. Charlie Baker says Massachusetts will take a four-phased approach to reopening the state's economy in the wake of the coronavirus pandemic, methodically allowing certain businesses to resume while protecting the public's health.
Non-essential businesses have been shuttered since March 23, but after the Reopening Advisory Board met with over 40 industry stakeholders across the commonwealth, Baker said in his Monday press briefing that some may gradually begin to reopen by May 18.
"We're all focused on getting to that place, but we have to ensure that when we take one step forward we do not end up taking two steps back," he said.
Keeping safety in mind, Baker said the reopening will come in waves.
Phase one will be the "Start," in which limited industries with the least face-to-face interactions will resume operations under severe restrictions.
Phase two, titled "Cautious," will allow additional industries to reopen with restrictions and capacity limits.
Phase three, or "Vigilant," will loosen restrictions from earlier phases if the data continues to show downward trends, and will allow additional industries to resume operations under specific guidance.
Then there's phase four, the "New Normal." Baker said at this point, the development of a vaccine or an effective treatment therapy will hopefully enable people to settle into a new and regular routine.
"We all know life will be different, but as the medical and life science communities make progress in developing treatments or vaccines, we can really begin to put this virus into the rearview mirror," he said. "But none of that is going to happen overnight."
While his goal is to gradually begin phase one by May 18, Baker said the data will ultimately drive each decision, determining when it's safe to move to the next phase.
"We have to be flexible and honest about the fact that the timing and the details of these phases could change depending upon the track the virus takes as we go forward," he said.
If the data begins to show that certain industries can't safely remain open, their reopening will be delayed, Baker added.
"It's incredibly difficult to plan for a future when we don't really have real certainties about how this particular virus moves and  relates and acts across time," Baker said.
He added that Mass. officials will also be working with neighboring states to collaborate on their reopening strategies.
"As a small New England state, it's important to remember that we exchange information and ideas with other eastern states to be consistent and unified wherever it makes sense," Baker said. "Much of their input is woven into our reopening plans and strategies."
In addition to the four phases, all industries will need to implement a set of mandatory workplace safety standards that include social distancing, hygiene, staffing, and operation protocols, as well as required cleaning and disinfectant measures.
In the coming days, Baker said the state will also release new industry-specific guidance, and a report revealing which businesses will be included in each phase.
While much of the reopening process depends on the data, he said, it also depends on whether everyone continues to social distance, wash their hands, and wear face coverings.
"This is going to put almost everybody in a somewhat different position than they have ever been in before. And day in and day out, I believe the vast majority of the people of Massachusetts will stand up and accept their responsibility," Baker said. "We have to hope and understand that that is the overwhelming response that people take to this — so far, it has been."
Watch Gov. Baker's announcement of the new four-phase plan in the video below.