COVID
Charlie Baker explains why he isn't tipping who will be in the first reopening phase in Massachusetts
"You don't do something in a deliberate way if you start leaking it out."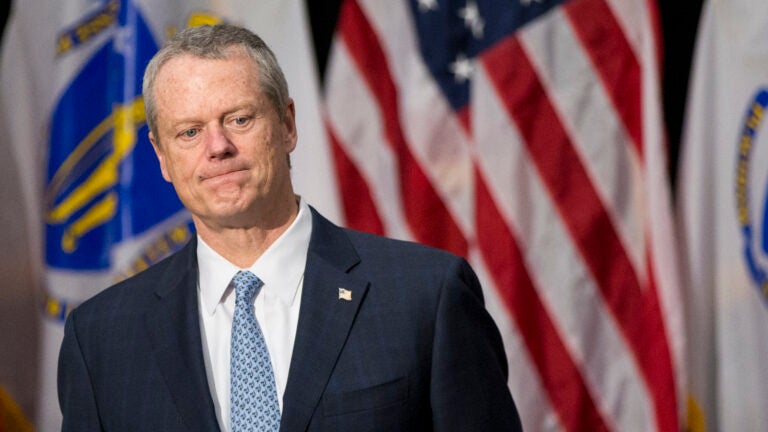 Gov. Charlie Baker says the public will have to wait until May 18 to learn what's included in the first phase of the plan to reopen the Massachusetts economy as the state continues to deal with relatively high coronavirus rates.
After outlining his administration's general four-phase approach earlier this week, Baker has repeatedly declined to say which specific sectors will be included in the first wave, which will be announced on Monday. During a press conference Wednesday, the governor hinted the first organizations to reopen under new safety standards will be the ones that "don't have a lot of close contact with customers," as well as those for whom it will be "relatively uncomplicated" to implement social distancing protocols.
When pressed on which industries may be included, Baker said he won't talk about specifics until the reopening advisory board's report is released Monday.
"I want this to be done in a deliberate way, and you don't do something in a deliberate way if you start leaking it out and issuing it out before you actually release the report," he said.
The Greater Boston Chamber of Commerce recently called on Baker to provide an early preview of the report so that businesses and employees could prepare ahead of its release Monday. However, it's unclear if the first phase of easing restriction will immediately take effect, and Baker says he doesn't want to give anyone a head start.
"I don't want the starting gun, so-called, to go off today or tomorrow," Baker said Wednesday. "I want it to go off on Monday. And I want it to go off in a targeted and phased way. Period."
Other states in New England — which have been less hard hit by the pandemic than Massachusetts — have already released plans to allow retail stores, hair salons and barbershops, and in some cases even outdoor dining to resume this month, under strict social distancing and sanitation rules.
However, Baker noted that the number of cases in Massachusetts — though trending downward — remains high and that some hospitals are still dealing with patient levels well above their normal operations. Some scientists have even expressed concerns that May 18 is too early to begin lifting restrictions.
"The mere fact that we're even talking about doing this is obviously unnerving to some of the folks in the public health community," Baker said.
Massachusetts has already eased restrictions on nonessential retail stores that were ordered to close back in March and allowed golf courses to reopen under modified rules.
Baker added Wednesday that Bay Staters should expect a "slow roll out of the gate" requiring "a level of patience associated with this that will make people uncomfortable" in order to ensure that the state doesn't have to reimpose restrictions due to a subsequent spike in cases from opening too soon.
"In the end, we should all think about where we want to be as we go down the road here several months from now — not about necessarily where we want to be tomorrow," Baker said.
"I would love to be able to open everything up tomorrow," he continued, before quickly adding, "That would be an incredibly irresponsible thing to do."