COVID
Some construction will resume in Boston. What does that mean for workers?
"Keeping the crew and the clients safe has never been a bigger priority, and it's also never been so hard."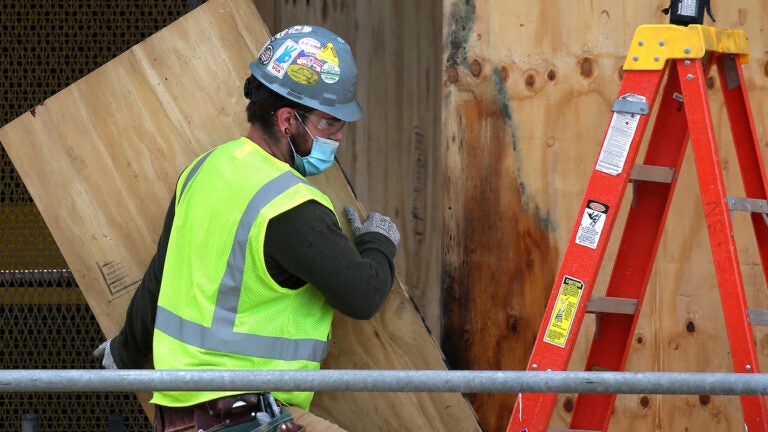 Boston is allowing some construction projects in the city to resume by the end of the month.
In a letter last week, Patrick Brophy, the city's chief of operations, wrote that Boston will take an "incremental approach" to broadening which "essential" construction projects are allowed to continue once more during the coronavirus pandemic.
The move is slated to bring back at least some of the bustle of booming construction that has engulfed the city in recent years — the sounds and sights of rising steel that have gone largely quiet since Mayor Marty Walsh instituted a moratorium on all nonessential construction work on March 17. The order came even as state regulations allowed for construction to continue on — particularly housing developments needed to meet regional demand — as long as workers followed social distancing and safety protocols.
Brophy, in his letter, highlighted that the city released new protocols as of April 27, requiring all construction sites to submit a COVID-19 safety plan and a signed affidavit.
"Now that the COVID-19 Safety Policy for Construction has been implemented, and current construction is in compliance with the new mandate[s], the city will incrementally expand its categories of allowed construction to further align with the broader categories of construction defined as essential by the state," he wrote.
According to Brophy, essential construction projects that are permitted and meet the requirements will be allowed to resume work starting May 18 if the work is for hospitals, residential buildings of up to three units, and public schools; is for roads and utilities; and if it is outdoors or in the open air, such as roofing, steel erection, and the construction of foundations.
Come May 26, "the City of Boston will allow all essential construction projects to re-commence construction activities in adherence to their safety plans," Brophy wrote.
"This incremental approach will provide the time necessary to allow complex, large-scale development an opportunity to educate their workforce, safely remobilize and implement their site-specific Safety Plan," he added.
So what does the mean for workers going back to job sites during the public health crisis?
Here's what to know:
'It's still a very scary time'
Walsh, a former building trades union leader himself, was quick to put a pause on construction back in March, expressing concerns for worker safety and health.
Even as more construction sites ready to reopen, Walsh says contractors should be respectful of their workers' worries over safety.
"My recommendation is that you not force them to come back," Walsh said on a video conference Friday with the Associated Subcontractors of Massachusetts Inc., the Boston Business Journal reports. "It's still a very scary time. … We want to make sure that we're taking care of people."
The mayor told the group he understands why workers would hesitate to return to their routines, particularly individuals over the age of 60, those who have elderly parents, and those who have pre-existing conditions, according to the Journal. Employers shouldn't retaliate against those who don't want to immediately return to work amidst the pandemic, he said.
Meanwhile, at sites where construction resumes, the Department of Public Works and Inspectional Services Department will inspect and monitor projects for compliance with safety plans, according to Brophy. Violators run the risk of having their work suspended or terminated, and their city permit revoked.
Walsh has also announced a partnership with Tufts Medical Center to provide coronavirus testing for the construction industry at the Tufts COVID-19 Screening Clinic at the Josiah Quincy Elementary School in Chinatown.
"You do not have to be a union contractor to do this. It's for everyone," Walsh told the ASM. "At this point, every construction worker is the same."
'If any workers feel unsafe, that has to be a priority'
Michael McDonagh, chief executive officer of the ASM, said there was a positive reception to Walsh's plans to get folks back to work, although worker safety has been a prime worry as job sites have sat idle over the last two months.
But that time has also been productive in addressing those fears, he said in an interview.
With job site activity at a halt, companies were given the chance to take stock and "think about meaningful safety requirements," according to McDonagh, who says plans to transition back to work have by no means been rushed into place.
"It seems to be a no-brainer that safety comes first, and we want to make sure workers feel safe and that procedures are in place," McDonagh said.
Pointing to the safety framework from the city and state, McDonagh said it is up to contractors and company owners to see them through.
"If any workers feel unsafe, that has to be a priority," he added.
Consigli, the Milford-headquartered, northeast construction company, told Boston.com its approach to returning the workforce back to the workplace "must be with the same level of concern, empathy, and humility that Mayor Walsh has demonstrated throughout this crisis."
"As a community, we have all been tested in ways we never imagined," company President Matthew Consigli said in a statement. "And as we look towards re-opening, we have an obligation to keep our workers and our communities safe while working toward getting business back on track."
Some employers have already adapted to the new normal.
Home renovations and remodeling have continued around Massachusetts through the course of the pandemic. Contractors have covered themselves in personal protective equipment, or PPE, such as gloves, masks, and glasses, and clean their workspaces and tools frequently.
Many have had to consider issues surrounding minimizing contact between workers, such as alternating who can cross or climb, and when jobs should start and wrap on a day-to-day basis.
"It seems as though we can't protect ourselves enough," Windson Honorato, owner and operations manager of JC General Contracting & Cleaning in Tewksbury told Boston.com via e-mail recently. "We'll get phone calls almost every week from colleagues or friends in the business saying that they caught the virus or someone in their company did. Keeping the crew and the clients safe has never been a bigger priority, and it's also never been so hard."
McDonagh envisions the return to construction sites will have a less productive than normal start as workers adjust to new protocol.
City officials late last month released a compilation of best practices and guidelines from federal, state, and industry agencies to help companies and contractors craft a COVID-19 safety plan.
On the list are protocols for temperature checks, hand washing stations, social distancing at job sites, contact tracing, and areas available for changing clothes, among others.
PPE is, of course, highly essential. But McDonagh says its availability is a challenge.
In March, Walsh and other officials asked construction companies and other industries to donate unused masks and respirators to hospitals, which were in short supply as they readied for a surge in coronavirus patients.
McDonagh said contractors and subcontractors were glad to help out at the time. But now, they are facing a similar procurement problem.
"Our members need all the help they can in getting sufficient PPE … There's some people selling certain things but it's sort of spotty out there," he said.
And, in terms of the big picture, there remains uncertainty about how exactly the reopening will go.
"Nobody has a crystal ball," McDonagh said. "I think we're kind of taking it one step at a time."