COVID
From the front line: Garbage habits have changed during COVID-19, say trash and compost haulers
Haulers say they're seeing more trash – but, thankfully, not many coronavirus cases among their staffs.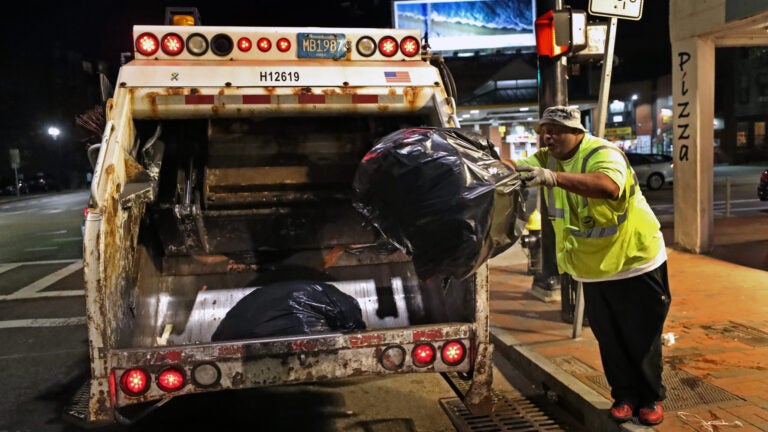 As the coronavirus pandemic has changed social behavior and how humans live their lives, it's also changed what they've decided to do away with. 
Unsurprisingly, trash collectors and curbside composting businesses have seen a dramatic shift resulting from a dropoff of commercial pickup due to closed businesses, and an increase in residential pickup.
But the threat of COVID-19, and it forcing people to stay at home, has also changed what they're throwing out.
Joseph Fusco, vice president of Casella, a hauler based in Rutland, Vermont, noted that people seem to be taking on home projects, and the company has seen some of them renting out dumpsters or larger trash containers.
"Being in the waste and recycling business, it's very interesting if you have any kind of interest in anthropology and the study of human behavior," he told Boston.com in a recent phone interview. "We reflect what's going on in larger society."
For Casella, which employs roughly 3,000 people in facilities spread throughout New England and into upstate New York and Pennsylvania, the company has seen that change over the last eight weeks.
"We're also finding, for example, as a company, what are folks doing … with all that free time if they're quarantined at home? Well, a lot of them are cleaning out their garages and basements," he said.
For the City of Boston, the biggest challenge has been the increase in the amount of trash and recycling coming out of homes. Last week, trash tonnage was up by 31 percent, according to a spokesperson for the city's Department of Public Works. The city only handles residential collection – businesses have to hire their own hauler privately.
In the curbside compost business, Black Earth Compost founder Conor Miller said the residential compost bins are getting heavier, and compost sales have been "through the roof." Black Earth serves about 13,000 households, according to Miller. The company's service area extends throughout eastern Massachusetts, according to its website.
There's about 30 percent more compost coming in from residential pickup, according to Miller. This was welcome since half of the business's commercial subscribers disappeared "overnight." Black Earth has also seen people continuing to sign up for residential service.
On the compost delivery side, Black Earth has seen a substantial increase in demand. Before, there was one truck out handling compost delivery, then the business added four more. Now, additional truck rentals have been added to the mix.
"Our biggest problem has just been getting out quick enough," Miller said, noting that people seem to be interested in growing their own food during the pandemic. "We've had two- to three-week back orders. We keep adding another truck and another driver. Now we're renting trucks to get more."
Black Earth could actually run out of compost, according to Miller. He estimates this could happen by the middle of June. However, he said he knows composters a bit further north that still have some. The idea would be to haul it in from there to Black Earth's facility.
In terms of COVID-19 infection, Casella, the City of Boston, and Black Earth all reported little to no virus activity among staff. Neither the city nor Black Earth have had cases of COVID-19 among its haulers. For Casella, of its 3,000 employees, there have been 22 positive tests, according to Fusco.
"We've been very fortunate," he said. "For the most part, our folks have not been exposed to the virus."
All said their workers are supplied with the proper personal protective equipment while on the job.
Miller noted that the solitary nature of driving a truck and collecting curbside compost, or of dropping off compost that's garden- or flower bed-ready, certainly helps. Black Earth workers have been urged to not touch the handles on the sides of the compost bins; all wear gloves. 
"Our guys, this is probably just the best single job," he said, recalling anecdotally that when he used to drive a truck daily, he was rarely sick. "You're fit, you're outside."