COVID
'We must do better': Harvard doctor tells members of Congress that feds must ramp up testing to reopen safely
"It was inadequate testing that precipitated the national shutdown," Ashish Jha told the House Select Subcommittee on the Coronavirus Crisis.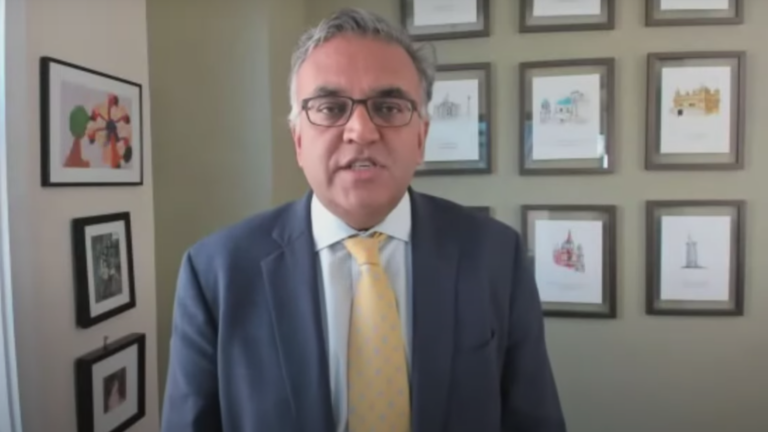 The federal government must do more to increase coronavirus testing and support state efforts to test, trace, and isolate cases, a Harvard doctor told members of Congress Wednesday. Otherwise, the United States faces repeating the same mistakes that cost American lives and jobs early in the pandemic.
Ashish Jha, director of the Harvard Global Health Institute, told the members of the House Select Subcommittee on the Coronavirus Crisis that the country is at a "pivotal moment" in the COVID-19 crisis. Jha was among several experts invited to speak to the elected representatives about the requirements for safely reopening the nation amid the pandemic. 
"Our initial response to the pandemic has left more than 80,000 Americans dead and more than 20 million Americans unemployed," Jha said in his opening statement. "As we enter the next phase of this pandemic, we must do better. One key part of doing better is having a robust testing infrastructure. 
"You see, testing is critical — testing tells us who has the disease and who doesn't," he continued. "And testing is the cornerstone of controlling every single disease outbreak. It was inadequate testing that precipitated the national shutdown. We must not make the same mistakes again as we open up our nation."
Jha and his colleagues at the Harvard institute found that fewer than a dozen states have so far managed to get ahead of the virus, and that nationally, the United States should be doing at least 900,000 coronavirus tests daily by May 15 to reopen safely. 
"We're doing about a third of that," Jha said Wednesday. 
While states play a "critical role," the Harvard physician said federal leadership is needed and laid out five steps the nation's government should be taking to prevent further loss of life and economic hardships. 
"The federal government must have visibility into the entire testing supply chain and use all of its power to ensure adequate testing supplies," he said. "Second and in a related issue, the federal government must coordinate these supplies because different states have different needs. And only the federal government can ensure that states get the material they need when they need it."
Third, he said, the federal government should offer guidance on testing strategies, and fourth, the federal government should ensure "incentives for greater investments in more and better tests," he said. 
"The federal government has to be transparent with the American people about how much testing we need and a roadmap for getting us there," Jha said. "If we act smartly, we can open up safely, allowing Americans to get back to work, knowing that they're safe in their workplaces and safe when they get back home to their families. Too many Americans have already died in this pandemic. We can honor their memories by doing everything in our power to prevent more needless deaths."
Following the opening remarks by experts invited to speak during the briefing, Representative Jim Jordan of Ohio accused Jha of making a political statement in his first remarks. 
Jha responded by denying his comments about what prompted the national shutdown were partisan. 
"Every expert on the left, right, and center agrees that we have to shut our economy down because the outbreak got too big," he said. "The outbreak got too big because we didn't have a testing infrastructure to put our arms around the outbreak. So testing was the fundamental failure that forced our country to shut down."
Ramped up testing, he argued, is also fundamental to building confidence that it is safe for people to engage in economic activities once reopening occurs. He also emphasized the importance of there also being a national strategy for addressing the disproportionate burden of coronavirus on low-income communities and communities of color. 
In his closing statement, the Harvard doctor said he believes the United States has all the capacity, capability, and "innovative energies" needed to overcome the challenges of the pandemic. 
But those forces must be marshaled across the "political divide," he said. 
"The fundamental strategy for getting us through this period until we have a vaccine requires focusing on testing, on tracing, on isolation, maintaining a certain amount of social distancing," Jha said. "And if we do all of that, we can get our economy going again and we can do it safely so that we prevent deaths and have economic activity. To me, that is not a partisan issue. To suggest that we failed on our first attempt to do this because we didn't have testing, which let the cases get out of control, is not a partisan idea. It is fundamentally the basics of the biology of this virus. 
"But the bottom line is that if we let science and evidence guide us moving forward, I believe we can have a great economy," he concluded. "I believe we can save American lives and I believe we can get through the next 12 to 18 months until we have a vaccine that provides much more permanent protection to the American people."
Watch the briefing below: