COVID
State educators are thinking about what school could look like in September. It's complicated.
How students and teachers return to classrooms amid the coronavirus pandemic will require a lot more changes – and money.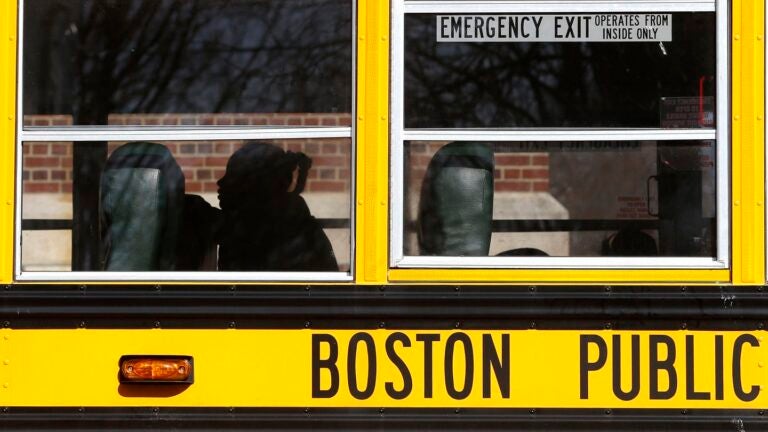 As students, teachers, and parents navigate the challenges of remote learning, state officials and educators say they'll face a lengthy list of new issues surrounding bringing classes back to classrooms in the fall — if they even can.
Experts, teachers, and education leaders spoke before the state Legislature's Joint Committee on Education Wednesday, outlining the struggles and successes of teaching children and teens stuck at home thanks to the coronavirus pandemic, and providing a small taste of what they expect to come in time.
Teachers and parents are feeling the burnout. Not all students have easy access to the technology and resources they need. And officials worry daily about what kinds of learning gaps teachers are slated to face among their students come the return to classrooms.
"We all miss the brick and mortar environment and the human interactions between adults and children," Tom Scott, executive director the Massachusetts Association of School Superintendents, told the committee.
And he added another point of consensus: "We are all exhausted."
The era of remote learning has tested parents, educators, and teachers alike. With different factors in each household and different tools in each district, the experience and education students have received have varied across the commonwealth, sometimes within districts, and, at times, even within schools, officials say.
Massachusetts has consistently ranked as having some of the best public schools in the country, which state Commissioner of Elementary and Secondary Education Jeff Riley credits to the balance between state education standards and local control over how districts meet them.
"But in a situation like this, it can be a challenge because different districts are teaching different things at different times because we give them the freedom to do that," he said.
What's more is that as educators look towards the end of a tumultuous spring session next month, they still face uncertainty about school returning to session in September.
State Secretary of Education James Peyser told lawmakers Wednesday the return to school buildings will require "stringent protocols" on everything from social distancing to contact tracing, that will likely affect what instruction will look like as well.
"There is no question that remote learning will be a much larger factor in planning for the next school year," he said.
Here's what to know about the early discussions around what school will look like this fall:
Schools will have to consider protocols for buses, recess, and schedules
The return to school buildings will require robust planning, looking across a spectrum of measures to ensure students, teachers, and staff are kept safe and healthy, officials say.
While Gov. Charlie Baker has convened the Reopening Advisory Board to map out how the state will bring back its economy through a four-phase plan, Riley said the Department of Elementary and Secondary Education has formed a school re-entry working group, charged with putting together a plan for the public kindergarten through grade 12 system.
That process is happening under the DESE's own, four-phase pandemic response, of which the department is currently moving through phase three: finding ways to maximize learning remotely despite its limitations, according to Riley.
The group will look to other countries and states for best practices in how schools transition back to a normal routine. Riley said there will possibly be a need for social distancing in hallways, at recess, in cafeterias, and on school buses.
DESE will also have to look at the impact on extracurricular activities like sports programs, and the need to supply students, teachers, and staff with masks, he said, adding that educators will also need to handle mental health and the social/emotional needs of students in the wake of a public health crisis.
Peyser said schools will also have to consider daily measures to determine student and faculty health.
"Some of the lessons we are learning this spring will need inform how we approach teaching and learning in September," Peyser said. "Even if we are able to start school in a quasi-normal fashion, we have to be better prepared for the possibility that in-person education will be interrupted again."
Several speakers, including Riley, posed the possibility of modifying school schedules to help manage crowds and distancing protocols.
"We have schools that don't have any nurses," Scott said. "It seems to me you're going to need a nurse in every school."
Educators will need assessments to scale learning gaps between students
With the normal flow of the school year disrupted, and the classroom now confined to the glow of computers and handheld devices, Riley said DESE is asking districts to focus on teaching students the absolute essential, standard material that they need to know to move onto the next grade level.
It's part of the department's third phase of its coronavirus response plan, as it works to focus on students who are disengaged or even only intermittently engaged in the material, he said.
"We know that student engagement has been compromised by lack of face-to-face interactions," Riley said.
DESE has crafted a plan to gather information on those students, as well as the barriers some face for remote learning practices, he said.
According to Riley, 9 percent of the state's students don't have reliable internet access and 15 percent don't have exclusive access to a web-equipped device. DESE has determined solving those issues has a $50 million price tag, and is working with technology companies and foundations for solutions.
"A lot of the technology out there is not as user friendly as it can be," said Glenn Koocher, executive director of the Massachusetts Association of School Committees. "Parents are concerned."
If software is frustrating on the first go, people are more likely to forgo using it, and perhaps opt for the television instead, he said.
"We're fighting the battle to keep kids engaged," Koocher said.
According to Scott, the return to school in the fall will require a district-based assessment system to determine learning gaps among students.
Riley said districts generally have assessment methods to determine student advancement, but the state is in talks about potential resources for districts who don't have such a program, and is working on related guidance for schools.
The fiscal year 2021 budget is a chief worry for officials, districts
Massachusetts tax revenue dropped over 50 percent in April, setting the stage for what was already expected to be a challenging, if not unusual budget processes for state lawmakers.
As the Legislature works to navigate funding for what a pandemic recovery will require, educators warn that any back-to-school plans will require new resources — and new expenses.
"What's burning up my line … is how to deal with FY '21," Scott said. "The budget is a daily conversation."
Dianne Kelly, superintendent of Revere Public Schools, told the committee she's worried about a drastic increase in the district's transportation budget. Students will need to spread out on school buses, thereby requiring more vehicles for the daily commute.
The district will also likely need more cash to cover its cleaning budget in order to maintain frequent sanitizing in classrooms and other facilities, she said.
"However we come out of this, resources are going to become an issue, no question about it," Scott said.
Several experts who spoke Wednesday underscored concerns that budget problems could result in job losses.
"It's an eventuality that we may have to face," Scott said.
Riley said the DESE's fourth phase of its response plan will include looking at what the return to school will entail. The department intends to release new guidance in the coming weeks to continue to improve remote learning practices, he said.