COVID
Atul Gawande laid out a 'regimen' for reopening amid the COVID-19 pandemic. What you need to know.
"There are wider lessons to be learned from places that never locked down in the first place."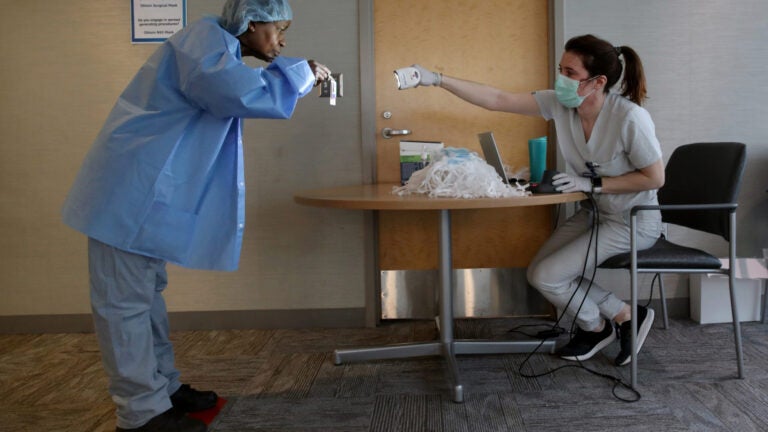 Acclaimed surgeon and author Atul Gawande says methods for infection control at health care facilities against the coronavirus could provide key lessons for how to more safely return to work as the pandemic continues.
The surgeon at Brigham and Women's Hospital and professor at the Harvard T.H. Chan School of Public Health and Harvard Medical School pointed to the steps taken at Boston hospitals and the institutions in an article published by The New Yorker on Wednesday titled "Amid the Coronavirus Crisis, a Regimen for Reëntry."
Boston has been a hotspot for coronavirus infections, the author of "Being Mortal" pointed out, yet within the Mass. General Brigham system there have been "few" workplace transmissions of the virus, he said.
"Not zero: we've been on a learning curve, to be sure, and we have no way to stop our health-care workers from getting infected in the community," Gawande wrote. "But, in the face of enormous risks, American hospitals have learned how to avoid becoming sites of spread. When the time is right to lighten up on the lockdown and bring people back to work, there are wider lessons to be learned from places that never locked down in the first place."
The surgeon said the lessons from how hospitals have worked to reduce workplace spread of the virus should be thought of as a "drug cocktail."
The ingredients in that regimen are steps that by now are familiar for preventing the spread of COVID-19 — hygiene measures, screening for symptoms, physical distancing, and masks.
"Each has flaws," he wrote. "Skip one, and the treatment won't work. But, when taken together, and taken seriously, they shut down the virus. We need to understand these elements properly—what their strengths and limitations are—if we're going to make them work outside health care."
For hygiene, Gawande pointed to research that found frequent daily hand washing reduced rates of infection for respiratory illnesses. The author emphasized that it is key to sanitize your hands each time you go into and out of a group environment and to disinfect high-touch surfaces "at least daily."
Good steps for hygiene need to be taken along with physical distancing, since the virus primarily spreads through respiratory droplets. Keeping in mind the "six-feet rule" is essential, he said.
"In my hospital system, observers gently remind us to stand the prescribed distance apart on escalators and in the elevator line; we allow no more than four people on elevators that used to carry more than twenty (a nightmare at shift changes)," he said. "We've turned as many internal meetings, patient visits, and team huddles as possible into video meetings, even if someone is right across the hall. When we can't avoid face-to-face encounters, we've put up Plexiglas barriers and spaced our chairs and work stations farther apart."
Daily screenings of employees, patients, and visitors for symptoms of the virus have also been implemented at Gawande's hospital.
Anyone who wants to enter the hospital building has to confirm they haven't developed any possible symptoms of COVID-19 — fever, cough, sore throat, shortness of breath, loss of taste of smell, or nasal congestion, he said. If any symptoms are reported, the employee cannot enter the building and is directed to arrange for testing.
"Testing when people have symptoms is important; with a positive result, a case can be quickly identified, and close contacts at work and at home can be notified," Gawande wrote in The New Yorker. "And, with a negative result, people can quickly get back to work and keep the hospital going."
The doctor said the importance of the self-screening goes beyond ensuring people get tested quickly, locating further contacts, and preventing further infections.
"They send the right message," Gawande wrote. "Embarrassingly, people in health care have often seen calling in sick as a sign of weakness. Screening has changed that. Toughing it out is now a shameful act of disloyalty."
Since COVID-19 can be spread by asymptomatic carriers, that's where the importance of wearing masks comes in, the surgeon said.
"They provide 'source control'—blocking the spread of respiratory droplets from a person with active, but perhaps unrecognized, infection," he wrote.
In addition to the "four pillars" his hospital has employed, Gawande wrote that there is a fifth element, and perhaps the most difficult, that is needed to ensure the successful application of the measures — culture.
"It's one thing to know what we should be doing; it's another to do it, rigorously and thoroughly," he said.
Still, the surgeon expressed hope that people are embracing new norms and that a changing culture to prevent the spread of the virus — through masks, physical distancing, hygiene, and reporting symptoms — is occurring. If that regimen of precautions is stuck to — "remaining alert to their limitations" — Gawande said it could drop the number of cases in communities to start a reentry.
"The four pillars of our strategy—hygiene, distancing, screening, and masks—will not return us to normal life, but, when signs indicate that the virus is under control, they could get people out of their homes and moving again," he said.
Read his full article at The New Yorker.