COVID
Concepts donates 1,600 pairs of shoes to healthcare workers
The Boston streetwear and sneaker company also partnered with their apparel vendor to produce masks.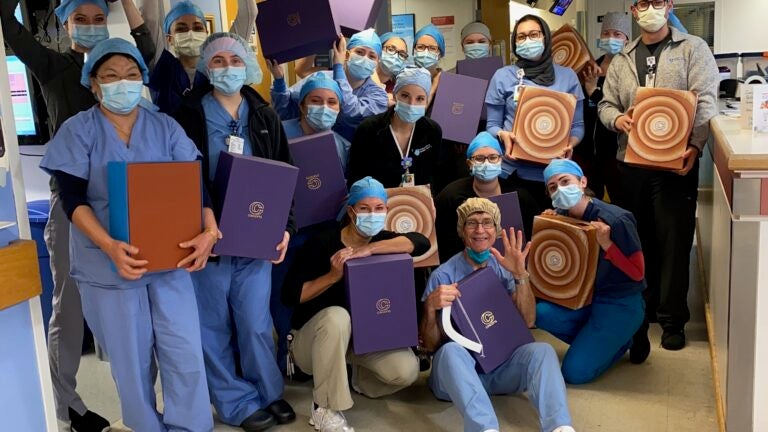 Boston-based store Concepts has donated more than 1,600 pairs of sneakers to local healthcare providers, including Massachusetts General Hospital and Brigham and Women's. The sneaker and streetwear company is planning to distribute 3,000 pairs of shoes from their inventory, and are donating them on a rolling basis so that they have time to size the shoes for the recipient healthcare workers. Most of the donated shoes have been from Concepts' New Balance or Asics stock to prioritize comfort — doctors and nurses often work 12- to 18-hour shifts.
"We've heard that [healthcare workers] need to leave their shoes at the hospital, so it makes sense for Concepts to get involved here and make a difference to them, just try to make a little less stress," said Concepts founder and CEO Tarek Hassan. "You can think about what Concepts is known for and what we can do. Footwear — comfortable footwear — would be the thing that we know we can provide…the decision came naturally."
"Members of our staff will be stepping out in style thanks to Concepts," added Rebecca Sandgarten, philanthropy manager at Beth Israel Deaconess in Milton. "They recently gifted 270 pairs of our favorite sneakers, including limited edition ones to our healthcare heroes." 
The brand has also partnered with their apparel vendor's factory to produce KN95 masks approved by the U.S. Centers for Disease Control and Prevention. Concepts has already donated 1,000 masks to Boston Children's Hospital and the Daniel Driscoll – Neponset Health Center, who both expressed that their need for masks was more pressing than their need for new shoes. 
"On behalf of everyone at Neponset Health Center, I want to thank Concepts for the generous donation of masks," said Neponset Health practice manager Amalia Gonzalez. "These masks are highly needed during this time and offer protection for the frontline staff, who are working so hard to help our patients to continue to receive onsite quality of services during these unpredictable times." The center, located at 398 Neponset Ave., recently became one of the latest COVID-19 testing sites in Boston. 
Hassan is also acutely aware of the ways a brand like Concepts that is focused on an in-store customer experience will need to adapt to "the new normal" after the coronavirus pandemic. He says the company is already working to try to find creative ways to make in-person shopping engaging and unique while keeping the store disinfected and safe for customers. 
"It's been a lot of work behind the scenes, that's for sure," said Hassan. "In the retail world, whoever does it right…whoever's going to gain the customers' trust in terms of coming in and being safe and being able to shop comfortably, I think is who's going to win. We want to make sure that we provide all of that."