COVID
Some lawmakers want Massachusetts shutdown orders extended until June. Here's how Charlie Baker responded.
"People who think we're going too fast are going to say we're going too fast and people who think we're going to slow are going to say we're going too slow."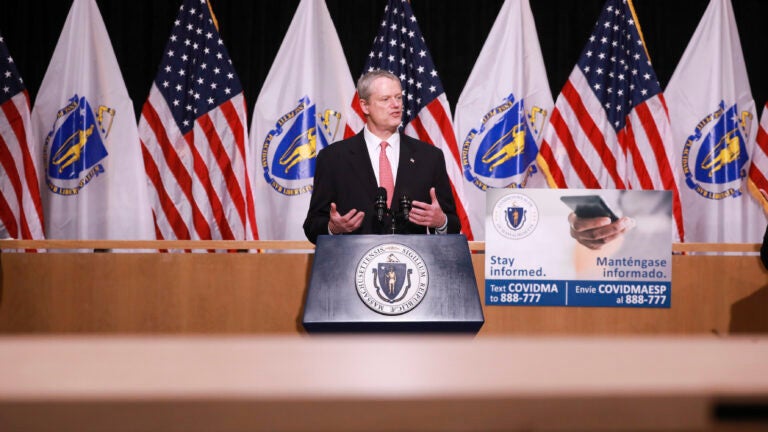 Gov. Charlie Baker says his administration is intentionally taking a "go-slow" approach to reopening the Massachusetts economy.
Some local lawmakers are still worried he may be going too fast.
In a letter Friday, seven state representatives called on Baker to extend his stay-at-home advisory and order requiring nonessential businesses to close their workplaces until "at least" June 1, citing concerns that the coronavirus outbreak is not adequately contained.
With a total of 83,421 COVID-19 cases and 5,592 reported deaths due to the disease as of Friday afternoon, Massachusetts is one of the hardest-hit states in the country. Baker's shutdown orders have been in place since March 24.
"While we are cognizant of the hardships people continue to endure, we think it would be premature to allow the Stay-At-Home Advisory to expire on Monday, May 18," read the letter Friday, led by Rep. Mike Connolly, a Cambridge Democrat.
This morning, I joined with House colleagues to call on @MassGovernor to extend the #StayAtHome advisory and to do more to prioritize the needs of those most impacted by #COVID19. Because of the urgent nature of the situation, we didn't have time to do a broad call for sign-ons. pic.twitter.com/debqzIBBpg

— Mike Connolly (@MikeConnollyMA) May 15, 2020
Baker's reopening advisory board is expected to release a report on its four-phase approach to gradually relaxing restrictions Monday, which is the same day that the stay-at-home advisory and nonessential business closure order are scheduled to expire. And while the Republican governor announced new mandatory safety standards for businesses earlier this week, it remains unclear what — or when — businesses and activities the report will allow to resume.
In a technical fix, Baker did announce Friday that the business closure order and stay-at-home advisory — which were set to expire at midnight Sunday — will be extended 24 hours, through the end of Monday.
But the governor gave no indication of what his plans were beyond that. During a press conference Friday, he said officials would have "a lot more to say" about the stay-at-home advisory Monday.
"That has to be dealt with in the context of the rest of the report," Baker said.
The letter was co-signed Northampton Rep. Lindsay Sabadosa, Somerville Rep. Christine Barber, Brockton Rep. Michelle DuBois, Boston Rep. Nika Elugardo, Framingham Rep. Jack Lewis, and Framingham Rep. Maria Robinson — all of whom were part of a group that called on Baker to issue a stay-at-home order in mid-March during the early days of the outbreak. Connolly suggested that they were hardly the only lawmakers who supported the new letter.
"Because of the urgent nature of the situation, we didn't have time to do a broad call for sign-ons," he tweeted Friday
While they recognized that Massachusetts has seen positive downward trends when it comes to the rate of positive COVID-19 tests and hospitalizations, the letter echoed some scientists' fears that relaxing rules too soon could result in a worse, second wave of infections and deaths.
The seven Democrats also noted that the 12 percent, seven-day average of positive COVID-19 tests in Massachusetts remained slightly shy of a the 10-to-1 ratio of negative tests to positive tests that the World Health Organization says is a benchmark for sufficient testing. Federal guidelines say that states should not begin reopening until they have seen a "two-week downward trajectory of documented cases or positives as a percent of total tests," which Massachusetts appears to have met, despite day-to-day variations in the numbers.
Baker has repeatedly stressed that his administration will "follow the data" before it reopens, with an emphasis on hospitalizations and the percent of positive test as the most meaningful trends to follow. Asked about that on Friday, Baker said that the state has had "very positive tracking."
"For some of those measures, it's been for almost a month," he said.
Still, the governor stressed that Massachusetts is already taking a cautious approach. Other New England states — which have seen fewer COVID-19 cases — have already announced plans to begin easing business restrictions and lifting stay-at-home orders.
"Part of the reason we've talked about a phased reopening and go-slow reopening is because we want to be conservative and careful and cautious with respect to the way we do this," Baker said Friday, adding that the state's plans to ramp up testing and contact tracing were key parts of the equation.
"We've said from the beginning that you need to respect the virus," he added.
Despite the overall positive trends, Connolly's letter highlighted the fact that some cities and towns are still struggling with disproportionately high rates of COVID-19.
"The improvements we've seen in our state have not been felt in all communities — some of the most vulnerable communities in our state continue to face alarming circumstances that demand more of our attention," they wrote
The letter added that reopening advisory board "largely consists of corporate executives and CEOs" and lacks representation for frontline workers and lower-income groups that have been disproportionately affected by COVID-19, including people who are homeless, incarcerated, or do not have legal status.
The 17-member board is composed of three public health officials, three municipal officials, and 11 members of the business community, including six CEOs. The advisory group has previously been criticized for its composition, though Baker says it is soliciting input from a wide variety of stakeholders. During the press conference Friday, he said the board had met with between 50 and 70 different groups.
The letter also criticized the current plan, which Baker has refused to preview ahead of the May 18 report, for being "confusing to many of our constituents and businesses" that could result in "poor public health choices." The Greater Boston Chamber of Commerce has also repeatedly called on Baker to provide more details so that businesses can prepare.
The governor has remained unswayed. During a press conference Wednesday, he didn't want the proverbial "starting gun" to go off ahead of the report Monday.
"I want this to be done in a deliberate way, and you don't do something in a deliberate way if you start leaking it out and issuing it out before you actually release the report," he said.
While nearly half of Massachusetts residents have seen their incomes diminished in the wake of the pandemic, more than 85 percent said they support Baker's decision to extend his business closure order and stay-at-home advisory until May 18, according to a Suffolk University/Boston Globe/WGBH News poll last week. The same decision also attracted a vocal group of protesters outside the State House.
Baker said Friday that he thought the board's reopening report was "a tremendously well-developed and well-thought out piece of work."
He also said he expected criticism.
"I absolutely know that people who think we're going too fast are going to say we're going too fast and people who think we're going to slow are going to say we're going too slow," he said. "I mean, that's kind of where we are here, folks — and that's where we're going to be for a while."