COVID
Construction sites and manufacturers can reopen in Mass. Here's what to know.
The two sectors are among the first in the state to get the green light to go back to work amid the coronavirus pandemic.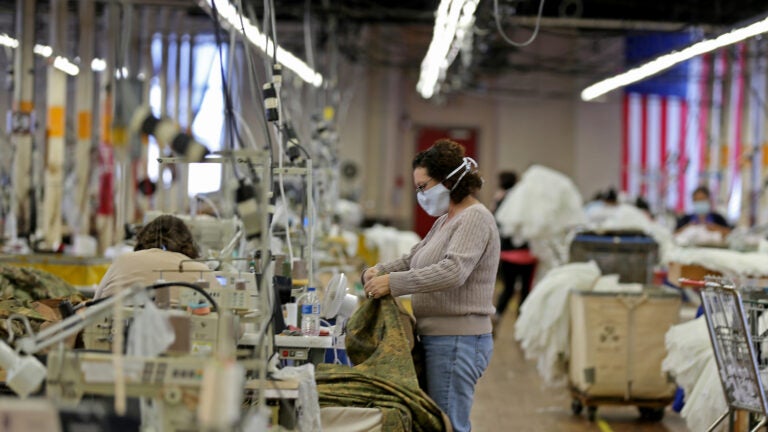 Construction sites and manufacturing facilities are among the select places allowed to reopen beginning Monday under Gov. Charlie Baker's newly unveiled four-phased approach to restarting the economy while managing the spread of the coronavirus.
Employers can only open after they meet safety standards for the workplace that spell out everything from appropriate social distancing protocols for employees to response plans for handling workers who contract COVID-19 upon returning to work.
"I want to make clear that the Reopening Advisory Board and the team made every effort to be as clear and direct as possible when it comes to the new requirements," Baker said during a press conference Monday while providing a broad overview of the multi-industry spanning reopening plans. "But this is something that no one has ever done before: shutter then reopen everything from a beach front to a factory floor with standards in place to slow the spread of a highly contagious virus."
Administration officials say businesses and employers now have standards as well as a plethora of state-provided best practices, guidelines, and other materials at their disposal to help safely ease their offices, stores, facilities, and job sites back into operation over the coming weeks and months.
"We'll explain what can be used as a face covering, how to wear it safely, when gloves are necessary, and what materials to use when disinfecting and sanitizing," said state Housing and Economic Development Secretary Mike Kennealy. "And in our many discussions with industry groups and others, we felt the need for a lot more clarity on some of these matters. For example, medical grade face coverings are not necessary for workers in most industries and should be reserved for health care workers and first responders."
While Monday marks the definitive start to what officials say will eventually lead to a gradual restoration of the economy in a "new normal," the construction and manufacturing sectors have been among the few able to operate as essential businesses amid the public health emergency and shutdown.
Approximately 430 Massachusetts-based manufacturers have pivoted their operations to make essential personal protective equipment to help supply front line workers and medical personnel.
Meanwhile, the state has allowed construction to continue — notably for housing projects, so the region can continue to work towards meeting high demand and alleviating shortages, officials have said. Small, home renovations and remodeling projects have continued on, also with intensive safety protocols.
In Boston, where Mayor Marty Walsh put construction on pause in March, officials said recently that essential projects would be allowed to resume by the end of the month.
Baker said Monday the standards published this week for contractors and manufacturers build on what he described as "existing operating models."
"But I would say that the industry-specific guidelines and the global guidelines are ones they all have to comply with, whether they've been open or not," he said. "And I think for some of them, that's going to require some work over the next few days, which is appropriate and necessary."
Essential businesses that are already operating have until May 25 to comply with the new standards, officials said. Those that have yet to reopen must meet the safety regulations before they can have employees return to work.
Here's what reopening construction sites and manufacturing facilities will entail:
Construction
All employers, regardless of industry, must submit a COVID-19 control plan as part of a self-certification process, mapping out how they will meet the state-imposed safety standards.
For the construction sector, state officials are imposing a zero tolerance policy for sick workers reporting to work.
"If you are exhibiting any of the symptoms (fever, cough, shortness of breath, or sore throat), you are to report this to your supervisor (via phone, text or email) right away, and head home from the job site or stay home if already there," the rules state. "If you notice a co-worker showing signs or complaining about such symptoms, he or she should be directed to their supervisor (via phone, text or email) and asked to leave the project site immediately."
Workers must also self-certify that they are healthy prior to the start of a shift, according to the seven-page set of standards. That includes having no signs of a fever or having a temperature of 100.3 degrees Fahrenheit or higher, a cough, or trouble breathing within the past 24 hours, or having any close contact with an individual diagnosed with COVID-19.
Those who are unwell can only return to work after they are "cleared by a medical professional," the regulations say.
No handshakes are allowed on the job. Hand washing stations are mandatory. Surfaces must be regularly cleaned, with all common areas and meeting areas disinfected at least once if not twice a day. Individuals must be six feet apart under a "no congregation" policy.
The standards also lay out a "100 percent glove policy," requiring all construction workers to wear cut-resistant gloves, or an equivalent, moving forward.
"All employees should drive to work site/parking area in a single occupant vehicle," the document says. "Contractors/state staff should not ride together in the same vehicle."
Large gathering areas, such as break areas, will be reduced in size and "will be used with seating limited to ensure social distancing." Workers are also to wash or sanitize their hands before leaving the job site.
With the exception of remodeling projects in residences of up to three units, construction sites are to have a designated COVID-19 officer, who submits daily, written reports to the owner's representative.
If a worker becomes infected, the contractor is required to have the individual leave the worksite and direct them to contact their health care provider, according to the standards. The contractor will then work with the local board of health to identify any other people, places, and equipment that was potentially exposed, and sanitize the site.
PPE availability has been a challenge throughout the course of the pandemic across industries.
Kennealy said the state has developed a portal to connect businesses in need of supplies to local manufacturers.
Read the safety standards for the construction industry.
Manufacturing
Manufacturers must meet similar requirements to reopen, especially for social distancing in the workplace.
Workstations must be re-engineered — if it is safe to do so — to increase distance between employees, and similar efforts must be made for  areas like break rooms and cafeterias, the latter of which should only serve prepackaged food, according to the standards.
Face coverings are required unless they pose a safety hazard, and employers should stagger lunch and break times to limit the number of people in one place. Physical partitions between workers are required in places where employees cannot physically distance.
"Facilities with highly manual work should reopen in gradual/phased approach, adjusting operations and work scheduling (working teams with different schedules or designated staggered arrival/departure time) to reduce density in the facility, minimize contact across workers and prevent congestion," the document says.
Facilities should be cleaned after each shift at minimum. In the event that a worker becomes sick with COVID-19, the workplace must be shut down for a deep cleaning and disinfecting. Employers must notify the local board of health in those instances.
Workers who are particularly vulnerable to the virus — due to their age or underlying health conditions, for example — are encouraged to stay home. Employers should also encourage employees to self-identify symptoms or any close contact with someone who is known to have or is suspected to have COVID-19, the rules state.
Lt. Gov. Karyn Polito said Monday the standards for each industry will be enforced by local boards of health, the state Department of Public Health, and the state Department of Labor Standards.
She said the responsibility of compliance will fall on employers, and that workers or customers who feel the safety requirements are not being met can file a complaint with local health officials.
State officials do not want to have to issue fines but will do so if a worksite or business has not complied after "multiple check-ins," Polito said. Fine amounts were not specified in the safety standards for the construction and manufacturing industries released Monday.
"The goal with enforcement is to educate and promote compliance," Polito said. "We want workplaces to be safer and to incorporate these standards."
Read the safety standards for the manufacturing sector.