COVID
Ayanna Pressley urges Charlie Baker to delay reopening plan
The Massachusetts congresswoman says the state "isn't ready" to reopen.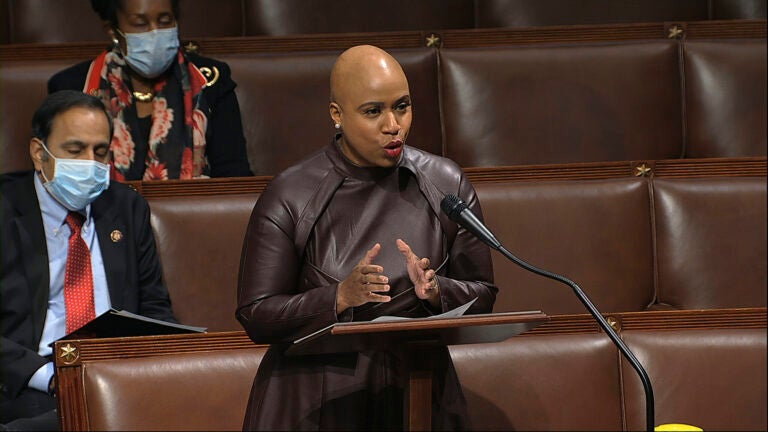 Rep. Ayanna Pressley spoke out Tuesday against Gov. Charlie Baker's recently released plan to reopen the Massachusetts economy.
The first phase of the plan, which Baker detailed Monday, allows a number of businesses and activities — from construction and churches to haircuts and nonessential office work — to resume over the next few weeks, albeit under a number of stringent restrictions intended to prevent a second coronavirus wave.
But Pressley says the state is going too fast.
"[Massachusetts] isn't ready to 'reopen,'" she tweeted Tuesday. "Policy decisions that offer a false choice between public health & economic recovery will hurt our communities."
The Massachusetts congresswoman urged Baker to reevaluate the plan's timeline and "invest in the supports needed to keep our families safe."
Pressley added that the announcement of Baker's reopening plan "left us with more questions than answers," and that she has since been fielding concerns from constituents about child care, religious gatherings, and worker safety.
Yesterday's announcement left us with more questions than answers and I have been on the phone with families worried about childcare, faith leaders concerned it is not safe to gather, and small businesses worried about their workers' health & access to PPE.

— Ayanna Pressley (@AyannaPressley) May 19, 2020
The Baker administration has said the timing of the four-phase plan, which was developed by a reopening advisory board, is guided by public health data on the coronavirus outbreak. While Massachusetts has among the most confirmed  COVID-19 cases and deaths of any state in the country, key metrics — such as the rate of positive tests, hospitalizations, and deaths — have declined in recent weeks following Baker's shutdown orders.
The Republican governor, who did not hold a press conference Tuesday, has acknowledged that the reopening plan will likely draw criticism from both directions.
Pressley, a Boston Democrat whose district encompasses some of the area's most vulnerable populations, is by far the highest-profile official to voice opposition. But she also isn't alone.
A growing group of local Democratic elected officials and workers advocates have voiced concern that the overall plan is moving too fast, as neighboring, less-hard-hit states move forward with their own reopening plans.
And while the reopening plan includes both general and industry-specific workplace safety standards, one worker safety group criticized it for lacking enforceable rules and protective gear assurances.
In a statement Monday night, the Massachusetts AFL-CIO expressed disappointment in the lack of worker representation on the reopening advisory board, and lamented that "few of our recommendations were incorporated into these plans." And a group of health care professionals and community leaders also protested the lack of input from frontline workers and called for stronger employee protections Monday.
"We all know that Massachusetts residents are anxious to go back to work," said Dr. Regina LaRocque, an infectious disease physician at Massachusetts General Hospital and professor at Harvard Medical School. "But workers should not have to choose between earning a living and protecting their lives."
The concerns come after a dozen Democratic state lawmakers also wrote to Baker last week to urge a slower approach, noting that many communities remain COVID-19 hotspots.
Meanwhile, some business groups complained that certain restrictions remain too stringent, and protesters have staged demonstrations outside both the State House and Baker's home urging a quicker reopening.
During his briefing Monday, Baker said he understood there was a lot of anxiety about both the public health and economic implications around reopening, but maintained that the plan was a "careful and cautious approach."