COVID
Here's what you need to know about places of worship reopening
As congregations begin to gather again, some faith leaders worry it's too soon.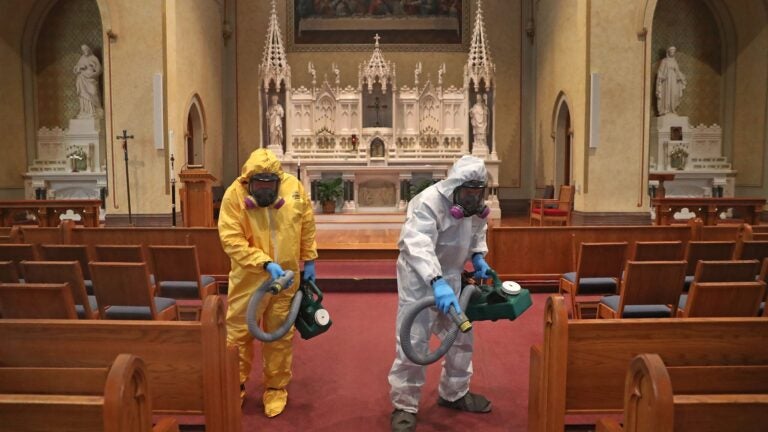 Gov. Charlie Baker announced that places of worship were able to open their doors Monday under the first phase of the state's gradual reopening process.
But as the fight against the coronavirus continues, religious services won't look the same under the new required safety standards, and many faith leaders are in no rush to reopen.
Leaders of the Massachusetts Council of Churches, a coalition of 18 Protestant and Orthodox denominations, said that just because congregations may return to their buildings does not mean they should. 
"Churches are designed to be places of healing, not sources of sickness," Rev. Laura Everett and Rev. Jennie Barrett Siegal of the council wrote in a press release Monday. "We receive these new minimum safety standards from the state with much concern for those people most at-risk in our churches and our communities."
Since shuttering, parishes have celebrated Mass through livestreams and faith leaders have gotten creative with how they mark holidays, like Easter and Passover, while physically apart.
As congregations begin coming together again, Baker said he hopes that individual places of worship will keep their most vulnerable populations in mind when they think about how to offer in-person services.
"Taking away the opportunity for people to worship together was one of the worst of all of the decisions that we had to make," Baker said. "And I am expecting and anticipating, based on the conversations the Reopening Advisory Board had with communities of faith … that people will be diligent and serious about making sure that what they do with regard to reopening will work for them and for their congregation." 
He added that the state's safety standards for reopening are based off conversations with those in the religious community. 
Under the guidelines, everyone will be required to wear protective masks, places of worship will need to hold services at a maximum of 40% capacity, space families at least six feet apart, block off pews or other fixed seating to encourage distancing, promote ventilation in enclosed spaces, suspend communal gatherings pre- and post-service, and modify communal rituals, like taking communion or passing of the peace.
The Archdiocese of Boston said that its Catholic churches can begin reopening as early as Saturday, but only if parish leaders give the green light. 
"Many, or even most, parishes may well need more time to prepare, and may choose Sunday, May 31 (the Feast of Pentecost), as the date for their reopening," archdiocesan leaders wrote in a document released Monday. "Parishes should not resume Masses before they are ready, and the decision to delay the resumption of Masses until May 31 may very well be the best decision for a parish. No matter what the start date, no parish should have Mass unless they can do it safely, and in compliance with the guidelines."
Leaders noted that in addition to the state's guidelines, Masses will no longer include offertory processions, altar servers, or choirs.
Cardinal Seán O'Malley also asked that Catholics who are elderly or have pre-existing medical conditions, putting them at greater risk of contracting the coronavirus, continue watching services from home.  
Many other Christians will continue praising from home, too, as some denominations have already said their churches may not gather in person until May 2021 or until a vaccine is found, Rev. Everett and Rev. Siegal said in their joint statement. 
"Any just response to the pandemic must prioritize care and resourcing of the communities hardest hit during the pandemic, especially churches in Black, immigrant and unhoused communities that often serve as multi-service centers in addition to spiritual homes," they said. "We remain deeply distressed by the lack of comprehensive testing in communities of color, unequal access to care and resources, the financial and logistical burden on churches to provide masks and cleaning supplies, and the decision fatigue of so many church leaders already overwhelmed."
In the coming days, the council leaders said they will issue further guidance for churches hoping to reopen safely, but warned that the gathering of groups of people for worship in other states have led to COVID-19 transmission, quoting St. Paul from 1 Corinthians: "'All things are lawful for me,' but not all things are beneficial."
"To care for the whole household of God means prioritizing the care of those most impacted," Rev. Everett and Rev. Siegal said. "We have yet to see this prioritizing from our national and state leadership. We expect the Church to behave differently."