COVID
What the Massachusetts reopening plan means for recreational marijuana dispensaries
After two months ordered closed, pot shops were included in Phase 1 of the plan.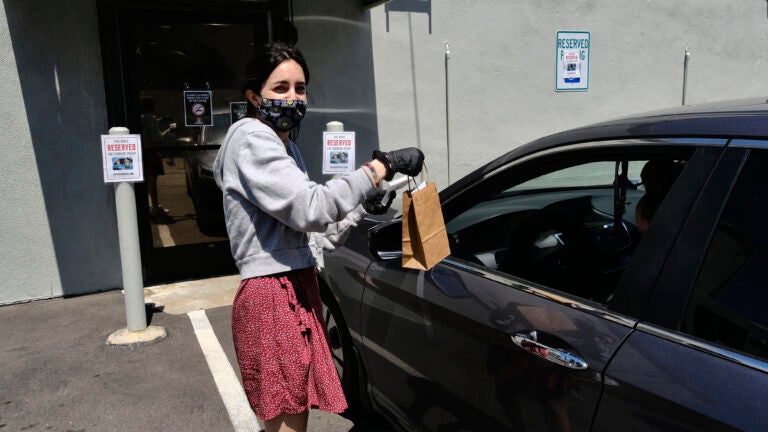 Retailers in Massachusetts will be allowed to offer curbside pickup sales starting next Monday as part of Phase 1 of Gov. Charlie Baker's reopening plan — and that includes marijuana retailers.
Officials said Monday that recreational marijuana dispensaries — which were deemed nonessential and controversially forced to halt adult-use sales on March 24 due to the coronavirus outbreak — will be able to reopen their doors on May 25, though customers won't be allowed inside.
The Baker administration's plan only allows nonessential retail stores to open for curbside pickup orders and remote fulfillment during the first phase of the reopening, which will last at least through early June.
Marijuana dispensaries remain prohibited from delivering adult-use purchases (though the state will begin accepting third-party delivery license applications on May 28). That means adult-use customers are required to order marijuana flower, edibles, and oils online or over the phone, before picking them up in-person outside one of the state's more than 40 shops.
Since late March, medical marijuana dispensaries in Massachusetts — which were allowed to stay open as an essential health care service — have offered curbside pickup. However, they've also been allowed to let customers inside stores for cash transactions, which the Cannabis Control Commission prohibits from occurring outside stores.
It remains to be seen if recreational marijuana dispensaries will get the same exception, given the cash-heavy nature of the industry. The CCC says it may issue future orders to update its policies in accordance with the state's reopening plan.
According to the plan, retailers could potentially allow customers inside stores, under restricted capacity limits, during Phase 2.
In their latest order Monday, the CCC said that recreational marijuana businesses could also immediately bring back employees for cultivation, manufacturing, transportation, and testing operations — as long as they hold off on retail sales until May 25. They also need to adhere to the state's general workplace safety standards, which require employees to wear face coverings, among other distancing and cleaning protocols.
Massachusetts was the only one of the 11 states where recreational marijuana sales are legal to shut down the market in the wake of the outbreak. While "co-located" dispensaries could continue to serve medial marijuana patients, the 14 shops that are only licensed for recreational sales were forced to completely close. And even the dispensaries — which are ineligible for federal relief funds — that sold medical marijuana reported dramatic drops in customers.
Still, Baker argued (and a local judge agreed) that the decision was rooted in a reasonable concern about out-of-state marijuana customers flocking to Massachusetts — home to the only East Coast recreational marijuana dispensaries — during the COVID-19 pandemic and potentially spreading the disease.
Asked on Monday if he still had those concerns, Baker said "yes." But he also said it "makes sense" to apply the the curbside pickup rules consistently for all nonessential retail stores.
"If you're gonna do curbside, it makes sense to do curbside for everybody," Baker said, adding that there's "plenty of evidence" that the risk of spreading the disease is less serious outside.
Cannabis advocates had — until now, unsuccessfully — argued that the tightly regulated industry is well suited for the "new normal" of operating in the midst of COVID-19.
Following the announcement Monday, David Torrisi, the president of the Commonwealth Dispensary Association, which represents 80 percent of the state's adult-use and medical dispensaries, said the group was "pleased" with Phase 1.
"We appreciate this gesture of confidence by the Administration and believe it is reflective of our industry's commitment to workplace and consumer safety, as well as our history of compliance and significant regulatory oversight," Torrisi said.
"We have long maintained that adult-use retail facilities are uniquely prepared to safely operate as we combat the spread of COVID-19 as our industry has successfully done so on the medical side."