COVID
Mass. worker safety group says state's reopening plan fails to protect workers
"An amended plan is needed immediately that will include these essential elements and truly protect workers — and the public — from COVID-19."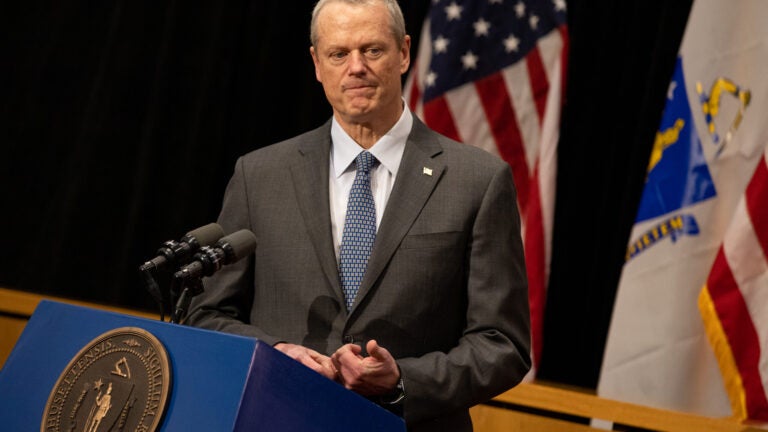 A Massachusetts worker safety group issued "failing grades" to Gov. Charlie Baker's plan to reopen the state amid the coronavirus pandemic, saying the roadmap released by officials Monday does not adequately protect workers or the public.
The Massachusetts Coalition for Occupational Safety and Health (MassCOSH) said in a statement that the plan, developed by the state's Reopening Advisory Board, demonstrates a lack of input from "frontline workers, unions and those with occupational health and safety expertise."
"The Administration has profoundly failed workers that have been working for the last two months and is now, with this plan, failing to robustly protect everyone who's going back to work," the group said. "The failure of this plan isn't that it is opening up the economy too fast or too slow — its failure lies in the plan's inability to adequately protect workers and the public from COVID-19."
MassCOSH evaluated the plan across four categories — worker health and safety standards, enforcement of health and safety standards, protection of workers' rights, and testing and tracing — and issued failing grades for each.
"An amended plan is needed immediately that will include these essential elements and truly protect workers — and the public — from COVID-19," MassCOSH said. "In addition, the State must allocate the resources needed to build the capacity to conduct worksite investigations, enforcement, data analysis and technical assistance to employers."
Baker said Monday during his announcement of the start of Phase 1 of the state's reopening that all businesses will be required to follow public health guidelines specific to their industry or sector. In addition, both the businesses that are newly reopening and those that have remained open as essential through the outbreak are required to follow mandatory safety standards from the state to reduce the risk of transmission of the virus among workers and customers. Businesses that have been open as essential will have until May 25 to become compliant with the safety guidelines.
Those protocols include ensuring social distancing as much as possible between workers and customers, both inside and outside the workplace; requiring face masks for all employees; and instituting supplies and stations for frequent hand washing by workers and the frequent sanitization of high-tough surface areas.
MassCOSH said the plan's guidelines for worker health and safety standards and the enforcement of those standards do not go far enough, giving those categories "D" and "F" grades, respectively.
"The reopening plan does require workers to wear face coverings, but does not require that employers provide or pay for them," the group wrote. "While training is required in the Reopening Plan, it is focused on social distancing and hygiene protocols, and does not include important topics like basic rights on the job and proper fit-testing and donning and doffing for PPE. Training and training materials should be provided in workers' preferred languages. Finally, in many places, the standards are only required 'if feasible' or 'when possible' giving employers plenty of opportunities to avoid compliance."
The plan, the group wrote, doesn't mention inspections of workplaces, leaving it to workers and customers to notify authorities of noncompliance.
"Nowhere, in any of the documents released today, is there a clear number for workers to call in order to report unsafe conditions or file a complaint," MassCOSH wrote. "Workers have no clearer guidance on where to get help for dangerous conditions with the release of these standards than they did before. The actual penalties to employers who don't follow standards are minimal and are only issued after verbal and written 'redirection' is ignored.  In some cases, this plan may actually weaken existing worker health and safety protections."
The group gave the plan an "F" under the category of protecting workers' rights and a "D" for the testing and tracing of COVID-19 cases by occupation and industry.
"In our recommendations to the Reopening Advisory Board, MassCOSH called for expanded anti-discrimination, disability and accommodation protection for workers who have recovered but have sustained health impairments, for pregnant workers, and those who are in high risk categories," the group wrote. "In a glaring omission, the plan gives workers almost the sole responsibility to report unsafe conditions, but does not provide any whistleblower protections to protect and encourage workers' reporting of hazardous conditions and non-compliance. It does not provide workers the right to refuse dangerous work when adequate safety protections are not provided, with no loss of pay."
The group emphasized that the collection and analysis of COVID-19 cases across industries and occupations will make it possible to assess risks faced by different groups, and thereby inform workplace protections in those sectors.
Public health experts have raised concerns that Massachusetts is still well below the goal of daily coronavirus tests for safely reopening. Experts agree that testing, along with rigorous contact tracing and supported isolation efforts, is key to reopening safely in the absence of a vaccine for COVID-19. Baker has said the state's COVID-19 testing capacity will be boosted to 45,000 daily tests by the end of July and 75,000 daily tests by the end of December.
The governor's announcement of a four-phased approach to reopening follows signs that there is a downward trend in new coronavirus cases in the state and the number of hospitalized patients. But despite the promising trends, advocacy groups for frontline workers and Democratic state lawmakers have expressed concerns that the state is moving too quickly in reopening, risking a wave of new infections.
As of Monday, public health officials had reported more than 87,000 confirmed cases of COVID-19 in Massachusetts. More than 5,800 people have died from the illness since the outbreak in the state began. On Monday, officials reported 1,042 new coronavirus cases, 62 new deaths, and that 2,533 patients remained hospitalized.
Read the full letter with MassCOSH's grades of the reopening plan here.