Coronavirus
This is what happens if a business violates Massachusetts' COVID-19 safety standards for reopening
The state will rely on workers and customers to report businesses not complying with the new guidelines.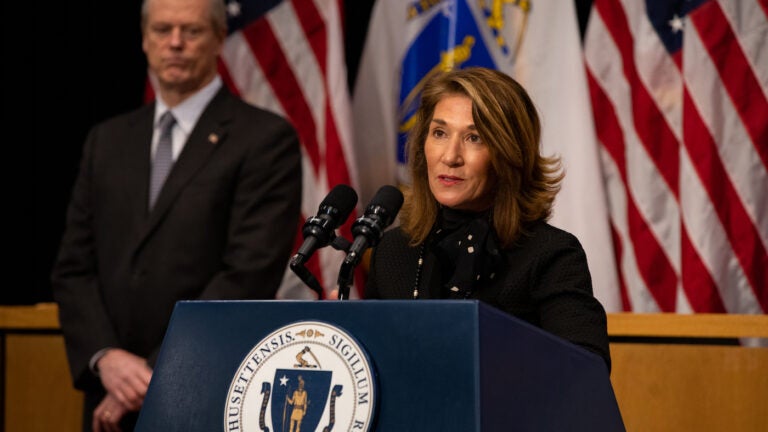 As Massachusetts starts a phased reopening of the economy during the coronavirus pandemic, businesses that violate the state-mandated safety standards would face a series of fines before potentially being shut down, officials say.
Gov. Charlie Baker unveiled the four-phase approach Monday, releasing industry-specific safety requirements employers and businesses must follow in order to open up their doors again in the coming weeks and months.
The standards impose rules ranging from required physical distancing practices to plans for how to respond if someone becomes sick on the job or at the workplace.
According to state officials, businesses do not need to be inspected before reopening as long as they meet the standards through a self-certification process.
"Compliance is a responsibility that an employer has, but who's going to hold them accountable? It will be a worker who doesn't feel that they're putting that practice in place, or a customer who doesn't see that these safety standards are in place," Lt. Gov. Karyn Polito said Monday.
Enforcement will fall on the state Department of Labor Standards, state Department of Public Health, and local boards of health, who will investigate submitted complaints, according to officials.
The state has outlined four levels of enforcement for violators.
Businesses operating outside the standards will receive a verbal consultation before they receive a written warning, officials said.
After that, they could face fines of $300 at most, up to three times, while the violations persist. A cease-and-desist letter will be issued after a business is fined the third time, officials said.
The enforcement agency in a particular case will allow the business 24 hours to make changes before a follow-up inspection occurs, according to officials.
However, as the state begins phase one of the reopening, the Baker Administration will focus on educating businesses and local officials to help with compliance.
The Department of Labor Standards has established a hotline for local health agencies that have questions or who need guidance regarding enforcement.
Polito said Monday state officials do not want to have to issue fines.
"The goal with enforcement is to educate and promote compliance," she said. "We want workplaces to be safer and to incorporate these standards."