COVID
A tale of 2 gyms: As one owner grapples with guidelines, another defies them outright
Laury Hammel of Longfellow Health Clubs said he was "pretty upset" about gyms being placed in Phase 3. Prime Fitness in Oxford, meanwhile, is open for business – for now.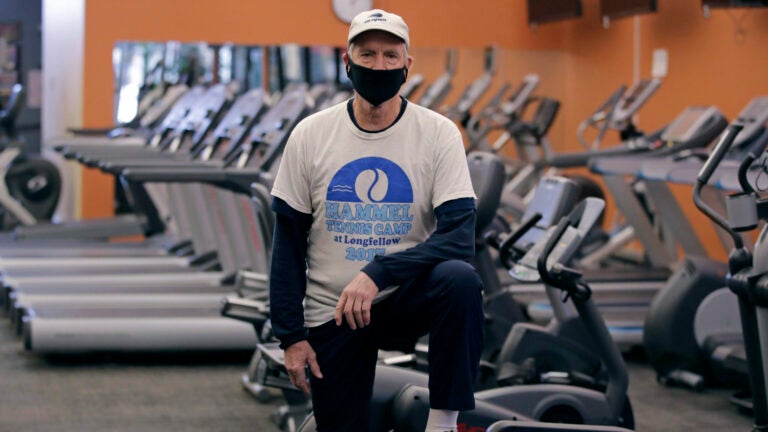 Before Gov. Charlie Baker announced the closure of non-essential businesses on March 23, Longfellow Health Clubs were already closed.
It was the right decision, according to Laury Hammel, who owns six athletic clubs in Massachusetts, New Hampshire, and Salt Lake City, Utah, noting that "we were one of the first gyms to close." He acknowledged the last few months have been difficult. The clubs in Wayland and Natick have 10,000 members between them and all of the activity they brought immediately vanished. 
The latest challenge came Monday during Baker's announcement of a phased reopening. Hammel and other health club owners he had been in touch with anticipated being placed in Phase 2, but were disappointed when they were actually put in Phase 3. Each phase is planned to last at least three weeks, if not longer.
"We're pretty upset about it because Phase 3 means we might not be open until July," Hammel said, noting that Phase 3 also includes things like casinos and museums.
He and other athletic club owners thought if they were put in Phase 2, it would be enough time to prepare for reopening, he said. They've been studying what the reopening would look like for the last couple of months, and plans include requiring members to wear masks, using hand sanitizer, eliminating seating to stop members from congregating, and not allowing people to use things like the showers or sauna. There's also planned to be 100 square feet of space or more between workout machines.
"We're doing everything we can to ensure that everybody who walks in here is safe and protected, and yet can still have a really great workout," he said. "We're a big enough facility that we can socially space the equipment and the people so they're going to be safe."
Since the announcement, Hammel said he's been in contact with local and state elected officials, as well as local boards of health, about the Phase 3 placement, adding that those he's spoken with have been receptive to his concerns. 
"So far we're getting a good response because we're not trying to ignore the epidemic," Hammel said. "We're looking to find ways to combat it." 
The health clubs help their members to become physically stronger and lead healthy lives, even if it will be done in a socially distanced way in the future, he said.
Hammel realizes that a major part of being a member of a health club is the social component – talking to someone while working out, and other interaction, he said.
"They love coming to the club, they feel so close to each other, and they're devastated to be away from each other for now over two months," he said. When members do come back, that interaction will be limited to perhaps talking during a small, socially distanced workout class, or maybe being able to converse from their distant workout machines.
The club in Salt Lake City has now been reopened for a couple of weeks, Hammel said, and so far, members have been complying with the new rules. People use the facility and then they go home without the community engagement of the past. That's difficult, but it's something.
"We know at this point in time, at least seeing people and waving to them and saying 'hello' to them is preferable to being locked up in their house," he said.
Re-opening early in Oxford
In a different response, a gym in Oxford has decided to reopen anyway despite the consequences: Its owner said Sunday that it would reopen the following day, hours before Baker's reopening announcement.
Prime Fitness & Nutrition, Inc. owner David Blondin said in a Facebook video that the gym would reopen at 7 a.m. Monday for members only – no drop-ins would be allowed. Blondin also asked other gym owners throughout the state to reopen, too. 
Prime intended to allow 25 people on each floor with one-hour slots, noting that "the majority of us need our sanity back."
"Please for the love of God, do not wear a mask in here, OK?" he said. "I do not need people passing out because they can't breathe."
The announcement of the reopening comes after Blondin posted other videos directed at members, including one on May 4 telling people that the gym was not open, and to not enter the gym and ask.
"We will be taking serious consideration into cancelling people's memberships for their stupidity," he said.
Someone set up a GoFundMe to benefit Prime in anticipation of potential fines. It had raised over $5,500 as of Wednesday afternoon, with a $50,000 goal.
So far, Prime has received two warnings – one verbal, one written – for its actions, according to MassLive.
"The board of health is empowered to ensure compliance with the governor's orders and phased reopening of Massachusetts," Thomas Purcell, the town's board of health agent, said in a statement obtained by WCVB. "We all have a role to play in making this as safe a reopening as possible."
Baker's office has also issued a response.
"All businesses have a responsibility to follow the mandatory workplace safety standards, and enforcement, if necessary, will be handled by state and local agencies," a statement from his administration said, as reported by WHDH.
Blondin told the news station he's keeping the gym open.
"Whatever I have to do stand my ground, I'm not backing down," he said.