Coronavirus
Here are the public health metrics Mass. is using to monitor COVID-19 in the state's reopening
"If we don't keep up the fight and don't do the things that we all know we have to do, and know we can do, we run the risk of creating a second spike in the fall."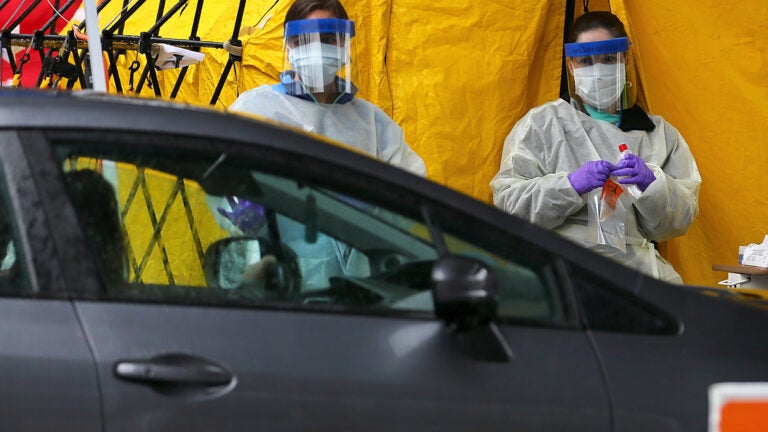 Massachusetts is moving forward with the first of four phases to reopen with the coronavirus pandemic. In announcing the state's roadmap for reopening, Gov. Charlie Baker emphasized that progressing through each phase will hinge on public health data. 
"We cannot move forward unless we commit to continuing to slow the spread," Baker said during a press conference on Monday. 
The governor has estimated that each of the phases will last about three weeks, and is urging state residents to continue practicing preventative measures — social distancing, wearing face coverings, frequent hand washing and cleaning of high-touch surfaces, and keeping vigilant for symptoms of the virus — to fight back against COVID-19 even as the state eases restrictions on business and social activities. 
How well state governments, private employers, and individuals practice the four measures aimed at reducing the spread of coronavirus will dictate "how well" Massachusetts reopens, Baker said. To measure that progress, the state is using six public health metrics to determine if the state can progress from one phase to another — or, if the state's reopening has to stall or fall back due to a surge in cases. 
Those metrics are as follows:
COVID-19 positive test rate 

Number of individuals who died from COVID-19 

Number of patients with COVID-19 in hospitals 

Healthcare system readiness 

Testing capacity 

Contact tracing capabilities
"Collectively we have flattened the curve and avoided the spike in cases that would have broken our healthcare system," Baker said. "But if we don't keep up the fight and don't do the things that we all know we have to do, and know we can do, we run the risk of creating a second spike in the fall."
Officials will update the metrics weekly with stop light colors — green, yellow, and red — to indicate progress made on each, representing positive trends, "in progress," and trending negative, Secretary of Public Health Marylou Sudders said Monday. 
As of Monday, the state only has a green light on two of the six metrics — testing capacity and a decline in the number of COVID-19 positive test rates. 
"The others are in progress," Sudders said. "And of course, until we only have a handful or no deaths, we can never say that we are trending positive in that area. In order to sustain the progress to date and to move us forward in reopening our commonwealth, all of us must continue to be vigilant about hygiene, wearing face coverings, and engaging in social distancing. These very important public health and safety measures are our best tools at this time to protect ourselves, our coworkers, our families, and our communities."
Currently, with regard to healthcare system readiness, Sudders said there is 30% availability for both ICU and medical surgical beds across the state. 
Both Baker and Sudders have emphasized that ramping up testing and tracing of coronavirus cases in Massachusetts with the reopening will be key, and the health secretary said the state must be prepared to see an increase in positive cases and hotspots to occur as people get back to work. 
"Testing and tracing will remain integral to getting ahead of this virus, containing it, and it is a critical part of our ability to keep the economy moving," Baker said Monday.
Currently, Sudders said, the state is only using about one-third of its testing capacity. The state is working to increase capacity to 45,000 tests per day by the end of July and 75,000 daily tests by the end of December. 
"Our goal is to decrease our positive test rate to less than 5%," Sudders said. "And we want to expand lab processing capacity to prepare for a potential fall surge and to test residents and patients in high risk congregate settings, including our skilled nursing facilities, correctional facilities and state-operated or financed state hospitals and group homes."
As of Tuesday, public health officials reported more than 87,000 confirmed cases of COVID-19 in Massachusetts. More than 5,900 people have died from the illness since the outbreak in the state began. On Tuesday, officials reported 873 new coronavirus cases, 76 new deaths, and that 2,472 patients remained hospitalized.