COVID
COVID-19 is driving students away from community college – maybe forever, says Bunker Hill president
"My fear is that the students who are truly in stress ... they will go away permanently."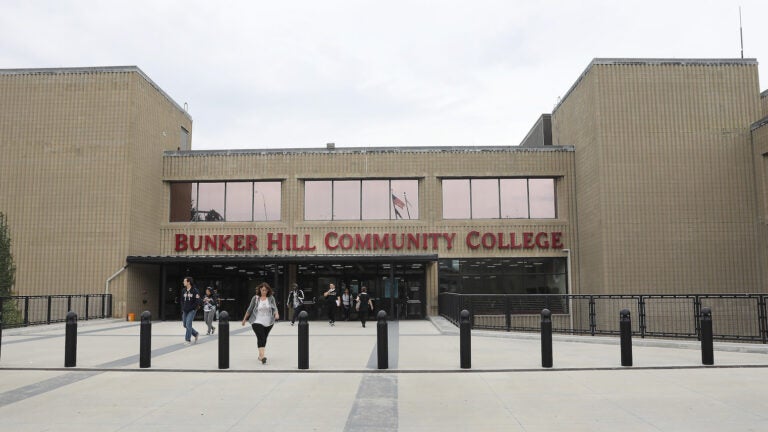 Contrary to the common rejoinder that "we're all in this together" in the era of COVID-19, Pam Eddinger doesn't see the "equal opportunity" impact of the coronavirus pandemic.
Not for her students.
"I have, in the 25, 30 years I've been in education, never seen such stresses on students," Eddinger, president of Bunker Hill Community College, said Wednesday. "The huge switch online, which holds great opportunity for us in the future, was one of the worst things I've ever experienced."
The faculty took 1,700 course sections and put them online for their classes within two weeks. Eddinger says it was tough work, but not nearly as difficult it was for their students, especially those who lack the necessities for a receiving the same level of education at home that they would on campus.
Laptops, WiFi, and a quiet place to study are crucial resources some no longer have. Many students at the college are parents who've had to find time in their days to attempt to be teachers themselves.
"I don't think there's equal opportunity in here at all," Eddinger said. "All the inequalities that we know that were sort of bubbling beneath the surface have broken open."
Eddinger was one of five Boston college and university presidents — from Emerson College, Boston University, Northeastern University, and the UMass system — who met for a virtual roundtable discussion Wednesday afternoon, pondering what exactly the future of higher education will look like when the dust settles on the COVID-19 crisis.
While all agreed that remote instruction will likely play a larger role in how students take their classes, especially in the coming fall semester, Eddinger pointed to the outsized impact the "digital divide" carves out for students from low income households, and how it jeopardizes their chances for keeping on course to their diploma.
Students who used to attend classes on campuses in Charlestown and Chelsea — where the virus has spread at a rate unlike anywhere else in the commonwealth — and now can't get online "just simply disappear," she said.
"My fear is that the students who are truly in stress, we're not hearing from [them] and they will go away, and they will go away permanently," Eddinger said.
Internet access, in particular, has been a roadblock for many students in Massachusetts, though statistics available focuses largely on the lack of broadband available for elementary and secondary students.
According to 2015 Census data, 49,000 children under the age of 18 across the state do not have Internet service and 14,000 lack a computer at home.
Curriculum Associates, a Massachusetts-based ed-tech company behind the digital learning program "i-Ready" for students in kindergarten through eighth grade, recently released data showing student activity on the platform dipped after the initial school closures in March, but made somewhat of a rebound.
Still, students in low-income zip codes used the program at just a little over 20 percent of the level that they used it before classrooms shut down, compared to a more than 60 percent level for those who live in high-income areas.
Meanwhile, the virus itself has hit low-income neighborhoods and communities of color in Boston at higher rates than white residents and more affluent parts of the city.
BHCC students generally commute to the school within an eight mile radius, according to Eddinger. Of its 11,769 students enrolled in the fall 2019 semester, 67 percent were students of color, school data shows.
Eddinger said BHCC bought as many as 1,000 Chromebooks and laptops, as well as WiFi hotspots, for its students to connect with teachers, but noted that device training and an understanding of how the technology works is another hurdle some students face.
And physical environment is a major factor too.
"I have students who will not put their faces on Zoom because they're studying in a closet and they do not want their poverty or their lack of resources exposed," Eddinger said. "So we're really talking not only about the digital divide, but the digital identity that has to be fostered in order for us to truly have the workforce … that needs to be developed to be beyond a certain layer of populations in terms of privilege."
Several other higher education leaders said they've experienced similar challenges with their students.
Emerson College President Lee Pelton, who moderated Wednesday's discussion hosted by the Greater Boston Chamber of Commerce, said the arts and communications school had also worked to provide devices to students who needed them this past semester.
"It has not been equitable because the environments that they have gone back into are not the environments that are conducive in every case for that kind of learning environment that they had in the residential campus setting," said Boston University President Robert Brown. "And you know the support structures that we can offer everyone residentially don't work nearly as well in the nonresidential model."
Eddinger said the future of higher education is definitely moving beyond brick-and-mortar classrooms and lecture halls.
But the students who struggle to get online are going to need more than just technology itself — they need "wholistic support that wraps around them," she said.
"We have done everything from allowing for pass/fail grades, allowing for a longer withdrawal period, allowing for incompletes to be finished over the summer — basically everything we can do to say to a student or a student parent who has multiple obligations, we understand, we're compassionate," she said. "Learning is lifelong. We should not let this particular point in the outbreak define your entire academic career, and to keep them with us. I think that relationship with us, whether it is academic, or student support, or emotional support, we want to be there."
And Eddinger is hopeful. She sees opportunity here, and pointed to the fact she can now talk about the need for universal WiFi and people understand what that really means and the stakes involved.
In the meantime, BHCC has also been supporting students by keeping its food pantry and deliveries open and ongoing throughout the coronavirus outbreak, even calling hundreds of students at any one time to give them that human touch, showing them that the supports are there, Eddinger said.
"We're hoping that that emotional connection will be stronger than the virus," she said.