COVID
What you need to know if you're planning to get a haircut next week
This won't be your standard visit to the barber.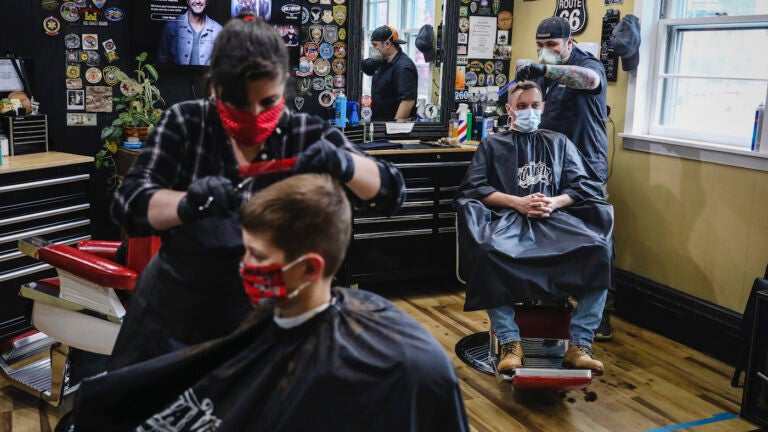 Starting Monday, you'll be able get a trim for that scruffy look you've cultivated over the past two months.
But like all industries that are set to begin a phased reopening amid the coronavirus pandemic in the coming weeks, there will be some new rules in play.
This will not be your typical trip to the barber or hairdresser.
Here's what to know if you're planning on getting a haircut anytime soon:
Appointments are required
You are going to have to make an appointment for a haircut in advance, under the state safety standards released this week.
Once you're there, you won't be flipping through a magazine or scrolling through your phone in the waiting area. Customers are expected to wait outside or in their vehicles until it's time to sit down in the chair.
Masks are a necessity
Face coverings will be required for all customers and employees inside a barbershop or hair salon, except for individuals who are unable to do so because of a medical condition or disability.
Workers, meanwhile, will also be mandated to wear "gloves, gowns or smocks, and prescription glasses, safety glasses, or goggles," the state standards say.
You'll also be a good distance from any other customers. Chairs are required to be arranged at least six feet apart from each other, and businesses should install markers to encourage people to keep their distance from one another, the regulations say.
Physical partitions between each workstation should be installed "where feasible."
Beard trimmings and other select services will not be available
You shouldn't expect to see the usual list of options if you do go.
Haircuts, colorings, blow drying, and treatments will be available, but "non-hair services" are not permitted. Those include manicures, lip waxing, beard trimming, and eyebrow threading, among other offerings.
Tools, including chairs, combs, shears, and razors, will have to be disinfected between customers. Employees should change smocks, too, the standards say.
Businesses have also been told to remove nonessential amenities such as magazines, coat rooms, and customer-facing water or coffee machines.
On the way out, you may want to use a form of contactless payment to cover your bill. Shops are encouraged — but not required — to accept them.