COVID
'There's a lot at stake here': Charlie Baker issues strong warning about COVID-19 going into Memorial Day weekend
"This is not about vanity folks—it's about the safety and the health of your friends and your families."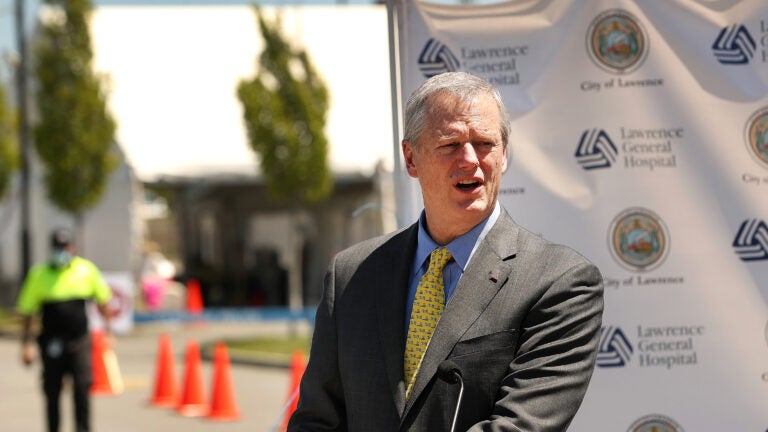 Going into Memorial Day weekend, Gov. Charlie Baker had strong words Friday for those who may object to wearing a face covering or don't want to practice social distancing to help prevent the spread of the coronavirus.
"There are a lot of people who died for your right to live in a free democracy here in the United States, here in Massachusetts," Baker said during a press conference in Lawrence. "Those people stood up, put on a uniform — most of them volunteered — and marched directly into the field and the theater of combat. And Memorial Day is when we celebrate the ones who didn't make it home and their families. If you don't want to wear a mask because you don't like wearing a mask, if you don't want to social distance because you don't want to social distance, please think about those families. Those moms and dads, those brothers and sisters, those sons and daughters of those who lost their lives fighting for your freedom to put on that mask — just do it for them. Socially distance for them. Wash for your hands for them. Because if they were here, they would be doing the same thing."
The governor emphasized the importance of being careful and respecting the "power of the contagion of the virus" going into the holiday weekend and the reopening of beaches on Monday. Social distancing, face coverings, and frequent hand washing and sanitizing remain paramount in preventing new transmissions, he said, as the state undertakes the first of four phases of reopening.
"My advice to everybody over the weekend, it would be the same advice I would give to my friends, I would give to my kids, I would give to my neighbors — which is respect the virus and understand that distancing and face coverings if you can't stay distant are your two greatest allies in preventing the spread," he said.
That applies even if you "feel healthy and you feel good at this time and in this commonwealth," Baker said, pointing to the high number of people who don't develop symptoms for COVID-19 but still carry it and infect others. Face coverings will help prevent you from making others sick if you are carrying the virus, he said.
"A lot of people spend a bunch of time on Memorial Day weekend with family," the governor said. "Family usually means things like moms and dads. And in some cases, grandmas and grandpas. Wear a face covering, not only for yourself, but for the people you come into contact with. This is in many ways one of our greatest weapons in the fight against COVID. And wash your hands. A lot. Sanitize. Keep the distance. Be careful."
"People have worked really hard and given up a tremendous amount over the course of the last 8 or 10 weeks to bend the trend on this and we succeeded," Baker continued. "And it's because of the work that everybody did that we're now here in a position where … we can start talking about a gradual, careful, data-driven, phased reopening. Don't let a few nice days step on that."
More progress needs to be made in order to move forward through all phases of the reopening, the governor pointed out. As of Thursday, the state had reported 90,084 confirmed cases of the virus, and more than 6,000 people had died.
"This is not about vanity folks — it's about the safety and the health of your friends and your families," Baker said.
The governor said the overwhelming majority of Massachusetts residents have been "good about abiding by" the public health guidance and advisories, and he expects that to hold true for the holiday weekend.
"I'm sure that over the course of the weekend, there will be some places where people don't behave and live up to the terms of the advisories and some of this other stuff," he said. "But I believe that the vast majority of people will. Because for the past two-and-a-half months, the vast majority of the people of Massachusetts have day after day done things they've never done before to put up with and fight against this virus and to join together to defeat it."
If you are going to go out, he said, be smart and remember that abiding by the public health guidance is about continuing to fight the spread of the virus and making it possible to get more people back to work.
"There's a lot at stake here," Baker said. "Please be careful and respect the virus."