COVID
Juliette Kayyem worked on the Obama administration's response to H1N1. How she thinks businesses should approach reopening now.
"We are going to have to adapt to the virus in real time."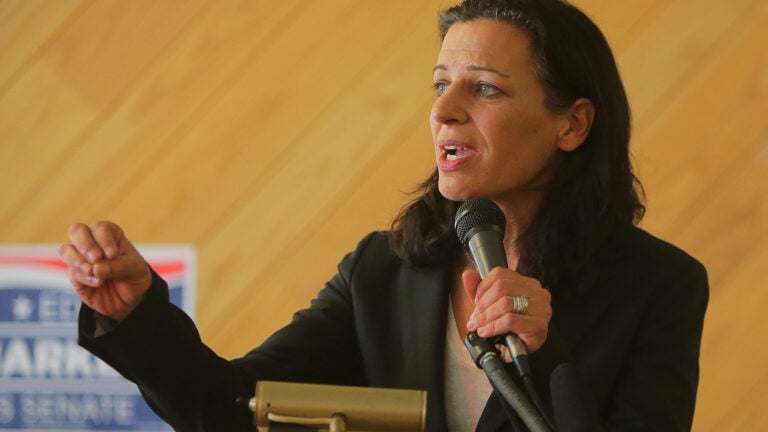 With states, now including Massachusetts, beginning early stages of reopening amidst the COVID-19 pandemic, experts believe they need to do so with precautions. That includes Juliette Kayyem, a former assistant secretary for intergovernmental affairs under President Barack Obama, who this week outlined numerous factors and implications that come with reopening.
Appearing in a Webinar hosted by Evolv Technology, Kayyem detailed how businesses can approach their response to the reopening phase. Before moving ahead, though, she had some thoughts on the country's initial response to the pandemic.
"We could have maybe stopped this a long time ago with better surveillance, better food security, global health systems," Kayyem, who teaches at Harvard's Kennedy School and is national security analyst for CNN, said. "Those are the big-think issues… From the U.S perspective we could have done a lot more to prevent the kind of response that we saw in March."
Going through the five stages of crisis management: protection, prevention, response, adaptive recovery and resiliency, Kayyem explained the timeline for how the virus has been managed so far.
First, Kayyem believes that the lack of anticipation for the virus caused health care systems, workers, and other resources to be unprepared for the pandemic.
"The public wasn't anticipating this," she explained. "Many people went from not know about COVID-19 to being told they have to stay home within 24 hours. We didn't prepare our health systems or our frontline workers in terms of what they would anticipate."
Thus, during the BOOM and Response phases, institutions and businesses responded "based on their own situational awareness" to the virus and preventative measures. By March, a handful of businesses and educational institutions either closed or began to enforce social distancing restrictions. Today, Kayyem believes that we are in the Adaptive Recovery stage, meaning that businesses will have to constantly re-adapt and re-shift their business plans depending on when, or if, a vaccine for the virus comes along.
"I think opening up is the wrong term," she explained. "I know what we're facing is what I've come to describe as Adaptive Recovery…We are going to have to adapt to the virus in real time, it's still with us. I call it Adaptive Recovery because any decision or planning that you do now is not likely to sustain itself for very long. You're going to have to adapt to new requirements, to maybe another outbreak or maybe to good news, a new treatment comes along."
She also discussed the protocols that businesses and venues need to consider in terms of threat and risk. Massachusetts has put safety and social distancing guidelines in place for businesses that are reopening in Phase 1, such as construction and manufacturing workers keeping six feet a part unless the task is deemed unsafe. Essential businesses have until May 25 to comply with safety guidelines and protocols.
With this is mind, here's how Kayyem suggested businesses approach reopening:
Business and educational institutions
If businesses, such as gyms and schools, do decide to reopen, Kayyem suggests that they should consider the intensity of exposure and the number of interactions their customers, staff, or students will be subjected to.
"Am I bringing them into a classroom or am I bringing them into a school gym?" she asked. "If you can start to think about where you're bringing them in terms of the intensity of interaction, that matters. Is it sweat, are they touching each other?…For a teacher, [when] thinking of a school, I'm experiencing more potential threats if I have one hundred students than the students would if they stayed in the same class with the same 20 students, than if we had five teachers circulate. That idea of the intensity of the interaction, and the number."
"Closing was the easy part. Some of the things that we look into are: Can I limit the number of staff and visitors? My ability to social distance? Can I change the building in terms of cleaning and disinfect and crowd control? Do I have ability to detect for health detection purposes or elevated body temperature? And of course, do I have testing and other capabilities to make sure the virus isn't among us?"
Corporate offices and employers
For offices and corporate offices, Kayyem also believes that the idea of workplace needs to be reimagined. In Phase 1 of Governor Charlie Baker's reopening plan, non-essential offices can reopen with only 25 percent of their buildings legal maximum capacity limit as of May 25. Meanwhile, Boston Mayor Marty Walsh said he is not "personally not comfortable" and thinks it is "too much."
Kayyem believes employers need to seriously consider why they would want to bring employees back in the first place.
"The 50 percent that are working from home, employers, need to think about why are you bringing them back? We don't have strong testing capability, treatment [and] if it's working, don't change it. The best way to limit exposure for yourself is to keep them home.
"Corporate culture is over as we know it anyway because if I do bring them in, most states are restricting the number of people that can come into an office: 25 or 30 percent. We should begin to think about mitigating the harm as the correct and first solution."
Recreational venues
Kayyem believes that recreational venues are not at the top of the priority list. Restaurants will be able to reopen in Phase 2, and bars that "serve alcohol but do not have an onsite kitchen" will not reopen until Phase 3. As for sporting events, the NFL has anticipated that the season will start on schedule, but the league must follow state-wide regulations, restrictions and safety protocols.
"I'm going to be blunt with you, the fun space in every state plan [that] I've seen is the last space they're concerned about" Kayyem said. "In other words, we are in a waiting pattern for a lot of you. You just need to begin to adapt to that most major sporting events that are coming back online are doing so without spectators. When you do come back, various things around seating structure, capacity limitations, and screening are likely to occur. Especially when you think of sporting events."
While the timeline of when things will return to normal is still uncertain, Kayyem is hopeful things will turn around soon.
"I will say, things will get better and we'll have better testing and treatment, and tracing. We'll have better capacities — we're just talking at a time when we're beginning to open up and those capacities aren't totally on board yet."