COVID
5 takeaways from Marty Walsh's pre-Memorial Day weekend interview on the coronavirus and Boston's reopening
"This virus isn't going away."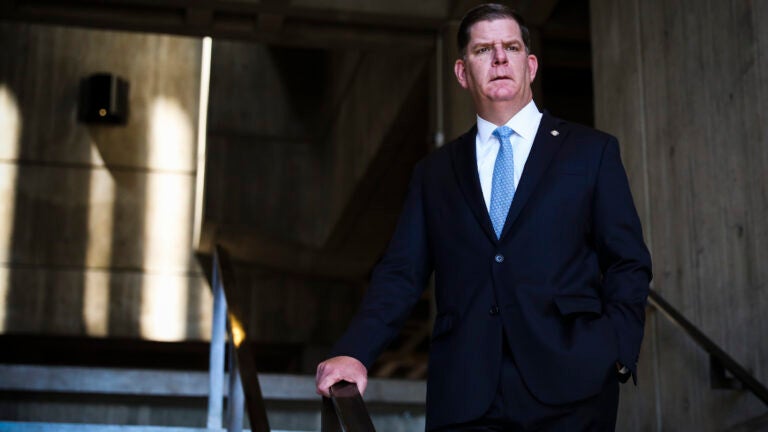 Boston Mayor Marty Walsh made a routine appearance Friday afternoon on WGBH's "Boston Public Radio." However, the call-in radio segment yielded an unusual number of updates about Boston's response to the coronavirus outbreak.
As Massachusetts begins the first phase of its reopening plan, Walsh shed light on his plans for offices bringing back workers to Memorial Day weekend to the status of the Boston Marathon. Above all, he urged Boston residents not to get complacent as the city enters the unofficial start of summer.
"We can't be shutting things down again," Walsh said.
1. Walsh 'probably' won't set a lower office capacity limit for Boston
The Dorchester Democrat appeared to walk back his comments earlier this week that the state's 25 percent occupancy limit for offices during Phase 1 of the reopening would be "too much" for Boston.
Asked by WGBH host Jim Braude if he planned to set a lower limit in the city, Walsh said he is "probably not going to pick a number at all."
The city's nonessential offices are allowed to reopen on June 1, one week after workplaces across the rest of the state are allowed to reopen at 25 percent capacity. Walsh had told reporters Tuesday that he was "not comfortable" with that number of employees being allowed back in Boston so soon.
But on Friday, he struck a slightly different tune. While suggesting that it would be unsafe to bring back 25 percent of the city's total workforce on June 1, Walsh said he doesn't expect individual companies to max out their allotted capacities.
"We have to do it in a way that it goes up to 25 percent," he said. "I don't think we'll have 25 percent in any office in the city."
Even without a lower enforceable limit, Walsh said he hopes most employees would continue to work at home and that companies would start off with only small skeleton crews. For the many businesses that have been deemed essential, that has already been the operating procedure, he noted.
"A lot of these businesses, by the way, haven't been shut down," he said. "They're still working, and people have been working at home for the last two-and-a-half months."
Rather than setting a different capacity limit, Walsh said the city is working on additional guidelines for offices in Boston.
2. Getting creative to help Boston's restaurants
Walsh said he's most concerned about whether the already-low-margin restaurant industry will be able to recover from the economic disruption of the COVID-19 crisis.
Restaurants were included in Phase 2 of the state's reopening plan, which won't begin until June 8 at the earliest. But a growing number of restaurants may never reopen, and indoor dining has been a focal point of the pandemic.
According to Walsh, one solution is to allow restaurants without outdoor dining to expand seating outside, whether it's into their own parking lot or even into the city's streets. The mayor said on WGBH that the city's licensing board has created a new process to make it easier for businesses to apply to have outdoor dining. So far, they've gotten 155 applications, he said.
"It makes up for any lost seating inside, because they're not going to open at 100 percent," Walsh said.
His comments also come on the heels of a City Council meeting last week about repurposing streets to encourage physical distancing between pedestrians. Walsh said his transportation department is looking at potentially shutting down certain street segments or removing parking spaces "to allow restaurants to have the outdoor dining in their area."
There are, however, complications, due the effects on neighbors and traffic patterns. For example, Walsh said shutting down Hanover Street in the North End may seem like a "brilliant idea" until you realize that it would disrupt access to a local firehouse.
Another "outside the box" change Walsh did suggest was making the move to allow restaurants to sell beer and wine for takeout during the pandemic a permanent decision.
"When this is over, I don't see the reason why we don't let restaurants do that," he said. "Like why not? The package stores aren't hurting from it. They're doing well. I just think we have to be a little more liberal in thinking the way we operate."
3. Walsh's advice for Memorial Day weekend? Limit your cookouts.
Whether you're spending the weekend on Cape Cod or staying in the Boston area, Walsh said people should keep any Memorial Day cookouts limited to their immediate household and to "not expand it beyond that."
"Don't have a cookout in your backyard and invite 100 people over," Walsh said. "I wouldn't advise that."
While the state has begun allowing certain outdoor activities to resume, organized gatherings of more than 10 people remain prohibited. Health experts warn that widening one's network of contacts increases the risk of the disease's spread.
Walsh also reiterated that people should try to stay six feet away from others and wear a mask when they can't.
"I don't want to lose sight of the virus," he said.
"We're the fourth highest state for cases and the third highest state for deaths," Walsh said. "This is a serious virus. This virus isn't going away."
4. Expect another announcement about the Boston Marathon 'soon'
The status of the 2020 Boston Marathon has become increasingly unclear, amid health experts' recommendations and Walsh's own decision to cancel all large events through Sept. 7. The postponed race, which annually draws around 30,000 runners, is currently scheduled to be held Sept. 14.
Amid recent rumors that the decision to cancel the race has effectively already been made, Walsh told WGBH that he expects an announcement in the "next week or two."
"No final decision has been made, but I'm expecting it to be happening soon," he said.
Walsh noted that it's not a decision organizers are taking lightly, given the economic impact that the race has on the area. But public health officials have consistently said that large gatherings like concerts and sporting events with fans are untenable until either testing is dramatically increased or an effective treatment for the disease is developed, which likely won't happen in 2020.
"The Boston Athletic Association continues to work closely with local and state officials as we consider what September 14 looks like for the Boston Marathon," the BAA said in a statement this week. "Guided by public officials, we are actively exploring all options for this year's race and will continue to follow public health and safety guidance."
5. Why Boston isn't fining people for not wearing masks
Walsh has forcefully urged Boston residents to wear a face covering in public. And the state's mask order says that local officials can fine people $300 for being in places, including stores and on public transit, where they can't maintain a safe distance from others without some sort of face covering.
But in Boston, police haven't been ticketing people, to the dismay of some residents (or at least WGBH listeners). Walsh says he fears potentially punishing low-income individuals.
"I just feel there's an inequity ticketing people right now," he said.
Some communities have equipped their local police departments with free face coverings to distribute. And according to Walsh, Boston police have 25,000 to give out. But in a city of nearly 700,000, there's no way to ensure that everyone has one.
"We've heard and witnessed and read situations across the country where enforcement has been uneven or even inequitable in communities of color," Walsh said during a press briefing after the state order took effect earlier this month.
"The purpose of these guidelines is to keep your families and your communities safe," he said. "Our approach is to support you, not to punish you, especially if you are financially struggling."