Coronavirus
COVID-19 has killed 100 grocery store workers. Vitalina Williams was one of the first.
"Why does she have to be the example? Why couldn't it have been someone else?"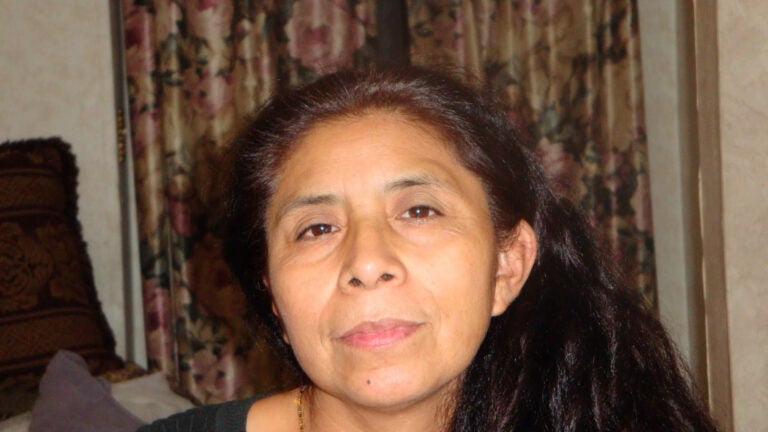 Twenty-two years ago, David Williams was biking down a Salem, Massachusetts, street when he first caught a glimpse of the woman who would become the love of his life.
He was not able to make out her features as she turned on her way to catch a train, so he spun his bicycle around hoping to see her again and started biking up the street. He saw Vitalina's face and let out a whistle.
"She was just beautiful," David Williams remembered.
The two talked, dated and married. More than two decades later, David Williams describes his wife with rich detail: She was compassionate and frequently sent money to her family in Guatemala. She was incredibly diligent, working two jobs at chains Market Basket and Walmart. She had a green thumb, spending lunch breaks in the foliage aisle at work and keeping a lush garden at home.
"She was such a wonderful woman that plants reacted well to her," David Williams said. "She, in life, just had this bear hug of love. Little children, small animals, plants — everything reacted well to her."
The couple worked at grocery stores near their Salem home: Vitalina Williams as a cashier at a Market Basket in Salem and security at a Walmart in Lynn, while David Williams stocked shelves at a Market Basket in Danvers. When the coronavirus pandemic hit the United States in March, they were concerned but needed to pick up extra hours to pay bills. Both were given gloves but no masks.
By the end of March, both were sick with COVID-19, the disease the virus causes. He recovered quickly, but her condition continued to deteriorate. On March 28, she was hospitalized and put on a ventilator. A week later, she died. Vitalina Williams was 59.
"As somebody who shared everything with her, it rattles in the back of my head, 'Did I give it to her?' " he said. "'Did I get it first and give it to her, or did she give it to me?' To be honest, I don't know."
The Williamses' jobs were deemed essential — putting them at grave risk of infection. At least 5,500 grocery store employees have tested positive for the novel coronavirus since late March, according to a recent Washington Post investigation and 100 workers have died of the virus. Vitalina Williams was one of the first.
In both her jobs, she had face-to-face contact with shoppers, working as a cashier at the Market Basket and reviewing customers' receipts as they exited the Walmart.
David Williams stocks shelves, constantly changing out of his latex gloves as he wears holes into them. He isn't sure whether his wife regularly wore gloves or whether she caught the virus at work. But two other employees at the Market Basket location where Vitalina Williams worked tested positive around the time she died.
The day before she was hospitalized, there were more than 1,000 cases in Massachusetts. The next day, there were more than 4,200.
"Nobody really knew the extent of this," David Williams said.
It wasn't until after Vitalina Williams died that more resources became available to grocery store workers. Citing her death, Rep. Seth Moulton, D-Mass., wrote to Massachusetts Gov. Charlie Baker, a Republican, on April 8, requesting that the state designate grocery store workers as emergency personnel, making them eligible for personal protective equipment and free coronavirus testing. Nine days later, Baker ordered expanded testing for grocery store workers.
Market Basket started limiting the number of customers in the store on April 2, after Vitalina Williams was hospitalized.
"For the protection of workers we are closely monitoring the public health recommendations and have continually made refinements and added elements," Justine Griffin, a spokeswoman for the chain, wrote in a statement.
The weekend after Vitalina Williams died, Market Basket installed plexiglass barriers at the registers and gave masks to workers who did not have them.
Walmart provided gloves and masks for workers after Vitalina Williams was sick, The Daily Item reported.
Despite receiving more protective equipment since going back to work, David Williams wishes his wife could have been better guarded against the virus.
"Why does she have to be the example?" he asked. "Why couldn't it have been someone else?"
David Williams told The Washington Post that he expected to die first, and that when he did, she would move back to Guatemala.
"My life with her only touched part of her life," he said. "She was around for 37 years before she met me. [She] grew up in a Third World country that was in a civil war for most of the time she lived there."
He was hoping to leave her the house when he eventually died. She could sell it, he thought, and return to her family.
When the pandemic struck, Vitalina Williams feared her husband's heart condition would increase his risk of getting sick.
"She was worried about me getting sick," he said. "I never thought it would be her. I never thought she would die."