COVID
Nurses union calls out Steward Health Care for donating PPE amid apparent shortages for hospital staff
Nurses represented by the Massachusetts Nurses Association began raising concerns about the circumstances at facilities in April.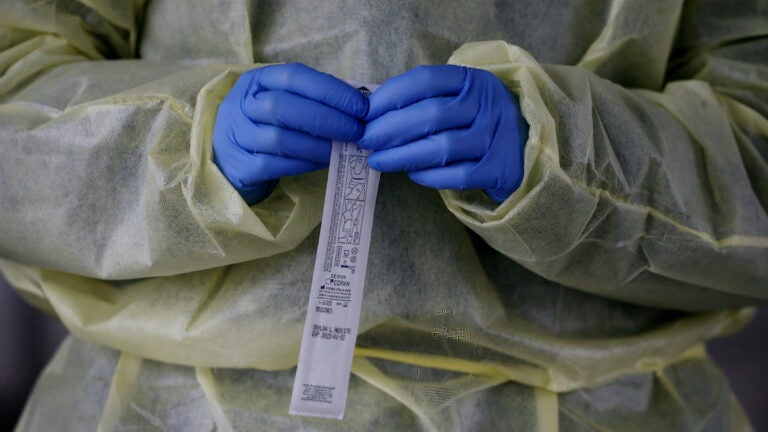 The Massachusetts Nurses Association is raising concerns that Steward Health Care announced it was donating thousands of protective gowns to the state and first responders when nurses at the system's hospitals have reported a desperate need for new personal protective equipment for weeks amid the coronavirus crisis.
Boston 25 News reports the May 14 announcement by the health care system that runs 10 hospitals in Massachusetts has been labeled a "publicity stunt" by the nurses association, which represents nurses at eight of the company's facilities.
"I'm like, 'They what? They donated 50,000 gowns? Where are they donating these gowns to? We're reusing our gowns,'" Kirsten Ransom, a nurse at St. Elizabeth's Medical Center in Brighton, told the station of learning about the announcement.
In a May 19 letter obtained by Boston 25 News, association president Donna Kelly-Williams wrote to Rhett Cavicchi, vice president of Steward's Labor Relations, about the donation and how "inappropriate it is for your company to let fall on deaf ears staff's needs for appropriate and accessible PPE."
"Our members' frustration, together with fear for their own and their patients' safety, seemed to have reached a tipping point … when your company announced with fanfare that it had donated 50,000 protective gowns to the Commonwealth of Massachusetts, while they are being unsafely rationed and re-used in their own hospitals," she wrote.
The nurses association previously raised concerns about the hospital system's response to COVID-19 and a "system-wide lack" of PPE in a statement released April 2.
"While assuring staff and the public that Steward has a 'robust supply' and a stockpile of PPE and there is no shortage in the system, Steward is inconsistently providing PPE including N95 masks, gowns and other equipment to staff when needed," the association said in April. "If the stockpile exists, there is a disconnect because the supplies are not generally accessible to staff when needed."
A Steward Health Care spokesperson told Boston 25 News the donation to the state and first responders was made after restocking facility supplies.
"Many of the [PPE] orders placed in March arrived from international vendors last week and have been distributed to hospitals across our network," Nicholas Puleo told the station. "Only after restocking with this new supply, were we also able to make a donation to other frontline workers through our partnership with the state."
Peg Colon, a nurse at Carney Hospital, told Boston 25 News that the health system should be taking care of its staff first.
"The bottom line is we shouldn't give away gowns," she said. "If we have plenty of gowns we shouldn't give away gowns if our nurses are asked to reuse them."
Kelly-Williams addressed the back-and-forth about equipment over the last two months and challenged the hospital system to ensure staff get the gear needed to protect against infection.
"I have listened — as have you — as staff have described mortal danger in not being able to replace masks for days and being told to re-use contaminated protective gowns," she wrote in the May letter, later concluding, "Accepting as true Steward's public statements of having warehouses filled with more than a million pieces of PPE, we ask you again to allocate it and stop unsafely rationing personal protective equipment."