COVID
'Absolutely outrageous': Boston's frontline workers say their employers insist those with COVID-19 didn't get it at work
Labor leaders are pushing for lawmakers to ensure workers have access to workers' compensation when ill with coronavirus.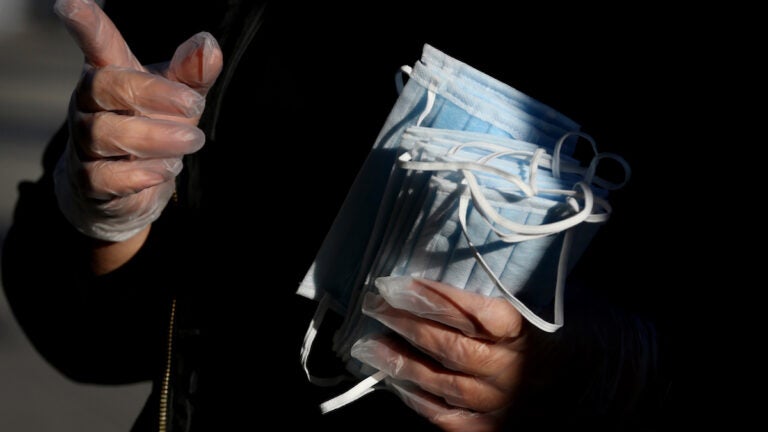 Labor leaders representing frontline workers from hospitals to grocery stores sounded off before Boston city councilors Wednesday, in a push to have employers acknowledge employees sick with COVID-19 caught the virus while on the job.
The union representatives say lawmakers must act to install occupational presumption measures to ensure nurses, custodians, supermarket employees, and others working essential positions during the health crisis have guaranteed access to workers' compensation and other resources should they fall ill.
Many said employers have continuously insisted that sick workers contracted the virus when they were off the clock.
"Employers are assuming these exposures are not their responsibility,"said Filaine Deronnette, of 1199SEIU United Healthcare Workers East, which represents 65,000 health care workers across Massachusetts. "I actually had an employer tell me that their medical expert had advised them that community exposure outweighs the risk of exposure in the facility. Now that's ridiculous."
Ellen MacInnis, a nurse in the St. Elizabeth's Medical Center Emergency Department in Brighton and a Massachusetts Nurses Association board member, said hospitals entered the pandemic unprepared.
They didn't supply appropriate personal protective equipment, or PPE, and take steps such as isolating and segregating infected patients to ensure worker safety, she said.
At St. Elizabeth's, nurses have been brought to the hospital in crammed shuttle buses, MacInnis said. They're required to reprocess a N95 mask, intended for single use only, up to 10 times, or roughly over 120 hours of use, through a cleaning process not certified by manufacturers, said MacInnis.
"We've all been very, very conscientious about protecting the public from potential exposures, and now clearly the hospitals have some responsibility but they're trying to walk away from that," she said.
The MNA has repeatedly voiced concerns about PPE supply at Steward Health Care hospitals like St. Elizabeth's throughout the pandemic. The system recently said that PPE ordered from international vendors in March arrived last week.
"We need our elected officials, you all, to acknowledge and get the hospitals and the industry to acknowledge that if somebody … works with COVID and becomes sick, they got that at work, they got it on something like a crowded shuttle bus or a unit where there wasn't enough PPE or where we were forced to reuse our PPE, not at Dunkin' Donuts," MacInnis said.
A tally of the still growing number of health care workers who have tested positive for coronavirus compiled by The Boston Business Journal shows over 2,400 across the state had fallen ill as of mid-May.
But hospitals have continued to push back on the notion that employees contracted COVID-19 within their walls.
A Beth Israel Lahey Health spokeswoman told the Journal that the health care system found that 1.5 percent of its frontline staff had tested positive, although only 1.2 percent of those working on floors with coronavirus patients tested positive.
Daily updates regarding sick employees at Mass General and Brigham and Women's hospitals include an asterisk to denote the workers came in contact with the virus somewhere else, the Journal reports.
In a statement to Boston.com Thursday, Dr. Joseph Weinstein, chief medical officer of Steward Health Care, said Steward hospitals have "met or exceeded" all federal and state guidelines regarding PPE and usage policies.
"Data shows that Steward hospitals across the country – including in Massachusetts, which has experienced the third-highest number of COVID cases in the U.S. — have been among the safest hospitals in which to receive and provide care throughout the pandemic," Weinstein said.
Nick Puleo, a spokesman for Steward, said remarks made by the MNA Wednesday were "completely outrageous" and untrue.
"They should be ashamed of themselves for intentionally lying to public officials," Puleo said.
Still, workers and advocates say that without laws to force employers across frontline industries to presume their sick employees were infected while working the frontlines, those who become sick are shut out of workers' compensation.
"It's outrageous, absolutely outrageous for a company to deny anyone a claim [on the grounds] that they didn't get COVID-19 on the job," said city Councilor Ed Flynn, who co-sponsored Wednesday's hearing.
Councilor Liz Breadon, also a co-sponsor, called the issue "a no-brainer."
Frontline workers "are making incredible sacrifices," she said.
Roxana Rivera, vice president of the Service Employees International Union Local 32BJ, told councilors hundreds of the contracted cleaners and security workers the union represents in Greater Boston have become sick with coronavirus, including some who passed away due to virus complications.
"As we think about reopening the buildings and institutions, we're concerned about just the level of, like many, the proper PPE for workers and also that it be appropriate for what people are doing," Rivera said.
Deronnette, of 1199SEIU, said one union member, for example, who is a patient registrar in a COVID-19 hospital unit, was tested for coronavirus while suffering an aggressive cold at the end of March, during which she was required to stay home for three days, using earned sick time, until test results came back.
Then, earlier this month, the same registrar was tested again while fighting strong allergies, meaning another three days was deducted, she said.
"Thankfully she tested negative both times, but this patient registrar with young children is left in the negative for banked (sick) time," Deronnette said.
Darlene Lombos, executive secretary-treasurer of the Greater Boston Labor Council, said 15 states have passed occupational presumption in some form, and pointed to four pending bills at the State House that would set up similar measures in Massachusetts.
The City Council also wrote to Gov. Charlie Baker earlier this month to voice support for occupational presumption.
Lawmakers need to make certain that workers do not need to rely on paid time off while being tested or treated for coronavirus, and that they have a right to workers' compensation and their families can access death benefits, Lombos said.
According to Jodi Sugerman-Brozan, executive director of the Massachusetts Coalition for Occupational Safety and Health, those resources would also support workers who don't have access to expanded paid sick time. For workers without health insurance, workers' compensation would cover the cost for COVID-19 treatment, she said.
"The crisis has shown us that it is our labor that drives the economy and creates prosperity, and it is workers, not CEOs, out there risking our lives on a daily basis during this pandemic," Lombos said. "Therefore we must prioritize what workers need, not what large corporations want."