COVID
Maine delays full reopening of restaurants after increase in coronavirus hospitalizations
And some restaurants are "not happy" about the timing of the decision.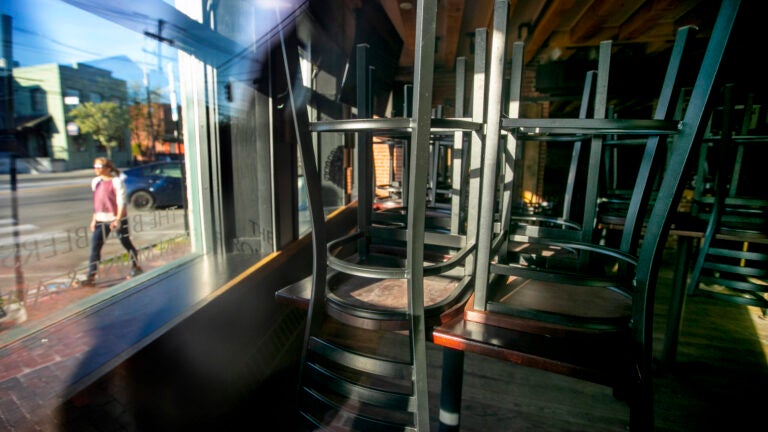 Indoor dining was set to resume at restaurants across the state of Maine this coming Monday.
But after a recent coronavirus spike amid the state's reopening process, officials are putting on the brakes — to the displeasure of some establishments.
Gov. Janet Mills announced Wednesday afternoon that the state was postponing the full reopening of restaurants in York, Cumberland, and Androscoggin counties, due to the increase in both COVID-19 cases and hospitalizations over the past two weeks in those three southern counties, which are the most densely populated regions in Maine.
"Given the trends we are seeing in certain parts of Maine, our Administration is revising the plan to align with what is in the best interest of public health," Mills said in a statement.
The administration had planned to allow indoor dining at restaurants in York, Cumberland, Androscoggin, and Penobscot counties to resume on June 1 under extensive safety standards as part of Stage 2 of the reopening plan. Indoor dining in the state's 12 other, more rural counties was allowed to resume on May 18.
However, after more than a month of flat or declining hospitalizations in Maine, the Portland Press Herald reported last week that numbers had begun ticking back up at hospitals in the area. And according to state data, the recent increase in new daily cases and hospitalizations have been most concentrated in York, Cumberland, and Androscoggin counties, where community transmission has been detected and infections have been the highest.
Now, only restaurants in Penobscot County — which is the only other Maine county with community transmission, but hasn't had more than three new cases a day since April — will be able to fully reopen for both indoor and outdoor dining on Monday. Restaurants in York, Cumberland, and Androscoggin counties will only be allowed to reopen for outside dining, in addition to continued takeout and delivery services.
Officials say that they have yet to settle on a new tentative date for when restaurants in those counties could resume indoor dining.
Mills said the decision Wednesday was "a move we believe is safer for the health of Maine people and that balances the economic needs of these businesses."
Maine has been far less hard hit by the pandemic than other New England states; as of Wednesday, the mostly rural state had 1,914 confirmed COVID-19 cases and 81 deaths due to the disease. But according to data collected by the state's Center for Disease Control and Prevention, the number of news cases and hospitalizations had begun rising again over the last 14 days.
Last week, Maine also indefinitely delayed the tentative June 1 reopening of gyms, fitness centers, and nail salons. Mills cited new research suggesting that gyms "present a greater risk of transmission" due to large numbers of people in relatively small spaces with moist, warm atmospheres coupled with turbulent airflow generated by intense physical exercise. She also referred to the claim by California Gov. Gavin Newsom that nail salons contributed to community transmission in his state, in addition to evidence that close, face-to-face contact between clients presents a relatively high risk of spreading the disease.
Public health experts say that indoor dining is a similarly high-risk activity, due to the extent of time people spend in close proximity to one another — often sharing items — and the inability to consistently wear a face covering.
Still, according to the Press Herald, some Maine restaurants owner fumed Wednesday over the timing of the short-notice decision.
"We had food and beverage delivered to each location this morning for thousands of dollars," Joe Christopher, the owner of Three Dollar Deweys in Portland and Saltwater Grille in South Portland, told the local newspaper. "That money is gone. It's totally irresponsible. Four days?"
In the wake of the change, the Mills administration said that the state's Department of Health and Human Services and the Department of Administrative and Financial Services will expedite the approval of licenses so that restaurants can have outside-only dining. However, some establishments have no — or limited — room for outdoor dining and had prepared financially for customers to return inside on Monday.
Steve Hewins, president of Hospitality Maine, told the Press Herald that the members of his industry group were "not happy at all," but added that "we've got to defer to the governor on this."
"We have no choice," Hewins said.
From Maine to Massachusetts, governors across New England have stressed that their plans to gradually reopen businesses are contingent on public health data showing the coronavirus in decline, with the top priority of keeping people safe, amid concerns that moving too quickly could lead to a second wave of infections and deaths.
"We recognize this is an incredibly difficult time for the business community, and we will do all we can to work collaboratively to develop solutions that keep people safe and create opportunities for businesses," Heather Johnson, the commissioner of Maine's Department of Economic and Community Development, said in a statement. "We believe that is what we have done here, and we will continue to examine similar opportunities moving forward."
The state began its four-stage reopening plan on May 1, allowing barbershops, hair salons, drive-in movie theaters, and certain state parks to reopen. Retail stores and restaurants were allowed to reopen on May 11 in 12 counties where community transmission was not evident under the Mills administration's "rural reopening plan."
Under the updated plan, retail stores in York, Cumberland, Androscoggin, and Penobscot counties — where these businesses had been limited to curbside pickup — will also be allowed to reopen for customers on June 1, under strict capacity limits and other social distancing and sanitation guidelines.