COVID
Will Boston's protests cause a COVID-19 spike? Here's what Charlie Baker said.
Protests have drawn thousands of people — many wearing masks — into Boston.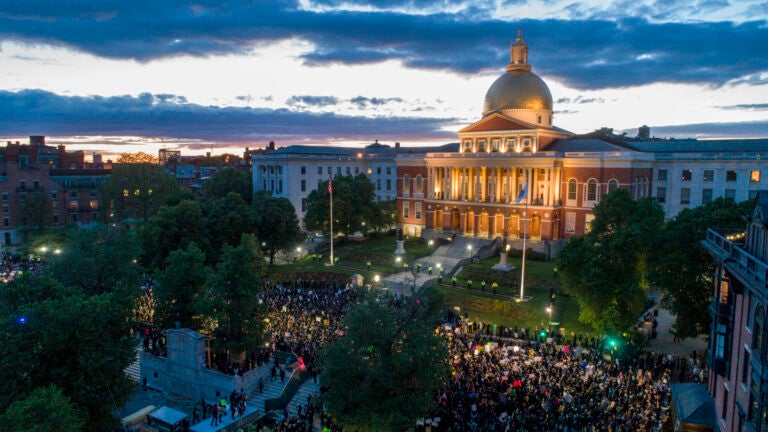 Gov. Charlie Baker says "it's impossible to tell at this point" if the large crowds of protesters calling for justice for George Floyd, a Black man who was killed while in Minneapolis police custody last week, will cause a surge in COVID-19 cases.
"Thousands" of people — many of them wearing face coverings — took part in a Sunday march that began in Roxbury and proceeded to the Massachusetts State House. After a peaceful day, violence broke out in the city Sunday night.
On Sunday, the state Department of Public Health reported 664 new COVID-19 cases and 78 new related deaths. Those additions brought the state's number of total confirmed cases to 96,965 and related deaths to 6,846.
"I mean obviously everybody knows what the benchmarks look like," Baker said during a press conference Monday afternoon. "We've spent a lot of time focusing on those and talking to our colleagues in the health care community about what they're seeing and if there are other things we need to be doing. But I would come back to the most fundamental point here which is that the reason we've made so much progress over the course of the past several months is because people did the things that have proven to be successful here."
That list, according to the governor, includes frequent hand washing, social distancing, face coverings, and limiting trips away from home.
"Those things have worked, and they made it possible for us to begin to reopen our economy and help people who in many cases are desperate to find the purpose it's associated with work, and the income, find a way back, and I really hope that doesn't get lost," he said.
On whether or not the packed groups of people could make it more difficult to use contact tracing on COVID-19 cases, Baker said it's "certainly possible" but he expects that many of the protesters attended the events with people that they know and said that contact tracing "would start there."