COVID
Here's what to know if you want to get a coronavirus antibody test
Although test results are far from certain, COVID-19 antibodies are a key part of understanding the virus.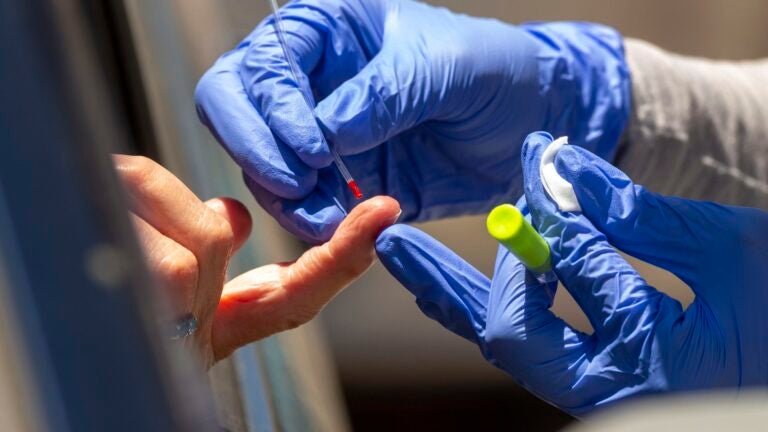 It's a thought that's passed through the minds of many: Did I have the coronavirus before the pandemic even started? 
Others wonder if they've carried the disease but remained asymptomatic, while some reflect on whether or not contracting and recovering from the virus offers them immunity. 
All of these questions are what make COVID-19 antibody testing — blood screens that can detect who has previously been infected — so enticing. 
Antibodies, which are detectable about five to seven days after symptoms begin, are proteins in the blood that are produced in response to an infection. 
Having COVID-19 antibodies can help medical professionals make definitive coronavirus diagnoses, Massachusetts General Hospital said in a news release, adding that antibody testing, or serology testing, paves the way to understanding the body's immune response post-infection, the spread of the virus through asymptomatic patients, and the length of time that person can expect to be protected.
"We know immunity occurs to some degree. We see it, and we can actually measure antibodies in people's bloodstreams," Dr. Edward Ryan, MGH director of Global Infectious Diseases, said in a statement. However, "We're still in the very early stages of knowing immune responses to COVID-19, as not all antibodies are created the same."
But there are caveats — the CDC recently posted new guidance on its website warning that many antibody tests have shown false positive results among the general population. 
"In a population where the prevalence is 5%, a test with 90% sensitivity and 95% specificity will yield a positive predictive value of 49%. In other words, less than half of those testing positive will truly have antibodies," the CDC said in its updated guidelines. 
And in more high-prevalence settings like nursing homes, there's a higher chance for false negative results, according to the CDC.
Results are not yet accurate enough to refer to when making important policy decisions either, the CDC said. 
"Serologic test results should not be used to make decisions about grouping persons residing in or being admitted to congregate settings, such as schools, dormitories, or correctional facilities," the health institute wrote. "Serologic testing should not be used to determine immune status in individuals until the presence, durability, and duration of immunity is established."
And as multiple variations of the test have begun flooding the market without formal review, the Food and Drug Administration has also recently cautioned about their accuracy.
Nonetheless, local government officials have used serology testing to learn more about the coronavirus' patterns, like the recent study in Boston that tested 750 asymptomatic residents to help evaluate community exposure to the virus. 
During his Monday coronavirus briefing, Gov. Charlie Baker said it will be important for Massachusetts to significantly invest in an antibody testing program, which officials would view as "a surveillance exercise."
He said it will be important to see how many people in each region and community across the commonwealth test positive for the antibodies, and how that reflects on the overall statewide numbers. 
"In many ways it's a very fundamental part of how we support the efforts associated with reopening," Baker said. 
Although he added that before jump-starting an antibody testing program, he's waiting for a test that has a 95% accuracy rate.
"It's hard to do that right now on a large scale basis given what we've been told about the quality of the tests if you go big, but I think our view is that we should do more antibody testing," Baker said. 
If you believe you have been exposed to COVID-19 or have had symptoms in the past and are hoping for a COVID-19 antibody test of your own, look no further — below, see a rundown of what you need to know if you want to be tested. 
Where to get an antibody test
Quest Diagnostics is currently leading antibody testing as much of the blood work conducted locally is sent to their labs. The FDA has approved Quest's blood tests for emergency use during the coronavirus pandemic.
Here's a look at which local care centers are offering testing: 
All Massachusetts-based American Family Care Urgent Care Centers are conducting COVID-19 antibody tests on patients over the age of 10 who have been asymptomatic for at least 14 days. 
Find a center near you here. 
Health Express is also offering antibody testing at its Abington, Braintree, Pembroke, Plymouth, Quincy and Weymouth urgent care centers for anyone over the age of 10 who has been asymptomatic for at least 14 days. 
All CareWell Urgent Care locations in Mass. will draw patients' blood for the test as well.  
ARCpoint Labs is offering serology tests, though not provided by Quest, at their Woburn and Southborough locations for people who have been free of symptoms for at least seven days.
Officials said blood work is then sent to third-party labs. ARCpoint's tests have not been FDA-approved, though they are being provided based on the FDA's policy for coronavirus tests during the public health emergency, which allows access to recently developed tests in hopes of enabling more rapid and widespread testing capacity in the U.S. 
Quest Diagnostics has also made it possible for people, without visiting a doctor, to buy a $119 test online. Doctors then review each test request.
The company said people will be charged an additional $10.30 service fee, but added that many may be able to bypass the out of pocket costs by contacting their healthcare provider and billing their health plan or the government.
If the test is approved by a doctor, the person will get their blood drawn at one of Quest's 2,200 patient service centers — local centers are in Boston, Brookline, Quincy, Arlington, Melrose, Waltham, Danvers, Braintree, Weymouth, Norwood, Lowell, Andover and Chelmsford.
How much tests will cost
Most healthcare centers have said that insurance companies will likely cover the cost of their COVID-19 antibody test, and ask that patients confirm with their insurers before scheduling an appointment. 
Without insurance, people can expect an upfront payment ranging between $50 and $75. 
What to expect from the procedure 
After being screened through a series of questions to ensure you are asymptomatic, a medical professional will draw a sample of your blood which will then be sent to the provider conducting.
A medical assistant will contact you with results within 48 hours and detail whether or not you have been exposed to the coronavirus, have contracted it, or are building antibodies to it.